ECHL
Evaluating St. Louis Blues' Return In Vladimir Tarasenko Trade
Evaluating St. Louis Blues' Return In Vladimir Tarasenko Trade
NHL prospect analyst Chris Peters evaluates what the St. Louis Blues got in return for trading Vladimir Tarasenko and Niko Mikkola to the New York Rangers.
Feb 9, 2023
by Chris Peters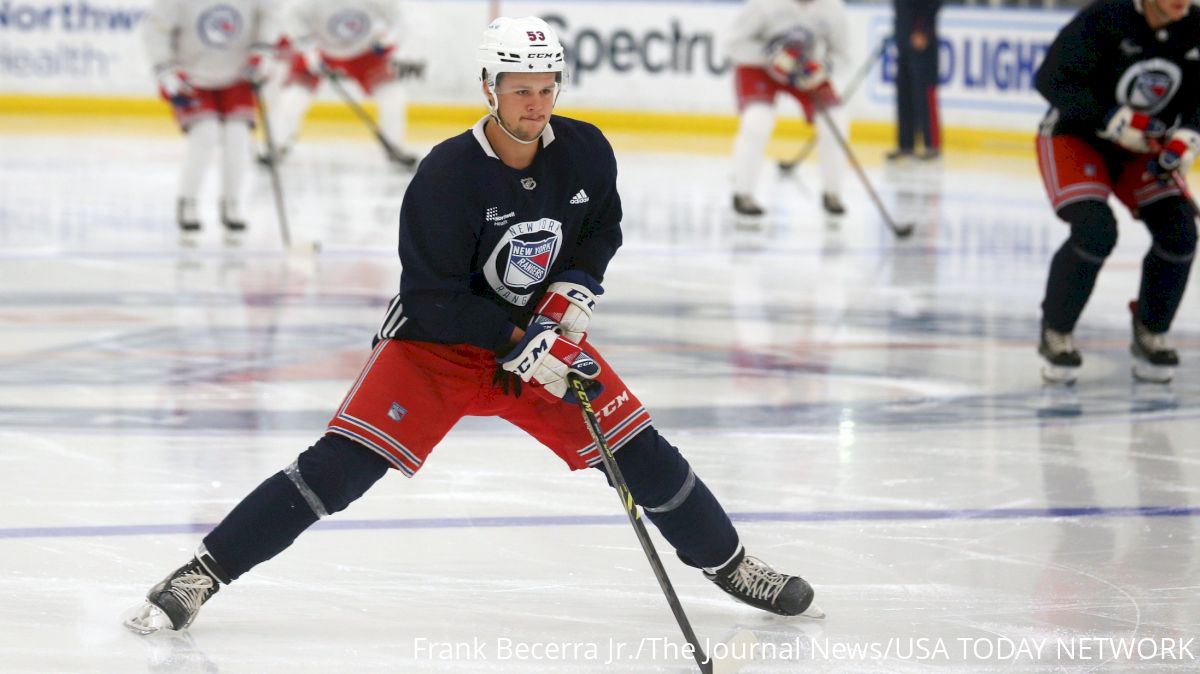 In the lead-up to the NHL Trade Deadline, prospect analyst Chris Peters will review the return on high-profile trades for the teams that acquire NHL prospects and draft picks.
After the New York Islanders made a swing and traded for center Bo Horvat, their local rivals didn't wait a lot longer to pull the trigger on a big deal of their own. The New York Rangers acquired goal-scoring winger Vladimir Tarasenko and defenseman Niko Mikkola from the St. Louis Blues in exchange for a package that included multiple pieces.
The Blues, who drafted Tarasenko in the first round in 2010 and had him as part of their Stanley Cup winning team in 2019, received winger Sammy Blais, defense prospect Hunter Skinner, a conditional 2023 first-round draft pick and a 2024 fourth-round draft pick. According to CapFriendly, the condition on the first-round pick is that it will be the later of New York's two first-rounders as they also own Dallas's first-round pick from an earlier trade.
We have a trade to announce.

DETAILS >>> https://t.co/EZI6w8SnWI pic.twitter.com/gbDOxqNsKi

— St. Louis Blues (@StLouisBlues) February 9, 2023
The Tarasenko trade chatter has been brewing for more than a year, so when the Blues started to struggle this season, it seemed inevitable that Tarasenko would be on the move. The question was how much St. Louis could get for him. By also including big defenseman Mikkola in the deal, the Rangers are getting good value for what they ultimately gave up.
Let's take a look at how the Blues did in offloading a franchise star and a useful defenseman on the younger side.
About The Return For St. Louis
The highest-value asset the Blues acquired in the deal is that first-round pick. It will likely be in the latter third of the first round given how New York and Dallas have been playing. There's still good value in that range. Additionally, the Blues did not have a second-round pick for this year's draft as it was dealt in the trade to acquire Nick Leddy from the Detroit Red Wings.
Meanwhile, the Blues bring back Blais who never really seemed to get comfortable or carve out a role with the Rangers.He had nine points over 54 games with New York, all assists and had spent some time in the AHL this season. Blais is a low-lineup player that might have a little more opportunity with St. Louis than he did in New York.
The one prospect as part of the deal is Hunter Skinner, who is a 21-year-old, 6-foot-2 right-shot defenseman. Skinner had shown some real promise earlier in his junior career, but hasn't managed to define his own role as a professional. This season he's played more games with the ECHL's Jacksonville Icemen than he's played with the AHL Hartford Wolf Pack.
Skinner is still young and there's still time for him to figure out what he ultimately should be if he's going to make it, but the clock is ticking a bit more now.
I think Skinner was one of the many players negatively impacted by the OHL shutdown a few years ago due to the pandemic. It forced him into pro hockey a year earlier than he should have been and I'm not sure he's been able to make the adjustment.
Not dynamic enough to be a true point production threat at the NHL level and average defensively is not a good recipe, but in his earlier career I saw plenty of flashes of two-way capabilities to go along with good mobility. He also has a very good shot from the point and puts himself in good shooting positions often.
#NYR prospect Hunter Skinner puts the London Knights on the board with an absolute BOMB. No screen or anything. He has the kind of power to beat a goalie clean from the blue line. Listen to the sound this makes. pic.twitter.com/zaPf7ywoJG

— Adam Herman (@AdamZHerman) January 24, 2020
As a right-shot defensemen, he is going to get every opportunity to prove himself and perhaps a change of scenery is just what the Michigan native needed.
After starting his career in the USHL with the Muskegon Lumberjacks and then moving to the Lincoln Stars, Skinner was drafted in the fourth round by New York. He decided to go the OHL route the next year. He appeared in 62 OHL games with the London Knights and put himself on the radar for the U.S. National Junior Team. He made the roster the following season and was part of the team that won gold at the 2021 World Junior Championship, though Skinner appeared in just one game as the eighth defenseman on the team.
The size difference between Cole Caufield and Hunter Skinner. 😂 pic.twitter.com/FQ0CcLtyOr

— TSN (@TSN_Sports) January 6, 2021
Over the last three seasons, Skinner has appeared in 67 AHL games with Hartford and has 17 points. He's appeared in 48 ECHL games and has 25 points.
Evaluating What St. Louis Got
The Blues should be particularly happy about landing a first-round pick and adding some draft assets amid a season where they're having a hard time staying competitive. The Blues have drafted well of late and having no less than two kicks at the can in the first round in a relatively exciting draft year is going to be good for their prospect pool which has some intriguing pieces in it already.
The Rangers were dealing from a position of strength. They had two first-round picks at their disposal and still have a number of younger players that were well ahead of Skinner on their internal depth chart. Landing two veteran players to help for the stretch run without parting with any of their top prospects is smart business.
That's not to say the Blues did poorly here. They got some pieces. Blais is an NHL regular or at least can be for them. Meanwhile, Skinner is a bit of a wild card. There's definitely some ability in there, but he hasn't been a consistent enough performer at the AHL or even the ECHL level to believe he's got NHL upside at this point. His youth, however, means that the Blues shouldn't writing him off.
It appears the best-case scenario for Skinner is potential for bottom-pairing option at the NHL level. In the most likely scenario, he is a call-up option and provides some organizational depth with a lower likelihood of NHL impact. I would classify him as a "low-C" prospect, which means he has a chance to play but is unlikely to rise to a meaningful role.
🎥Trivigno tallies his 1st pro point with an assist on Hunter Skinner's goal pic.twitter.com/nuafGswnVA

— Hartford Wolf Pack (@WolfPackAHL) April 3, 2022
It's almost always tougher for a prospect to make the big club if they've been traded to a different organization before their NHL debut. The team that acquired them doesn't have the history and hasn't spent the time developing them.
It will be incumbent on Skinner to make a good early first impression if he gets a chance to play in the AHL. Otherwise, he's going to need to show a lot more at the ECHL level, especially offensively, to show he deserves a longer look. Skinner has one year remaining on his current entry-level contract after this season.
The Blues should continue to work with Skinner, though, as there's at least some upside and some tools they can work with. He had some real flashes earlier in his career of NHL upside and sometimes the right situation pulls more out of a player. They'll have a chance to see where he's at with the Springfield Thunderbirds next and go from there.