2023 Bowling Green vs Michigan Tech - Men's
CCHA Reasons To Watch: Careers Celebrated, Postseason Looms
CCHA Reasons To Watch: Careers Celebrated, Postseason Looms
Three series in the CCHA this weekend demand attention: A legend's return to hockey's Mecca, a carnival with an historic trophy and a series in Big Rapids.
Feb 9, 2023
by Tim Rappleye
Three mega series in the CCHA this weekend demand attention: A legend's return to hockey's Mecca, a carnival with an historic trophy on the line and three days in February – a series in Big Rapids previews the postseason.
Poignant Carnival in Copper Country
Gerri MacInnes is the living link to Michigan Tech's glory days of college hockey.
Her late husband, John, helped build a dynastic program up in Houghton, claiming three NCAA titles in the 1970s, and if rules had not been violated in 1976, there would be a fourth championship banner hanging from the rafters in the rink that bears the family name.
It has been 40 years since John MacInnes died, and this season, his Huskies have reemerged as national contenders.
This is from a club with the lowest expectations, a squad that graduated the most offense in the nation, a program whose coach lost sleep in the offseason imagining the worst.
In just the second week of February, the Huskies already have attained the 20-win plateau. They also have beaten esteemed Boston University for one title and now have their sights set this weekend on grasping the sterling MacInnes Cup as champions of their Winter Carnival series with Bowling Green.
Despite the undeniable attributes of Ty Eigner's Falcons, it would be unwise to pick against the destiny of the team clad in black-and-gold.
Tech will playing in front of the unparalleled passion of its fan base, with the widow in the wings for the 40th year, with her husband's name on the grand prize.
Logan Pietila made it 2-0! #mtuhky #FollowTheHuskies pic.twitter.com/tJjgd73Xvw

— Michigan Tech Hockey (@mtuhky) January 28, 2023
Ten seniors will be honored Saturday, a potential distraction that will be brushed off by this group. Two in particular – Pietila twins Blake and Logan – are the adopted sons of the Copper Country, a pair who have been leading this charmed team on both ends of the rink.
They will clutch the trophy together Saturday Evening in front of Gerri, a poignant harbinger for the postseason.
The Prodigal Son
The unassuming Grant Potulny is an immortal in the Twin Cities of America's state of hockey - Minnesota.
Only novices need reminding that Potulny wore a captain's letter on two consecutive championship teams for the Golden Gophers, banging home the OT winner in the 2002 NCAA title game.
Twenty years later, Potulny returns as a coach, humbled by the challenges of coaching Division I hockey.
Back in town to coach his 13-15 Wildcats against St. Thomas, Potulny will not be taking any victory laps during his return this weekend.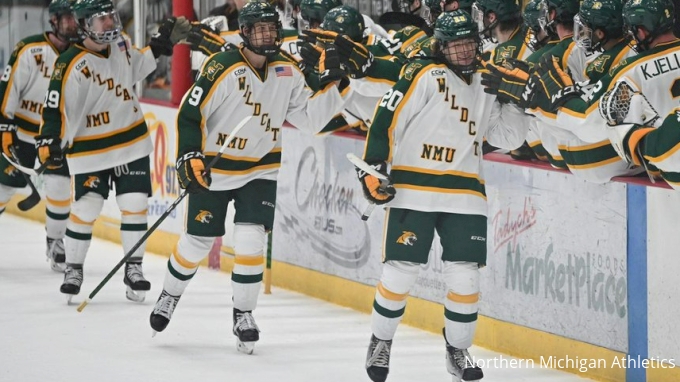 "I'm just looking forward to seeing some former players, teammates and family," said Potulny, shortly before hopping a bus for the seven-hour bus ride west.
There are immediate consequences to this trip: the winner of this series will be in sixth place in the CCHA standings, a step closer to avoiding a showdown with nationally-ranked Michigan Tech or Minnesota State in the quarterfinals.
Northern is a mere point ahead of seventh-place St. Thomas, which has proven to be a colossal pain in the neck to play against.
There is no national betting line on this game, but based on recent results, the Cats should be happy to maintain their razor-thin lead in the standings after the ice chips settle later on Saturday.
But due to the emergence of a freshman, one who shares his coach's ability to perform with games on the line, Potulny heads into this series with renewed optimism.
With two goals and an assist vs. LSSU, Joey Larson is the 𝙍𝙤𝙤𝙠𝙞𝙚 𝙤𝙛 𝙩𝙝𝙚 𝙒𝙚𝙚𝙠!

It is his third time being honored this season. Joey is currently riding a 3-game point streak, with a goal in each of those games. #NMUwildcats #ShareNMU #CCHAHockey pic.twitter.com/Y5cU5C6V7i

— NMU Men's Hockey (@NMUHockey) February 6, 2023
Cats newcomer Joey Larson lifted NMU from the brink last weekend against Lake State, tallying three points, including Saturday's game-winning goal, a power-play snipe that broke Northern's three-game losing streak.
The baby-faced finisher has been averaging a point per game over his last five contests, raising his ppg average to .731, within five hundredths of what Potulny averaged his freshman year with the University of Minnesota, and that was during a significantly higher-scoring era.
For all the veteran offensive skill at Potulny's disposal, it's the kid from Brighton, Michigan, who is carrying the load for the Cats right now, a guy in whom the coach can see his own reflection.
As a player, Potulny made the NCAAs as if it were his birthright. As a coach, he has come tantalizingly close but hasn't made it into the national tournament through his first five seasons.
Larson may be the key to unlocking that iron gate.
If there is one player and one storyline to watch this weekend, it should be Potulny's return to the Twin cities, led by a freshman who embodies his own will and skill.
Foreshadowing In Big Rapids
It is foolhardy to predict playoff matchups in the topsy-turvy CCHA.
Even with only three weekends remaining, there simply are too many variables to project the standings with certainty. Except for one series.
It is highly likely that No. 5 Ferris State will face off with No. 4 Bemidji State in the CCHA quarterfinals. What has not been determined, however, is where that series will take place.
There is a very good chance that home ice will be determined this weekend in Big Rapids, as Bemidji buses south for a crucial showdown.
HUGE Home series ahead this weekend.

READ | https://t.co/Od6P0gqRnr pic.twitter.com/M9IajnMyfC

— Ferris State Hockey (@FerrisHockey) February 6, 2023
Ferris is coming off a five-point weekend in Bowling Green, whereas Bemidji was swept at home by Michigan Tech.
Casual fans might presume that the Bulldogs would have all the momentum, but they would be wrong.
Ferris simply could not control their tendency to take penalties – 13 infractions over the weekend – while Bemidji is coming off arguably its best period of the season Saturday, dominating Tech with 17 shots and two goals, despite falling a goal short as time ran out.
A playoff preview, with home ice at stake, makes for a fascinating study of two veteran coaches, who both believe they have a shot at making the CCHA championship game.
That process begins with gaining home ice.
For Ferris and Bemidji, their quarterfinal begins Friday.