2023 Waterloo Black Hawks vs Dubuque Fighting Saints
Ryan St. Louis Making Most Of Reset In USHL Alongside Brother
Ryan St. Louis Making Most Of Reset In USHL Alongside Brother
After spending last season at Northeastern University, Ryan St. Louis decided to return to the USHL to work on his game and play with younger brother Lucas.
Feb 2, 2023
by Ryan Sikes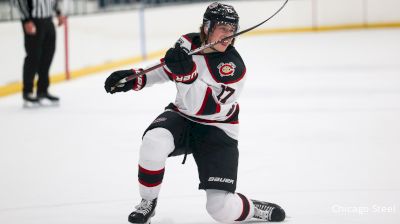 A hockey player's development is not usually linear. Ryan St. Louis is a prime example of that. The 19-year-old winger from Burlington, Vt., is hoping another pit stop in the USHL will help him take his game to the next level after playing last season at Northeastern University.
Having skated alongside the top Americans in his age group at the U.S. National Team Development Program from 2019 to 2021, St. Louis appeared ready to take on college hockey. However, the young forward had trouble carving out a role at Northeastern, playing sparingly during the 2021-22 campaign. He collected just two points in 38 games as a true freshman before deciding to take a step back.
St. Louis, whose father is Hockey Hall of Famer and current Montreal Canadiens head coach Martin St. Louis, decided his best move would be returning to junior hockey.
Instead of looking at it as a regression in his development, the 19-year-old viewed it as an opportunity to be relied on more, playing big minutes and in different situations.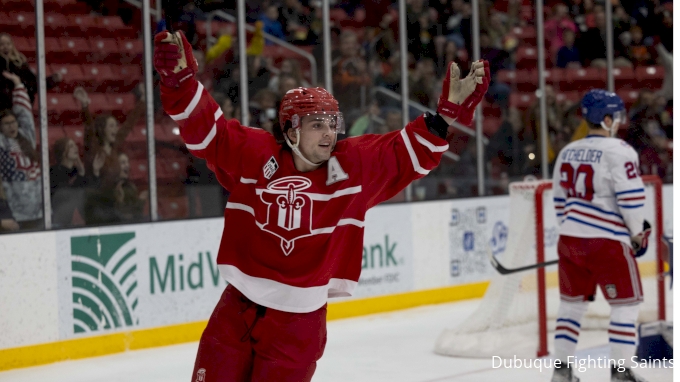 St. Louis's decision to leave Northeastern also coincided with his younger brother Lucas joining the USHL's Dubuque Fighting Saints for the 2022-23 season. After some conversations with Dubuque general manager Kalle Larsson, the idea of playing alongside his brother was too good to pass up. With a two-year age gap between the two brothers, they had never played on the same team together before.
"I never really thought this would happen," Ryan said of playing with Lucas.
"We live together, we share a car. I'm pretty much with him 24/7, so it's been a lot of fun. Going through the ups and downs of the season together, it's cool."
As a rookie looking to find his footing in the USHL, Lucas has often leaned on his older brother, whose previous experience in the league came with the NTDP. It has helped him get acclimated to the fast pace of high-level junior hockey, even though Ryan is a forward and Lucas is a defenseman.
Ryan's advice to his younger brother has been focused less on hockey-related items and more on things like time management in school and all of his other off-ice commitments. He's also shown Lucas the value of a little housekeeping.
"He's kind of helped me be tidier around the house," Lucas said. "He's really organized, and it's rubbed off on me."
The younger St. Louis is hoping his discipline off the ice will translate to his play on it.
Through 32 games, Lucas has two goals and 10 assists. His 12 points are good for sixth-most among rookie defensemen in the league. He also was a late roster addition to the BioSteel All-American Game, which afforded Lucas an opportunity to showcase his skillset in front of over 100 NHL scouts.
While the St. Louis brothers have each other for support, they often look to their father for advice. Martin St. Louis was a player who famously had to fight for everything he got in a career that ended with his number hanging in the rafters in Tampa and his plaque in Toronto's Hockey Hall.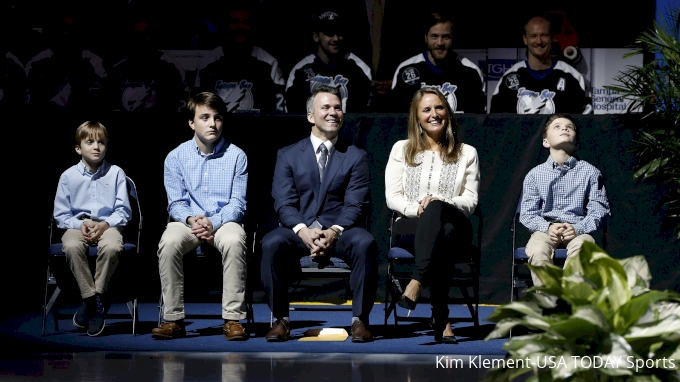 Now, as head coach of the most storied franchise in NHL history, Martin St. Louis is a busy man. Still, he makes it a priority to watch his son's games. The two-time Art Ross trophy winner provides feedback on where both of his sons can improve or highlights things they did well.
"The main thing he's trying to help me with is getting more puck touches all over the ice and with my routes," Ryan said. "It might sound like a silly thing, but it goes a long way, trying to come back to the puck. Carrying the puck is definitely something that I want to keep working on."
Getting more puck touches, allowing him to work on things like that has made Ryan's decision to return to the junior ranks look like an especially good one. His presence has also been good for the Fighting Saints.
At the start of the season, Ryan was named an alternate captain for Dubuque and even scored two goals in his team debut. He now leads all Fighting Saints skaters with 36 points (14 goals, 22 assists) in 29 games.
St. Louis's strong play was also recognized by USA Hockey, as he earned an invite to play at the World Junior A Challenge. He collected seven points (one goal, six assists) in six games while helping Team USA win the gold medal at the event that featured international teams from Sweden, Latvia and Canada.
We're still not sure how Ryan St. Louis found room to score this one 🚨 Listen in to this weeks @UScellular Call of the Game!#HailToTheHalo #StarsRise pic.twitter.com/XIiamXGa6r

— Dubuque Fighting Saints (@fightingsaints) January 25, 2023
Looking toward his next steps, St. Louis is narrowing down his list of schools as he trends toward returning to the collegiate level next season.
"I learned a lot (at Northeastern), and I feel like I'm going to bring it wherever I go next," he said.
For now, St. Louis is focused on building up his game and making the most of his chance to hit the reset button in the USHL, while continuing to add new elements to his game. For example, while he'll be the first to say he's a pass-first player, St. Louis has been finding the back of the net with increased regularity of late.
"Recently, I've been shooting, and it's going in, so I should probably keep shooting more," he laughed.
With five goals over his last seven games, he's probably right.
As St. Louis enjoys the most productive season of his U20 career, he's showing that sometimes the best way to move forward is to start with a step back.