CHA
CHA Update: It Might Be Penn State's Year, But Watch Out For Mercyhurst
CHA Update: It Might Be Penn State's Year, But Watch Out For Mercyhurst
Penn State has a tight grip on first place in the CHA, but Mercyhurst remains one of the Nittany Lions' biggest threats in the postseason.
Feb 1, 2023
by Nicole Haase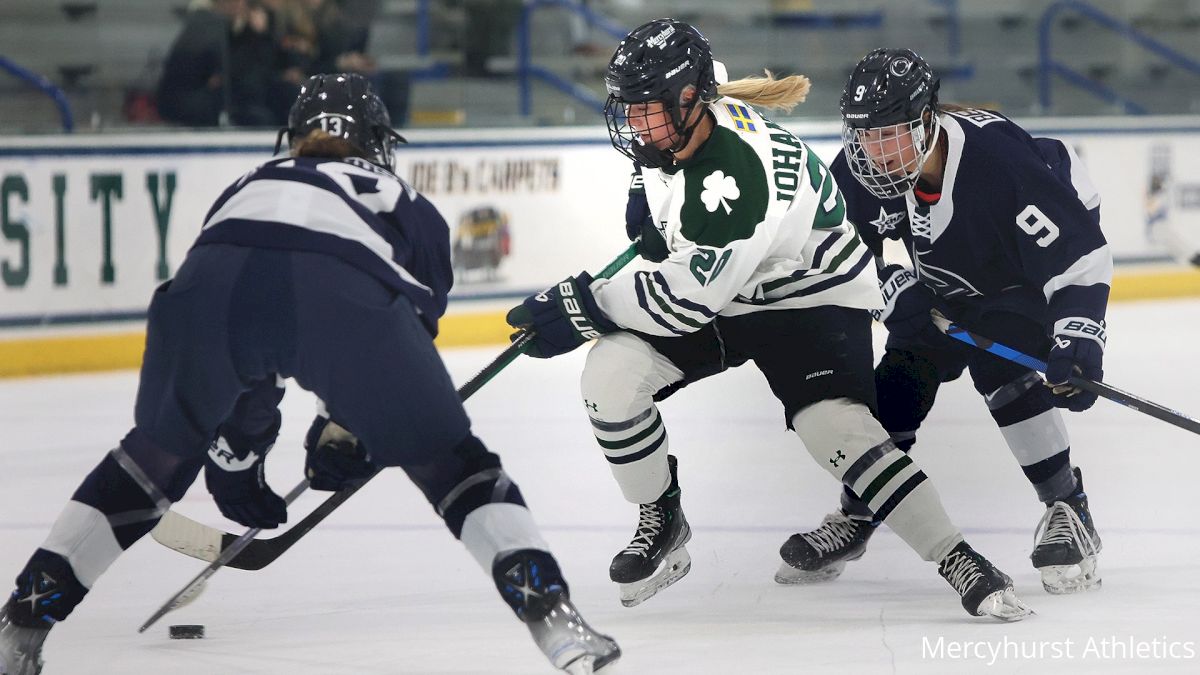 With just three weeks left in the CHA regular season, Penn State is in the driver's seat to win their second conference championship in the last three years. Mercyhurst is eight points back and currently tied for second with Syracuse, but has the most opportunity to change their luck, with two games in hand over the Nittany Lions and the Orange.
Penn State has their eyes on their first-ever NCAA tournament bid. And they're hoping to get there by any means necessary. Before the season had even started, Penn State coach Jeff Kampersal was thinking about possibilities. The goal is for his team to win the CHA conference tournament and earn an autobid into the NCAA Tournament. The Nittany Lions are five points clear of Syracuse atop the current league standings, but lately in the CHA, having the top seed heading into the postseason does not necessarily translate into conference tournament success.
Is This Penn State's Year?
In 2021, Penn State won the regular season title, but was eliminated in the conference tournament semifinals by Syracuse. In three of the last five CHA championships, the tournament champion and recipient of the autobid was not the team that won the regular season.
So Kampersal has been planning. He wants the sure thing, but if that's not in the cards, he wanted to put his team in a position to be in the running for an at-large bid, as well. The Nittany Lions have filled their schedule with ranked teams from across the country. They started the season with a win over then No. 2 Wisconsin. They have a pair of one-goal losses to then-No. 6 Colgate and an overtime loss to Yale, now the No. 2 team in the country. There can be no doubt that Penn State has attempted to create a resume that makes it impossible to leave them out of the NCAA tournament.
They are currently on the bubble, sitting in the 10th spot of the Pairwise rankings. Any conference tournament upsets where someone other than the top seed wins the title (including in their own conference) would make their task even more difficult. This is the first season the NEWHA conference will receive an autobid, so that team will be the 11th team into the tournament, leaving 10 spots available.
The Nittany Lions opened the entire women's college hockey season by beating Wisconsin and have spent the ensuing three months doing their best to live up to the promise of that win. They close out the regular season on the road, with games at Syracuse and RIT.
PSU has had Syracuse's number this season, winning both games they played by a combined 15-3. However, they struggled more with the Tigers, winning 4-2 and tying 2-2. In the tie, RIT had 27 blocks as well as scoring their two goals on just 13 shots. If they can put up a similar defensive effort, they certainly have the ability to upset Penn State in the final weekend and possibly cause some conference chaos.
Kiara Zanon has already set a program record for points in a single season and she leads the team and the conference with 42 points on 21 goals and 21 assists. The former CHA and National Rookie of the Year has flourished even more this season.
JANECKE & JOSIE JANUARY🥶

🔘Tessa Janecke: CHA Rookie of the Month (3G, 4A)
🔘Josie Bothun: CHA Goaltender of the Month (.904 sv%)#WeAre #HockeyValley pic.twitter.com/bH531R9Mcw

— Penn State Women's Hockey (@PennStateWHKY) January 31, 2023
Having Tessa Janecke on the team adds to the Nittany Lions' depth, spreads the defense around and opens more avenues for Zanon. No offense to other teammates, but she's also thriving having a player that can read the ice and anticipate things as well as she can on the ice with her.
Janecke will be in the conversation for this season's National Rookie of the Year. She, too, has shown a balanced attack, racking up 34 points on 17 goals and 17 assists. She's also second on her team in blocks and has shown herself to be a dominant 200-foot player who does whatever it takes to help her team. In net, Josie Bothun continues to be solid, giving the Nittany Lions the base they need to build out from.
The Future Is Bright
The story of the season so far in the CHA has been about the youngsters. Penn State rookie Tessa Janecke leads all first-year skaters in the country with 32 points while Mercyhurst's Thea Johansson is third, with 29. Four of the league's top six scorers are underclassmen. Janecke and Johansson are joined by Mercyhurst's Vanessa Upson and Lindenwood's Morgan Neitzke among the best offensive players in the league. The future is super-bright for the CHA and these players have only begun to show off what kind of impact they can have on their teams, the league and nationally.
Can Mercyhurst Play Spoiler?
Mercyhurst and RIT are the only two teams with three series (six games) left on their regular season schedule. The Lakers will face RIT, Syracuse and Lindenwood to close out the year. They have a 5-0-1 record against those teams so far this season. The tie was against Syracuse last weekend. The issue for Mercyhurst has been consistency.
They beat the Orange 6-1 on Friday before tying 1-1. They outscored RIT 12-2 in their series sweep to start December, but eked out two close wins against Lindenwood two weeks ago, 4-3 and 3-2. They're 5-4-1 since the winter break and overall, they're giving up nearly as many goals as they've scored. It's not a recipe for prolonged success.
That's our Captain!!! Perreault has skated in 150 career games. Even better, she's been a Laker that entire time!! pic.twitter.com/7aympK27Vl

— Mercyhurst Women's Hockey (@HurstWHockey) January 29, 2023
Consistency issues aside, the Lakers have a strong goaltender in Ena Nystrøm, who's kept them in a lot of games. Mercyhurst also has some really good scorers in last year's CHA and USCHO Rookie of the Year Vanessa Upson and a candidate for this year's rookie awards in Thea Johansson. They make a strong top line with Sara Boucher. Mercyhurst has always been a strong postseason team. They're the ones most likely to spoil Penn State's autobid plans.
Assessing The Rest Of The CHA Field
Of the top three teams, Syracuse has the toughest task ahead of them if they are going to make any moves in the standings over the final few weeks. They'll face the two teams ahead of them in the standings before closing out with a non-conference game against NEWHA newbie Stonehill. They're 0-3-1 against Mercyhurst and Penn State this season and were outscored 22-5 in those games.
It's been a struggle all around for the Orange, who are averaging just 2.3 goals per game on offense while surrendering 3.0 goals per game on defense. There are just two skaters in the double digits in goals scored - Madison Primeau and Sarah Thompson. Hannah Thompson has been a bright spot on defense and goalie Arielle DeSmet is doing the best she can while facing an average of 30 shots per game.
Congratulations to our CHA monthly honorees for January❗️

🦁Forward: Morgan Neitzke, @LU_Hockey
☘️Defenseman: Sydney Pedersen, @HurstWHockey
🦁Goaltender: Josie Bothun, @PennStateWHKY
🦁Rookie: Tessa Janecke, @PennStateWHKY

📰 https://t.co/LLTzFEpkvO#CollegeHockeyAmerica pic.twitter.com/qZlII4SIRK

— CHA (@CHAWomensHockey) January 31, 2023
RIT and Lindenwood will be looking to close out on high notes, particularly in a series with each other. LU took the first two games of the series 1-0 and 2-1 in OT. The Tigers will also have to face Mercyhurst and Penn State in the final three weeks. Sarah Coe has been solid in net for them while they've tried to find their footing. Just four players on the team are in double digits for points. Amy Dobson leads the team with six goals and six assists for 12 points. Two of Emma Roland's five goals have been game-winners.
It has been a rough season for Lindenwood. They are scoring less and allowing more goals than they did last season. The Lions did not win a non-conference game this season and have three wins against CHA opponents - two over RIT and one against Syracuse.
The most remote of all the DI women's programs, Lindenwood is more than 370 miles from the closest possible opponent (University of Wisconsin) and an average of more than 775 miles from every one of the CHA conference mates. Their schedule is grueling, and they just never seem to be able to get ahead.
Watch the final regular season games on FloHockey and make sure to tune in for the CHA Conference tournament January 24-26.