Men's CCHA Hockey
CCHA RinkRap: A Week Of Celebrations And Noteworthy Numbers
CCHA RinkRap: A Week Of Celebrations And Noteworthy Numbers
This week in RinkRap: A twin celebration in Houghton, cleaning house up in the Soo and 20 becomes a magic number in Mankato.
Jan 31, 2023
by Tim Rappleye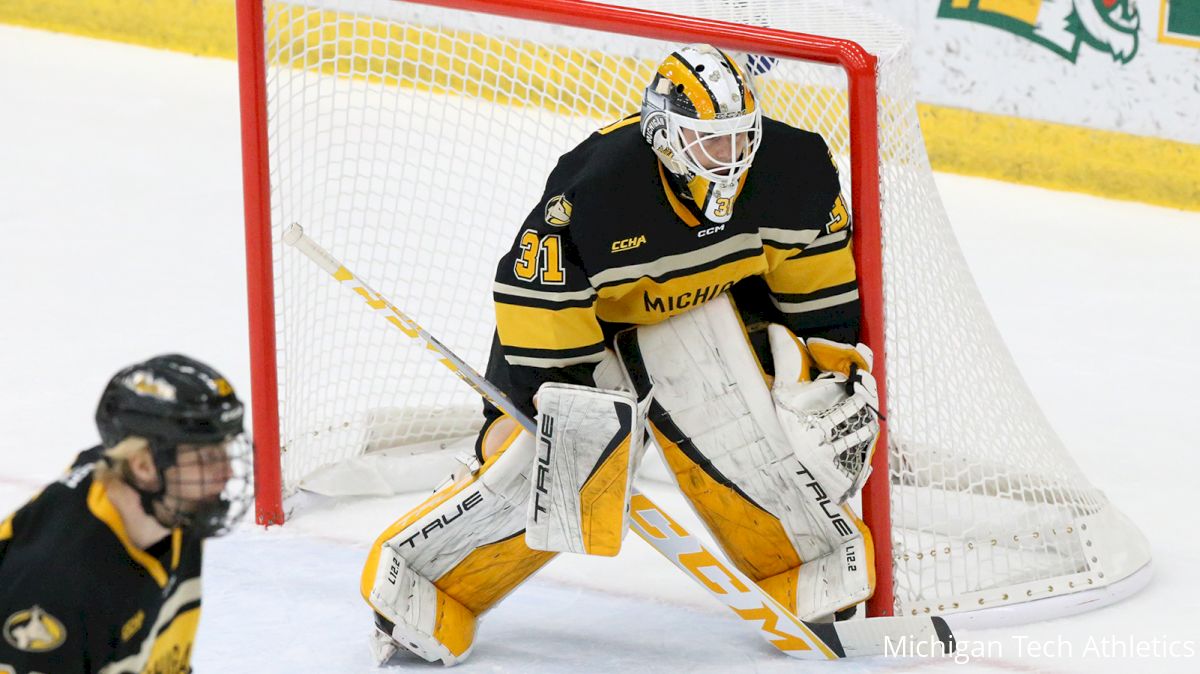 This week in RinkRap: A twin celebration in Houghton, cleaning house up in the Soo and 20 becomes a magic number in Mankato.
Copper Country Heroes
As the calendar of college hockey flips to February, there are two time-honored truths that are spoken in rinks, taverns and wherever college hockey aficionados gather to assess championship prospects: First, you must win your region. Second, you must have superior goaltending.
After Michigan Tech's home-and-home sweep of Northern Michigan over the weekend, both boxes have been checked in bold ink.
There was birthday joy in Husky Nation, as the Pietila twins were serenaded on the ice by the Tech band following the Huskies 3-0 victory at packed MacInnes Arena.
Though Logan Pietila had a top 10-worthy goal - stick-between-his-legs goal-mouth finish - brother Blake stole the show with his nation-leading seventh shutout.
Between the legs by the birthday boy. 😜 Logan Pietila buried his 8th of the season in the rivalry win! #mtuhky #FollowTheHuskies#SCTop10 pic.twitter.com/kWZ5jAosoD

— Michigan Tech Hockey (@mtuhky) January 28, 2023
It was a grand 23rd birthday for both brothers.
The following night, after a convincing 4-1 victory on enemy ice in Marquette, coach Joe Shawhan was delivered a loving 60th birthday message from his troops in the triumphant locker room: "That was for you, coach."
Hockey lifers in Boston know that you have to win the Beanpot if you're going to make a mark in the postseason.
Hockey purists in Minnesota usually settle bragging rights in the NCAA Tournament, since the disbanding of the original WCHA.
And Michigan must oust Michigan State, if it hopes to chase a record-setting 10th NCAA Tournament crown.
And, so it goes in the rugged Upper Peninsula. The three Division I schools share seven national championships between them, and they fight tooth and nail for the chance to emerge as the primary challenger for glory every March and April.
This weekend's sweep by Tech sent a Husky howl that echoed far beyond the Mackinac Bridge - the Huskies have arrived as a serious threat for the CCHA's Mason and MacNaughton Trophies, and the NCAA postseason.
None of this would be possible without the consistent brilliance of senior goalie Blake Pietila.
For the second straight week and fifth time this season, Blake Pietila is the CCHA Goaltender of the Week. #mtuhky #FollowTheHuskies

📝 https://t.co/Lkec1Md9NZ pic.twitter.com/fUWdfPqY2u

— Michigan Tech Hockey (@mtuhky) January 30, 2023
"No player in the country has been more valuable than Blake," said Shawhan, who loves his goalie like a son. "I would vote for him for Hobey. I would vote for him for league MVP. It has been a blessing."
Close observers of the CCHA, along with Blake's teammates, know he is indispensable to Tech's chances for a long run through March.
Paring Down Passengers In The Soo
After the most gut-wrenching loss of Damon Whitten's tenure at Lake State - blowing a 2-0 lead and losing in regulation to Bemidji Friday with 16 seconds left - the coach shuffled his lines Saturday.
He put yet another talented player, Brandon Puricelli in this instance, in street clothes, and the result was an uncanny reversal of fortunes.
On Saturday, it was Lake State's turn to bury a closing-seconds dagger, as Harry Roy blasted a one-timer past Gavin Enright with exactly 16 seconds left.
Whether this remarkable coincidence was due to Whitten's moves on the icy chess board or just the hockey gods having fun, the coach clearly was rewarded for his machinations.
Whitten replaced Puricelli on the power play, preferring to have Roy as his trigger man for one-timers.
The transfer from Boston College responded with two devastating blasts, and the Lakers now find themselves with a deadly power-play weapon just in time for the CCHA's stretch run.
"Brandon Puricelli was playing there, doesn't want to shoot the puck, wants to handle it too much and make plays," Whitten said. "We wanted to find someone to shoot the puck. Harry certainly did that."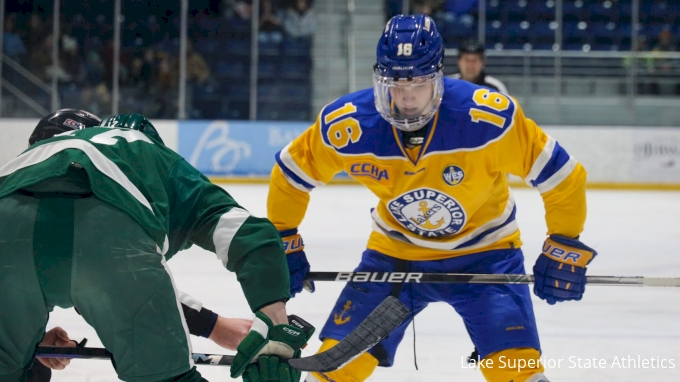 So, with Puricelli in the stands, Roy put on a power-play shooting clinic, and the Soo Lakers clipped the wings of yet another CCHA contender.
Despite languishing near the bottom of the Pairwise rankings, every team in the CCHA knows how much danger lurks in the Laker lineup.
Two premier talents in Puricelli and Logan Jenuwine have been deprived of the honor of putting on the LSSU sweater because of an absence of will, not skill.
Whitten has demonstrated to his blue and gold troops that he will not tolerate "passengers," and his team responded immediately.
Harrison Roy's second of the game wins it late for @HockeyLSSU!

🎥: https://t.co/yRw1IaFf0i#CCHAHockey pic.twitter.com/LDguehs9RM

— CCHA (@CCHAHockey) January 29, 2023
Having a roster with LSSU's elite pedigree lurking as the eighth seed in the CCHA playoffs, keeps coaches Shawhan and Mike Hastings up at night.
BSU's Tom Serratore, who has suffered two brutal losses to the Lakers, already has learned the hard way.
NOTES
- Twenty is a magic number for college hockey goal-scorers, and thanks to a white-hot streak of five goals in his last three games, Minnesota State junior David Silye has hit that mark with over a month remaining in the season.
He joins Western Michigan's Jason Polin (23) as the only players in the nation to have reached the prestigious 20-goal mark this season.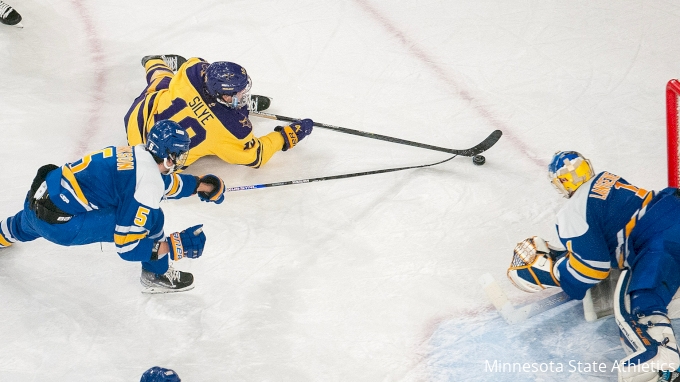 It is no coincidence that Silye's elevated scoring rate mirrors the production of assists from his power-play mates Jake Livingstone and Akito Hirose, who both reached the 20-assist plateau in last weekend's sweep at Ferris State.
Of Silye's 20 markers, 10 have had assists from Hirose, Livingstone or both.
- There are times when statistics paint simmering pictures, and Saturday a masterpiece was completed.
Tech senior goalie Blake Pietila played his final regular-season game against arch-rival Northern Michigan, allowing but a single goal in the victory.
A shutout in front of a sellout. #mtuhky #FollowTheHuskies pic.twitter.com/eG34a6aErK

— Michigan Tech Hockey (@mtuhky) January 28, 2023
It was his 14th start against NMU in his career, having played seven games in each venue.
His final win-loss record against the Cats is 6-1 at MacInnes and 6-1 at the Berry.
- Fans of Green Bay Packers legend Vince Lombardi - and there is no shortage of Packer fans in the Upper Peninsula - all know the vintage NFL Films Super Bowl highlight of the frustrated coaching legend roaming the sidelines and bellowing at the refs, "What the Hell's going on out there?"
Today's Joe Shawhan Hour is now online. #mtuhky #FollowTheHuskies

🔊https://t.co/gZmJKq5ttz pic.twitter.com/eJt7vUx0Am

— Michigan Tech Hockey (@mtuhky) January 30, 2023
Joe Shawhan channeled his inner Lombardi on Saturday, when during a live intermission interview, the frustrated coach used nearly the exact same phrase, while referring to the refs.
As soon as Shawhan realized he used the Lombardi H-word, he broke into a grin, apologized, and retreated to the visiting locker room.