AHL - Eastern
Evaluating Canucks' Return In Bo Horvat Trade, Aatu Räty Scouting Report
Evaluating Canucks' Return In Bo Horvat Trade, Aatu Räty Scouting Report
NHL prospect analyst Chris Peters examines what the Vancouver Canucks got for trading captain Bo Horvat to the New York Islanders.
Jan 31, 2023
by Chris Peters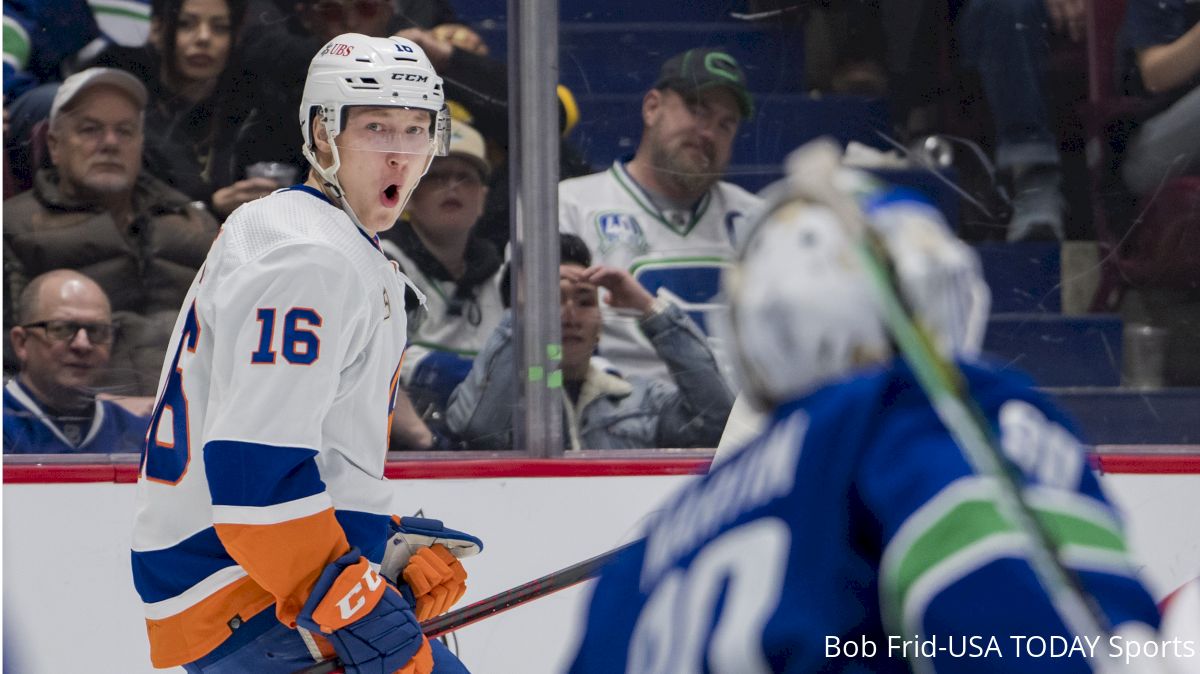 In the lead-up to the NHL Trade Deadline, prospect analyst Chris Peters will review the return on high-profile trades for the teams that acquire NHL prospects and draft picks.
The Vancouver Canucks have had an awfully active few weeks. After firing head coach Bruce Boudreau and replacing him with Rick Tocchet, the team parted ways with its captain and leading scorer, Bo Horvat. The club traded Horvat to the New York Islanders for a package that included winger Anthony Beauvillier, center prospect Aatu Räty and a first-round draft pick in 2023.
Aatu Räty reporting for duty. pic.twitter.com/qDxILCtUJq

— New York Islanders (@NYIslanders) October 7, 2022
Vancouver now has two first-round picks in the 2023 NHL Draft and six total picks over the first four rounds of the draft. They're loading up on draft capital as they look to hit the reset button without fully rebuilding, as described by Jim Rutherford, the team's president of hockey operations.
It was pretty well known that the Canucks were going to deal Horvat, who was on an expiring contract and wasn't able to get close to an amicable number during negotiations with Vancouver on a new deal. As a result, he became a top-quality trade candidate and offered the Canucks an opportunity to land some quality future assets.
Talking Hockey Sense: NHL Prospects In Spotlight At AHL All-Star Game
About The Return For Vancouver
New York did not have very many future assets at their disposal to make a deal work, but likely parted with two of their most valuable futures in this particular trade. Meanwhile, Beauvillier is only 25 and has significant NHL experience including two strong postseason performances. He also has another year on his current contract at a very manageable number and already has 209 points to his name in the NHL.
The prized piece of the return appears to be the first-round pick, which -- even if later in the first round -- carries a significant enough value in a strong draft class that provides at least the potential for landing an impact prospect.
Räty, however, is a significant addition as well. Drafted 52nd overall in 2021 after coming into that season as one of the perceived top prospects, the Finnish center had a bounce-back season in 2021-22 while playing in Finland's top professional league.
After being moved from Kärpät to Jukerit, his offensive game opened up and he averaged a point per game. His 41 total points made him the highest scoring U20 player in Liiga last season. It was also the 10th-most productive season by a U20 player in Liiga in the previous 20 years. Many of the players on either side of Räty on that list became everyday NHL players, some of which even became impactful NHL players.
He also played in the summer World Juniors where he was a top offensive performer for silver medalist Finland with 10 points in seven games.
At 6-foot-2, 190-pound forward is a natural center who is good with the puck on his stick. He has some crafty offensive skills and uses his body well in puck possession. Räty is a good, not great, skater who can get around the ice sheet well. He makes quick decisions with the puck on his stick and doesn't lack confidence.
Currently in his first professional season, Räty has appeared in 12 NHL games with the Isles, which means that the first year of his entry-level contract is in effect this season. The 20-year-old scored two goals, including one against the Canucks, and averaged 8:46 of ice time with the Isles with his last game coming Saturday night.
Aatu Raty's making quite the impression for the @NYIslanders. 🔵🟠

The 20-year-old's already got two goals five games into his NHL career. pic.twitter.com/exE1NzSrgb

— NHL (@NHL) January 4, 2023
At the AHL level, Räty has made a solid adjustment to the North American game. He had 15 points in 27 games with the Bridgeport Islanders before his most recent NHL recall.
His underwhelming draft season that made many of us wonder if Räty had perhaps plateaued early and raised quite a bit of concern about his overall upside seems like a distant memory now. He's had an effective Liiga season and now has made a solid transition to North America. It's a good reminder that development is not always a straight line.
Talking Hockey Sense: Should The Canucks Start Tanking For Connor Bedard?
Evaluating Vancouver's Return
Vancouver did well to maximize value for a player they were not going to re-sign. They got an everyday NHLer with a year left on his contract in Beauvillier who has been an effective player in his career to date. Räty is a 20-year-old player with upside who still has a little ways to go before we figure out exactly what he'll be at the NHL level.
I'd classify Räty as a "B" prospect, which is to say he is unlikely to be a top-line player and less likely to be star-caliber, but he still has a chance to be an impact player at the NHL level. The most optimistic projection is that he's a top-six center who can drive play. The more likely scenario is that he's a middle-six center who can provide good secondary scoring and adequate defensive play. He's an upgrade within a Canucks system that does not have a lot of depth at this point.
Given that he was acquired as a critical piece in an important trade for the Canucks, it may best serve Räty to play in the AHL with Abbotsford for the time being. He still has plenty to learn and can afford to get stronger before he is an everyday NHLer. He can get more reps in Abbotsford's top six and grow into that role. At only 20 years old, there's plenty of time for Räty to reach the ceiling, especially offensively.
The first-round pick Vancouver received is top-12 protected, which means the pick moves to 2024 with no protection if it's in the top 12 this year. Regardless, that pick still has a chance to be an especially valuable asset. Vancouver still needs to replenish its prospect system.
After all of the consternation over how the Bruce Boudreau situation was handled, Vancouver fans probably are none too pleased with losing the team's captain. However, this return should at least make that decision a bit more palatable. This is Patrik Allvin's first massive trade as a NHL general manager and he got a prospect that should help their team down the road and a first-round pick that carries a bit more value this season. That's solid work.