2023 Air Force vs RIT - Men's
RIT Having Memorable Season, Chasing Atlantic Hockey History
RIT Having Memorable Season, Chasing Atlantic Hockey History
The No. 19-ranked RIT Tigers are chasing the Atlantic Hockey record book as the final month of the regular season nears.
Jan 28, 2023
by Jacob Messing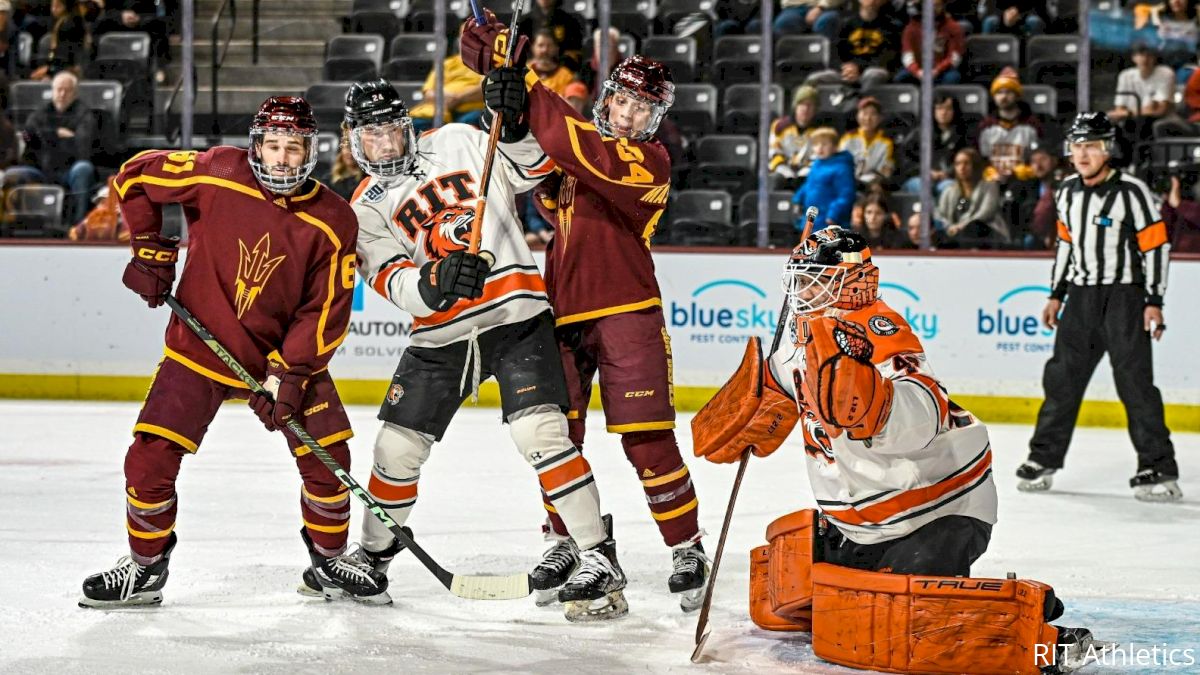 The No. 19-ranked RIT Tigers are chasing the Atlantic Hockey record book as the final month of the regular season nears.
The Tigers hold a 13-2-1 conference record (17-6-1 overall) and a favorable remaining schedule relative to the Atlantic Hockey standings.
They have taken at least a point in 15-of-16 conference games this year and have not lost to a conference opponent in regulation in 12 games.
Catch every remaining second of RIT's record-chasing season live, right here on FloHockey.
Paced To Pass
The Tigers are on pace to set a few records within Atlantic Hockey.
With at least eight wins over its remaining 10 games, RIT would eclipse its own record for conference winning percentage of .804%.
A perfect stretch would place them .012% shy of the AIC's 2020-2021 shortened, pod-based season record of .916 %.
A perfect stretch would earn them the highest conference winning percentage over a full season, though.
The Tigers also are on pace to finish with the second-fewest conference losses all-time.
During the 2020-2021 season, AIC set the record with one loss, while Army joined a four-way tie for the second-place marker with four losses.
With two conference losses, the Tigers' winning percentage has them on track to join the ranks, poised as high as second all-time and potentially first all-time over a full season.
RIT's Carter Wilkie joins Bernie Corbett on this week's edition of Inside Atlantic Hockey.

The reigning AHA Player of the Week and his Tiger teammates are chasing a conference title and more as we head into the regular season's final month.

🎙️ https://t.co/hD7oI0cU9F#AHA20 pic.twitter.com/o44784DUyQ

— Atlantic Hockey (@Atlantic_Hockey) January 26, 2023
An Outside Chance
During the 2009-2010 season, RIT set the record for conference wins in a season with 22.
With 10 games remaining on the schedule, the Tigers can win out and reset the mark with 23 victories.
Should the perfect finish happen, the Tigers also would set the record for winning percentage for an Atlantic Hockey team at .794%.
AIC set the current mark of .789% during the shortened 2020-2021 pod-based season.
The unblemished run would give the Tigers an .884 wining percentage in Atlantic Hockey, which would place them second behind AIC's record of .916% during the shortened 2020-2021 season.
In a full schedule, eight or more wins would eclipse RIT's second-place Atlantic Hockey mark for winning percentage (.804%), along with an .884% mark in Atlantic Hockey, placing them second all-time and first within full seasons, as mentioned above.
Who's In The Way?
The Tigers host 6-7-1-2 Holy Cross this weekend, which they hold a 2-0 record against this season and have won five consecutive games against dating back to the 2019-2020 season. Holy Cross sits fifth in Atlantic Hockey.
PREVIEW | No. 18/19 #RIT continues road swing with @Atlantic_Hockey set at Holy Cross, Friday and Saturday. #RoarTech https://t.co/KVxmtLhZGg

— RIT Men's Hockey (@RITMHKY) January 25, 2023
Following Holy Cross, the Tigers begin a four-week stretch in February facing Canisius, Niagara, Bentley and Air Force.
The Tigers' last conference loss came at the sticks of Canisius in a 2-1 overtime game. A 10-4 thrashing the next night was memorable in itself, as the Tigers tied for the fourth-most goals in a game and third-most in a conference game.
Canisius sits eighth in Atlantic Hockey with a 3-6-3-2 record and is in the midst of a three-game point streak.
Niagara sits tied for fifth with Holy Cross in the standings with a 6-8-2 record. The Purple Eagles have not faced RIT this season but went 1-3 against the Tigers last year.
The Tigers wrap up their regular season facing the bottom two teams in Atlantic Hockey.
Bentley is 4-11-1 and in ninth place, including an 0-2 record against RIT this season. The Falcons have not defeated the Tigers since the 2018-2019 season and have lost six consecutive meetings.
A home series with 10th-place Air Force (3-10-0-1) finalizes the 2022-2023 season. The Falcons have lost 11 of their past 12 games overall.
The Tigers' lone regulation loss this season came against the Falcons on Oct. 20.
Referenced Atlantic Hockey Record Book can be found here.
---
Have a question or a comment for Jacob Messing? You can find him on Twitter @Jacob_Messing.