OHL - Eastern
Scott Ratzlaff, Carson Rehkopf Among Top Performers At CHL Top Prospects
Scott Ratzlaff, Carson Rehkopf Among Top Performers At CHL Top Prospects
Connor Bedard had a good performance, but he wasn't the biggest standout at the annual CHL/NHL Top Prospects Game.
Jan 26, 2023
by Chris Peters
LANGLEY, B.C. – The CHL/NHL Top Prospects Game is an interesting showcase every year for the NHL Draft. You don't want to put too much stock into a single game, but it does provide a fairly level playing field for the 40 individuals invited to participate.
This is just one of many measuring-stick events that exist in a given season. They often won't lead to a dramatic fluctuation in a player's draft stock. It does give players a chance to show what they can do in front of one of the largest collections of scouts and team executives they'll see in any other single-game opportunity.
The players that have memorable performances in top prospects games are going to at least earn themselves extra looks and extra consideration because they've performed at a high level among their peers with more attention on them than at any point in the regular season.
So here's a look at the players that I thought had the best performances at the CHL/NHL Top Prospects Game
Scott Ratzlaff, G, Seattle Thunderbirds
To me, no player had a better game than Ratzlaff who had the daunting task of starting for Team White against Connor Bedard. As expected, there were a lot of shots on net. Ratzlaff saw 25 total shots, allowing just one goal off of a broken play off a faceoff. In the meantime, he stopped a litany of high-danger chances and even had to stop Riley Heidt from scoring on The Michigan move in the second period. After the game, Ratzlaff explained how he'd never been Michigan'd and hoped he never would be so as to not end up on highlight reels for the rest of the year.
The 2023 NHL Draft has a strong crop of goaltenders and Ratzlaff is not necessarily among the first that comes to mind. NHL teams are often looking for goalies in the 6-foot-2 or taller range, while Ratzlaff was measured at 6-foot-0.5 by NHL Central Scouting Services during the week in Langley.
His performance in this game will be remembered however as he showed tremendous quickness and clearly knows how to make himself as big as possible in the net. He's played well with Seattle in a tandem role with Thomas Milic and was a standout for Canada at the Hlinka-Gretzky Cup in the summer. Ratzlaff continues to show that he might be below average in size for an NHL goalie, but he definitely deserves a long look in the mid rounds.
.@SeattleTbirds fans are use to seeing this out of Scott Ratzlaff 😲 #CHLKTP pic.twitter.com/j2mdec8ANW

— Canadian Hockey League (@CHLHockey) January 26, 2023
Carson Rehkopf, LW, Kitchener Rangers
The only player to register a multi-point game, Rehkopf showed his immense hand skills over the course of the game. The 6-2 forward scored a goal off the rush on a spectacular shot in stride going against the grain and past the goaltender's blocker. It was a pro-level play given how quick the release was while he was in stride.
Rehkopf has hovered around the first round conversation over the course of the season due to his size and skill combination, but as the year has progressed you don't hear about him as much in those terms in conversations with scouts. He's lacked consistency, which is something he's said he's focusing on a lot more this season. There were a few good flashes of his high-end skill and the goal he scored will certainly leave a lasting impression.
Gracyn Sawchyn, RW, Seattle Thunderbirds
If there was one player I continually was writing notes about, it was Sawchyn. His puck skills were well known, but he showed a lot of high-end capabilities with his hands in this game. There's such a creativity to his game, but he also wouldn't quit on any puck. He fought to make every play he could. He doesn't have the strength or the skating ability to be among the top-tier prospects, but his hands looked special in this particular game. He created an awful lot for himself and his linemates.
Riley Heidt, C, Prince George Cougars
Had he converted on his Michigan attempt on Ratzlaff, Heidt would have had a nice little highlight. It was a bit of a slow-developing attempt at the lacrosse-style goal, but he was inches away from burying it. Aside from that, Heidt was noticeable in flashes. He has a heavy shot and made a few quality plays here and there. There are still some concerns about his overall skating ability and somewhat below-average size in terms of whether or not his skills will translate to the next level, but he earned Team Red Player of the Game honors and had a nice showcase for himself.
Connor Bedard, C, Regina Pats
So he didn't score, but Bedard did lead his team with six shots on net and was dominant at the faceoff dot, winning nine of 11 draws. He also set up a bunch of chances for his linemates that didn't get finished, though he didn't finish his best looks either. It's not a game that will be part of the Bedard narrative over the course of the buildup to the draft, but it was not a poor performance either. He made a noticeable impact on the game and simply did not get the results.
Colby Barlow, LW, Owen Sound Attack
The captain of Team White got the scoring started with a net-front tip and followed his own rebound for the lone goal allowed by Carson Bjarnason in the game. Barlow made his presence felt in a variety of ways, often using his strength to get to the interior and make some plays. He has a great shot and can be tough to stop when he lowers his shoulder to drive the middle. There's not a ton about his game that knocks you off your feet, but he's clearly a mature player who brings a lot of effort each and every shift.
Big-time @AttackOHL goal-scorer Colby Barlow shows off the soft touch in the slot to draw the 2023 @KubotaCanadaLtd CHL/NHL Top Prospects Game even at one. #CHLKTP pic.twitter.com/HyDOr63VmT

— OntarioHockeyLeague (@OHLHockey) January 26, 2023
Oliver Bonk, D, London Knights
Bonk was all over Bedard a lot in this game and even drew the late penalty against the Team Red captain as he appeared to be a thorn in his side all game. Bonk clearly put a focus on shutting down Bedard as best he could, playing physically and keeping the game awfully simple. I would have liked to see him get a little more puck play in this game, but I think when you're playing against a player like Bedard, you have to focus more on your game away from the puck. I thought Bonk did that admirably.
Nate Danielson, C, Brandon Wheat Kings
Danielson plays such an unassuming game that you don't always notice him, but he's often making the right plays with a fair amount of precision. He set up multiple scoring chances including the one Luca Pinelli scored on in the third period to get the insurance goal Team White needed. Danielson has size, he skates well enough and he's smart. He always seemed to make the right reads and right choices with or without the puck.
Luca Pinelli, LW, Ottawa 67s
Pinelli scored the eventual game-winning goal on a nice catch-and-shoot off the feed from Danielson. He had a number of scoring chances over the course of the game. As a smaller player, he's got to use his skill level and be decisive with the puck to make an impact. I thought he did that in the game and was rewarded for those efforts with a nice goal from the slot.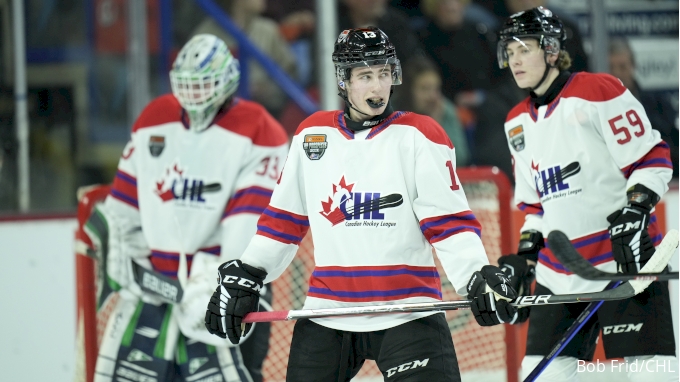 Kalan Lind, RW, Red Deer Rebels
What a menace Lind was throughout the game. He played physically, throwing big body checks and playing the game as fast as he possibly could. He didn't necessarily do a lot with the puck, but he made his presence felt. Despite being a hair over 6-feet, he through a massive check on Matteo Mann, who comes in at 6-foot-5 and nearly 225 pounds. On top of that, Lind dropped the gloves with Alex Pharand, who also is a fair amount bigger than him. In these showcase events, you try to make your presence felt and I think Lind did that. There is some first-round chatter around him as he's scored over a point per game and plays with that edge.
Cameron Allen, D, Guelph Storm
I thought Allen needed to have a good game after the season he's had and he did. He's a very good skater who can make a lot of rapid-fire decisions with the puck. He was making good decisions under pressure and found ways to aid his team's transition often. The ability to get pucks up and out of the zone is so important in today's NHL and I think Allen does that. His offensive numbers have tanked this year on a poor team, but I still think there's some real value in the toolkit Allen has. I'm not sure he's a first-round prospect anymore, but I think he'll be a very early pick on Day 2 if not.
Tanner Molendyk, D, Saskatoon Blades
Boy, can Molendyk ever skate. He was rushing a lot of pucks up ice, showing that he can use that good skating ability in defense and create some problems for the opposing team. He doesn't always make the right decisions with the puck and he's not had a ton of offensive success this season – at least not at the level that a sub 6-foot defenseman has to produce at to have a chance to be more than a mid-round pick. There are tools there, though, and I thought he performed well.
Zach Benson of the @WHLWpgICE closes out the scoring at the 2023 @KubotaCanadaLtd CHL / NHL Top Prospects Game! pic.twitter.com/XXkoUZDKd5

— The WHL (@TheWHL) January 26, 2023
Zach Benson, LW, Winnipeg ICE
It's not easy playing on the same line with the guy you know everyone wants to see score, but I thought Benson played to his identity well in the game and didn't overly defer to Bedard. He created some opportunities, was hard on pucks and good in puck pursuit. He made a few plays and even scored a late goal, getting to the middle and putting a perfect shot on net to get the tally. Benson is a super smart player and I think he's finding his footing as a high-end prospect for this draft.