2023 NHL Draft
CHL/NHL Top Prospects Game: Connor Bedard Scoreless, Goalies Steal Show
CHL/NHL Top Prospects Game: Connor Bedard Scoreless, Goalies Steal Show
Connor Bedard didn't hit the scoresheet as his Team Red dropped a 4-2 decision to Team White in the CHL/NHL Top Prospects Game.
Jan 26, 2023
by Chris Peters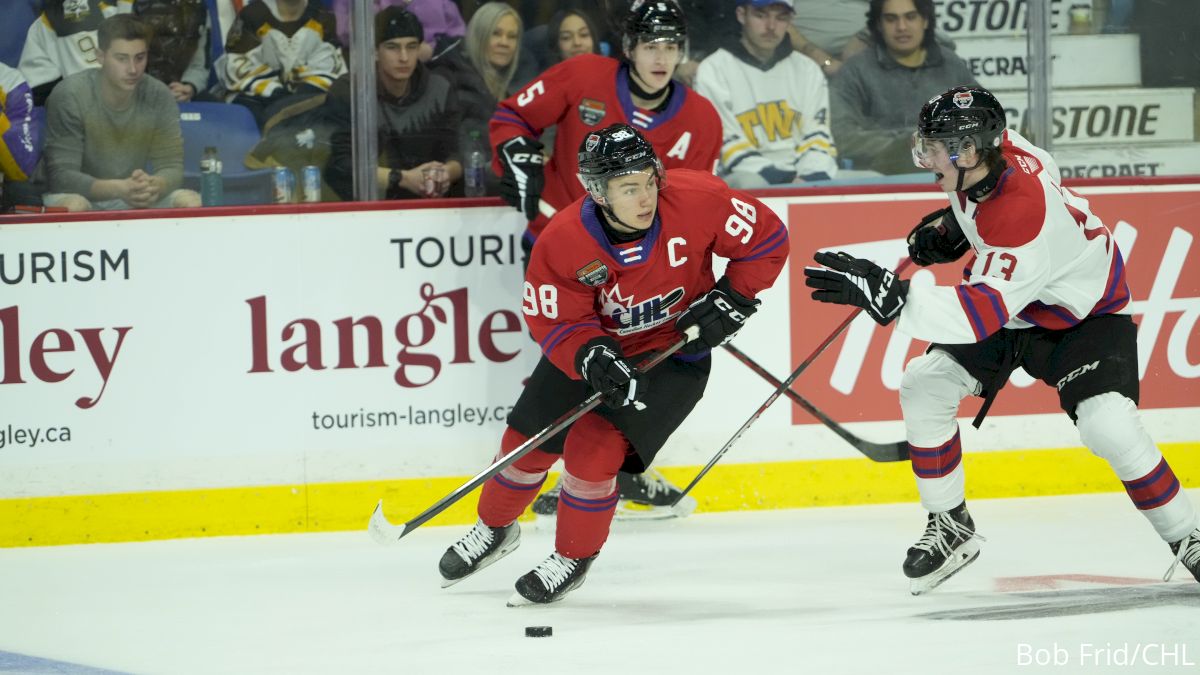 LANGLEY, B.C. -- In a game that had so much focus centered around one player, it was the four young players that stepped between the pipes that stole the show at the CHL/NHL Top Prospects Game. No. 1 NHL Draft prospect and hometown boy Connor Bedard was held off the scoresheet as his Team Red dropped a 4-2 decision to Team White at the Langley Events Centre.
It was actually Team White goalie Scott Ratzlaff who may have made the biggest impression of any player in the game, stopping 24 of 25 shots over nearly 32 minutes of ice time in the first half of the game. The Seattle Thunderbirds' netminder stuffed Bedard from pointblank range for his last save of the prospects showcase.
After both teams traded goals in the first period, Team White opened up a lead off a tremendous rush up the ice and shot in stride from Kitchener Rangers forward Carson Rehkopf. That made it 2-1 3:53 into the final frame.
Carson Rehkopf snaps one home to give Team White a 2-1 lead in the 3rd period 🚨#CHLKTP pic.twitter.com/h7v7kqh20i

— TSN (@TSN_Sports) January 26, 2023
Bedard's Team Red kept pushing, holding a decisive shot advantage for much of the game, but Brandon Wheat Kings center Nate Danielson put a perfect pass on the tape of Ottawa 67s winger Luca Pinelli, who got a quick shot off that beat Charlie Robertson high-blocker at the 13:20 mark to make it 3-1.
Calum Ritchie added an empty-net goal off a centering feed from Rehkopf to make it 4-1. That sparked a scrum that Bedard was in the center of, resulting in a penalty for the Team Red captain.
Despite the continued attack from Team Red, the quality of chances failed to generate a comeback bid. Winnipeg ICE forward Zach Benson did score a late goal to make the scoreline look a little less lopsided. As a result, Team Red took a 4-2 loss, spoiling the homecoming for North Vancouver's Bedard.
Despite the lack of goals, the No. 1 prospect had no shortage of chances. Bedard led Team Red with six shots on goal, but ultimately finished with zero points. He was minus-2, but won nine of his 11 faceoffs taken and generated a number of quality scoring chances for his linemates. There were a few flashes of that brilliant skill that he possesses, making moves on defensemen that left a few of them wobbly on their feet, or in one case took a defender right off his feet.
In a year where he's elevated so often, Bedard just couldn't seem to solve either of the two WHL netminders he squared off against as both Ratzlaff and Unger managed to keep the door largely shut with each allowing just one goal to share the victory.
This game won't end up on Bedard's highlight reel, but it also won't do anything to knock him from his lofty pedestal of the No. 1 prospect.
Riley Heidt was named Player of the Game for Team Red, while Rehkopf was named Player of the Game for Team White with a goal and an assist.
Rehkopf was the only player in the game to register two points, scoring the initial go-ahead goal and assisting on the empty-netter that helped seal the game for Team White. Heidt had an assist, five shots on goal and finished a plus-1.
Among the clear standouts in the game was Ratzlaff, though, who had a heavy workload over the first 32 minutes of the game. He thwarted Bedard multiple times and prevented Heidt from scoring The Michigan goal with a shoulder save.
Riley Heidt nearly pulled it off! 🥍 #CHLKTP pic.twitter.com/WxVZzmOTYz

— Canadian Hockey League (@CHLHockey) January 26, 2023
After the game, Ratzlaff joked that he knew he had to stop that shot otherwise he would have been on a highlight reel for the next month straight. He anticipated the move and got his shoulder to seal the post in the nick of time in a big moment in the second period. Shortly after that, he had the pointblank save on Bedard.
Jackson Unger, who came on in relief of Ratzlaff may not have seen the same quality of chances, but he was put to work as well. He stopped 21 of 22 shots to help secure the W for Team White.
In a night where everyone was hoping to see one player score a lot of goals, Ratzlaff and Unger certainly spoiled the party. With the number of scouts in the building, they couldn't have picked a better time to be party poopers.
Stay tuned for Chris Peters' standout performers of the CHL/NHL Top Prospects Game coming coming soon to FloHockey.