2023 Team USA vs Bowling Green - Men's
CCHA Reasons To Watch: A Glimpse At Hockey's Future On The Schedule
CCHA Reasons To Watch: A Glimpse At Hockey's Future On The Schedule
This weekend, FloHockey has some irresistible reasons to watch: A preview of American hockey's future, Beavers going hunting and must-see TV in the U.P.
Jan 26, 2023
by Tim Rappleye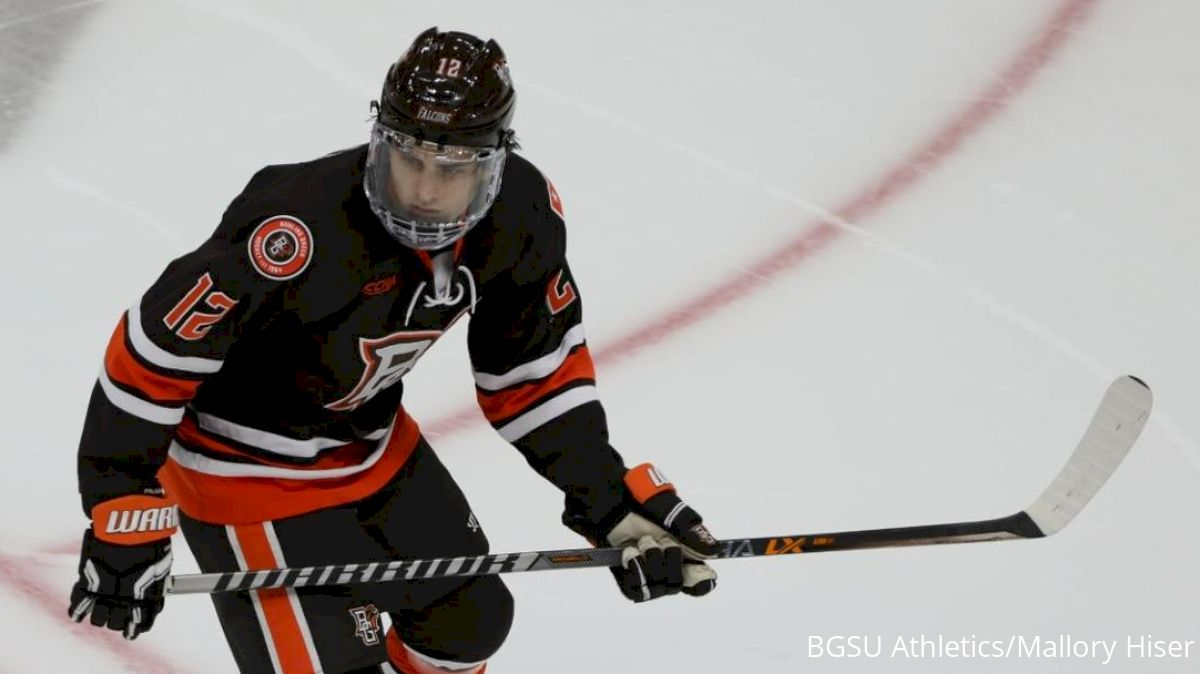 This weekend, FloHockey has some irresistible reasons to watch, including a preview of American hockey's brilliant future, Beavers going hunting for crucial points in the Soo and must-see TV in the U.P.
Worlds Collide
The best NHL prospects in the world, fresh-faced teens wearing red, white and blue, will clash with hardened young men from Bowling Green on Friday night.
USA Hockey's National Team Development Program (NTDP) is the breeding ground for America's U18, U20 and Olympic rosters.
Flocks of scouts, agents and the country's best college coaches hang in the shadows of the NTDP fortress in Plymouth, Michigan.
Bowling Green, on the other hand, takes long bus rides to CCHA venues, where the Falcons plow trenches against 20-somethings desperate for the attention necessary to earn a tryout or free-agent contract in the pros.
Make no mistake, this is a clash between "haves" and "have nots" or white-collar danglers versus blue-collar grinders.
The NTDP's crème de la crème is the forward line of Will Smith, Ryan Leonard and Gabe Perreault. Viewers on Friday night simply need to remember the numbers 2, 9 and 4. Watch and learn.
This trio will remain intact next year at Boston College, their final stop on their way to the NHL. They are on the express train to hockey fame and fortune.
We host the USA Hockey U18 team for an exhibition on Friday. Let's revisit last year's interview with Falcon Hockey alumnus and 1980 USA Hockey Olympic gold medalist Ken Morrow! pic.twitter.com/uoGZ9tAzOv

— Bowling Green Hockey (@BGFalconHockey) January 25, 2023
BGSU sophomore Austen Swankler, the CCHA's leading scorer, has endured a much rockier road.
After two solid campaigns in Canadian major junior hockey, his career was put on ice for an entire season, when the OHL shut down due to COVID in 2020-2021.
Swankler was forced to plead his case to both the NCAA and Bowling Green in order to extend his pro ambitions.
It has taken nearly two seasons, but Swankler has learned to thrive in a league full of bulky back-checkers, whose role is to thwart skill by any means necessary.
America's U18 peacocks have been strutting through NCAA teams with great success this year, and they probably expect to do the same with Bowling Green on Friday.
Watching snubbed veterans like Swankler, Nathan Burke (13 goals) and D-monster Hunter Lellig (32 PIMs) tangle with America' chosen few should make compelling theater.
Stand by for yet another chapter of "Will vs. Skill."
Beavers Brace For The Soo
Tom Serratore's Bemidji State Beavers are perched precariously in fourth place in the CCHA standings and would be the final team to qualify for a home-ice quarterfinal series if the season were to end today.
On the Wednesday prior to his club's road series with Lake State, Serratore spouted the truths of hockey in the second half of every season: "Wins are very tough . . . Doesn't matter who plays who . . . The road is very hard . . . A game of inches."
@BSUBeaversMHKY Serratore previews road trip to Lake Superior State.https://t.co/j5o5j21njY#GoBeavers #BeaverTerritory https://t.co/UGO2u9XgAS

— Bemidji State Beavers (@BSUBeavers) January 25, 2023
Like so many coaches, Serratore believes more in process than product.
"Everything is about your effort, focus – play hard, play smart," said Serratore, who was not upset with his club's loss Saturday to Northern Michigan.
There are two players to watch this series.
The first is Lake State goalie Ethan Langenegger, who has demonstrated the last three years that he can steal CCHA points single handedly.
The second is BSU frosh Lleyton Roed, who has earned CCHA Rookie of the Week honors three times this season. Even more impressive, is the praise he elicits from Serratore.
"There are three things [to love] about Lleyton – great speed, hockey sense and his battle level."
Lleyton Roed earns his CCHA leading 3rd @CCHAHockey Rookie of the Week award!#GoBeavers #BeaverTerritory pic.twitter.com/VWScywxmUF

— Bemidji State Men's Hockey (@BSUBeaversMHKY) January 23, 2023
If Bemidji is to secure home ice in the CCHA, it will be on the shoulders of this remarkable freshman from Minneapolis.
At a point in the season when most newcomers are slowed by injury and fatigue, Roed continues to make plays and pile up points. Viewers should take note every time No. 29 in green takes the ice.
Must See TV From The U.P.: Michigan Tech Vs. Northern Michigan
Michigan Tech against Northern Michigan is the Midwest's answer to Boston College and Boston University, only instead of 3 miles across the Hub, it's 90 miles along the coast of Lake Superior, virtual neighbors for Yoopers.
So much has been made about gaining points in the CCHA standings and fractions on the Pairwise computer.
All that is secondary this weekend.
A home-and-home series between Michigan Tech and Northern Michigan is a battle for the hockey soul of the frigid frontier, known as the Upper Peninsula.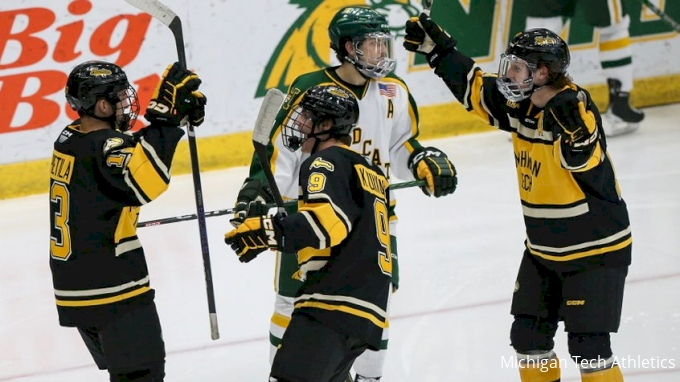 Fans in green will invade Houghton on Friday night, and even more fans in black and gold will return the favor in Marquette on Saturday. Sellouts lead to spikes in the ratings.
"I've seen the numbers," said FloHockey honcho Chris Peters. "Fans are getting turned away at the gate and tuning into Flo."
This is the second home-and-home series between these blood rivals this season.
In December, freshmen Josh Zinger and Joey Larson etched their marks on this series with late-game heroics for Northern.
Wildcats WIN!

Alex Frye nets the game-winner shorthanded in OT! What a game!#NMUwildcats #ShareNMU #CCHAHockey pic.twitter.com/TsRuUB3tAb

— NMU Men's Hockey (@NMUHockey) December 3, 2022
The Huskies Ryland Mosley will never be forgotten for his two snipes in prime time on a Saturday in Houghton.
Legends are forged under the hot lights of this rivalry series that rivals all others.
The rest of the CCHA games this weekend are on-demand, but Tech and Northern is appointment television. Clear your calendar and stock up on popcorn, it's college hockey at its passionate best.