Men's CCHA Hockey
CCHA RinkRap: The Gritty Grind Of A CCHA Weekend
CCHA RinkRap: The Gritty Grind Of A CCHA Weekend
This week in RinkRap: Frustration at Michigan Tech, a breakout performance in Mankato and tasty tidbits from around the league.
Jan 24, 2023
by Tim Rappleye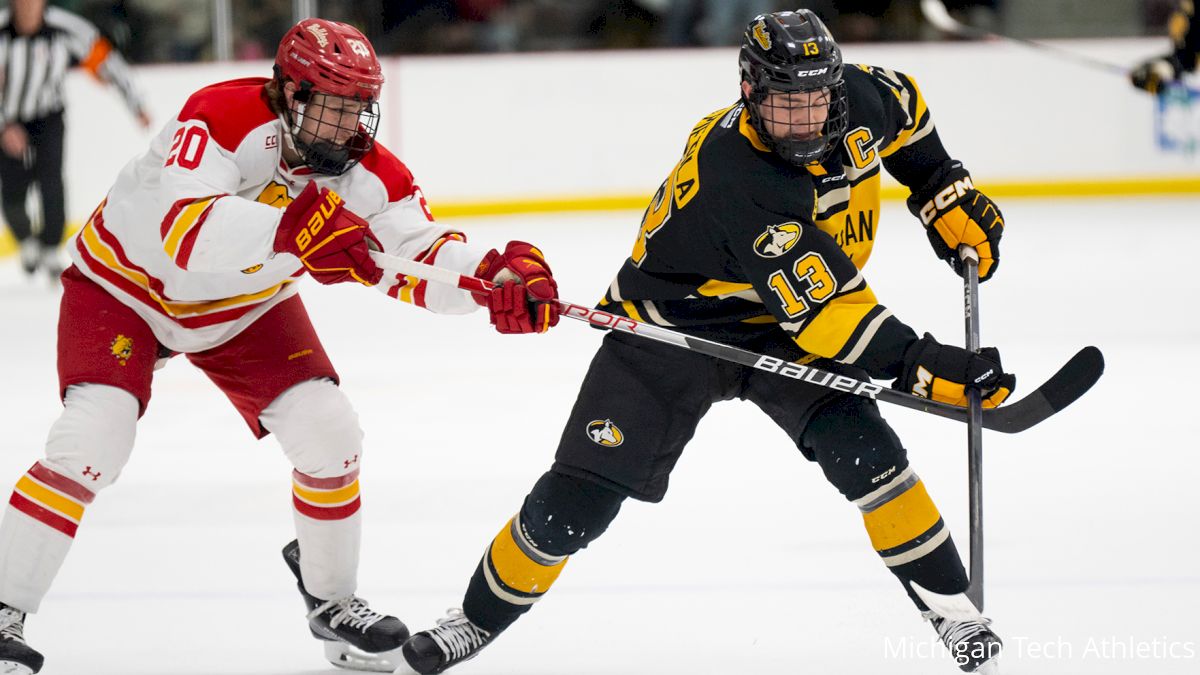 Joe Shawhan was spitting mad Saturday night.
His Michigan Tech team had just blown three different leads to Ferris State and coughed up two points in the standings. Shawhan approached Dirk Hembroff to share his version of events with the Huskies Radio Nation.
Shawhan saw a middle-aged journalist with a lanyard around his neck and mistook him for the director of officials, hoping to vent. Informed otherwise, Shawhan sat down with Hembroff and spewed.
"Disheartening . . . very disappointed in every aspect . . . turnovers were terrible, gapping was horrible."
With that, Shawhan got up and retraced his steps back to his disappointed Huskies, a group that was a 1:22 away from stealing six CCHA points in an excruciatingly tight race for the MacNaughton Cup. Instead, they were forced to settle for four.
Welcome to a day in the life of the league with the most parity in all of college hockey, the swirling inertia of the CCHA.
The brass of the league clocked in as follows:
Minnesota State picked up 5-of-6 points at home; Bemidji's Beavers bagged three points in a pure split with Northern; Bowling Green's Falcons had to claw for a pair at St.Thomas; and as stated earlier, the Huskies saw two meaty points cleaved away from a potential six-point bone.
Every game belongs to anybody, even in the most extreme matchups.
Fans and CCHA officials watching the scoreboard in Mankato saw the 60th-ranked LSSU Lakers leading or tied with the 15th-ranked Mavericks for most of Friday and Saturday.
The league's supreme goalie – Tech's Blake Pietila – lost a post-game shootout duel with Ferris State's No. 2 goalie, Logan Stein.
The CCHA should coin a new motto: "Expect the unexpected."
"You don't want to see any of these teams in the playoffs," said a justifiably alarmed Hembroff in an aside from his broadcast perch in Big Rapids.
Bob Daniels thinks his .500 Bulldogs belongs in the conversation of the CCHA's top teams.
"We've played this (Tech) team seven times, five have gone to overtime, the other two have been one-goal games," said Daniels in Saturday's post-game remarks. "There's not a lot of difference when we're playing them, and yet, why are they so high in the in the Pairwise, and we're not?"
The CCHA standings makes calculus look like child's play.
Fans must factor in games in hand, league winning percentage and don't forget, the all-important SOW and SOL columns. They all play a role in sorting out a crush of teams all dreaming of the MacNaughton silver rush.
Late Night With Akito In Mankato
Akito Hirose is mild-mannered, keeps to himself and has become immensely popular in the Mankato hockey community.
"On Mondays, he comes to the rink with a smirk, I don't know if he's laughing at you or with you," said Minnesota State head coach Mike Hastings. "He's fun to be around. I'm happy for him."
That's an understatement.
After a four-game home losing streak, Mighty Kito is bringing joy to Mankato's Mudville, scoring goals in three straight games – his first tallies of the season – racking up 12 points in his last nine games.
It has put a smile on everyone wearing purple jerseys in the rinks of southern Minnesota.
On Friday night, he scored the overtime winner from the goalmouth of the net he was attacking, rare turf for a defenseman. Due to popular demand, the reluctant hero faced the media and simply crushed the assignment. Here is the Hirose sampler pack:
"I don't really like talking to the media, but if I keep scoring goals, I might as well keep doing it," Hirose said.
On his game-winning goal: "I've got pretty good feet, the ability to think through it pretty well. In juniors, I had three or four three-on-three goals, just recognizing when you have your man beat."
Akito Hirose breaks the tie in the third 🔥 pic.twitter.com/gQa4XJYnwk

— Minnesota State Hockey (@MinnStMHockey) January 22, 2023
Then Hirose introduced North America to a term soon to be a staple in locker rooms and pressers everywhere.
"I find myself a little Kathryn Tappen," he said after beating his man in OT – as in the iconic NHL studio host, or the very short putt, a tap-in.
Hirose's 1-footer rolled in for two big points in the CCHA standings, and he was just warming up in the post-game presser.
Due to shared time in the junior hockey, Hirose assumed the role of wise elder on the topic of impressive rookie Simon Tassey.
"He's been talking about how he wants to show me how much better he has gotten, and I definitely saw it tonight," Hirose said.
Or on his former mate, Laker goalie Ethan Langenegger. "I played with Langer in juniors, and he stood on his head tonight."
Then, Kevin Dudley of the Mankato Free Press, drilled down on a serious topic, asking how relieved Hirose felt after finally winning a home game, having to live with a four-game home losing streak over the lengthy holiday break.
This just teed up the junior from Calgary for his mic-drop moment.
"I don't remember anything that happened before Christmas," said Hirose, who flashed his Mona Lisa smirk once again. "For us, it's a new season, we're a new team. I like the direction we're going."
And with that, Elvis left the building.
Fries Found In The Bottom Of The Bag
- Ferris State scoring star Jason Brancheau (two goals Saturday) was celebrated more for his blocked shot with the game on the line against Tech than his scoring prowess.
"I nearly got a concussion from all the taps on my head from my teammates," Brancheau said.
- Bemidji goaltender Mattias Sholl painted his first NCAA shutout Friday night against Northern Michigan.
That was the first BSU shutout since Zach Driscoll whitewashed Alabama Huntsville on consecutive nights in March of 2021. (Special thanks to Lucas Pipenhagen for that factoid).
- According to Tech's Black Aces up in the Ferris press box, Huskies senior Jake Crespi was asked by the coaching staff if he wanted to return to his normal forward position after filling in at defense for the past two months.
Crespi chose to stay back on the blue line, where he can see the game more and have longer puck touches.
Late in Saturday night's contest, Crespi danced 100 feet with the puck on his tape, before beating Stein for his 10th career goal, breaking a 2-2 tie.
- With Bowling Green facing the prospect of getting swept at St. Thomas, streaking Falcon Austen Swankler fired home his 16th goal of the season to force overtime.
The clutch tally extended Swankler's scoring streak to 18 games.
"The goal allowed us to ultimately get two really big points," Ty Eigner said of his scoring star. "I'm not sure the last time a player was on a run like this."
Who else? Austen Swankler ties the game with the goalie pulled for @BGFalconHockey! He extends his point streak to 18 games.

Watch live on @FloHockey
💻: https://t.co/WoFCBfU2EN #CCHAHockey pic.twitter.com/eqEB5qkK50

— CCHA (@CCHAHockey) January 21, 2023
It turns out, the Bowling Green record for most consecutive games with a score is held by Eigner's former college teammate, Nelson Emerson, who had a 29-game scoring streak in 1989-1990.
Nelson's son Quinn is a BG freshman, one of Eigner's best penalty killers.