2023 Lake Superior State vs Minnesota State - Men's
CCHA Reasons To Watch: Minnesota Again Epicenter Of College Hockey
CCHA Reasons To Watch: Minnesota Again Epicenter Of College Hockey
This week, the CCHA offers many reasons to turn on FloHockey - a potential out-of-body experience, a bubble balancing act and 10 angry men making a stand.
Jan 20, 2023
by Tim Rappleye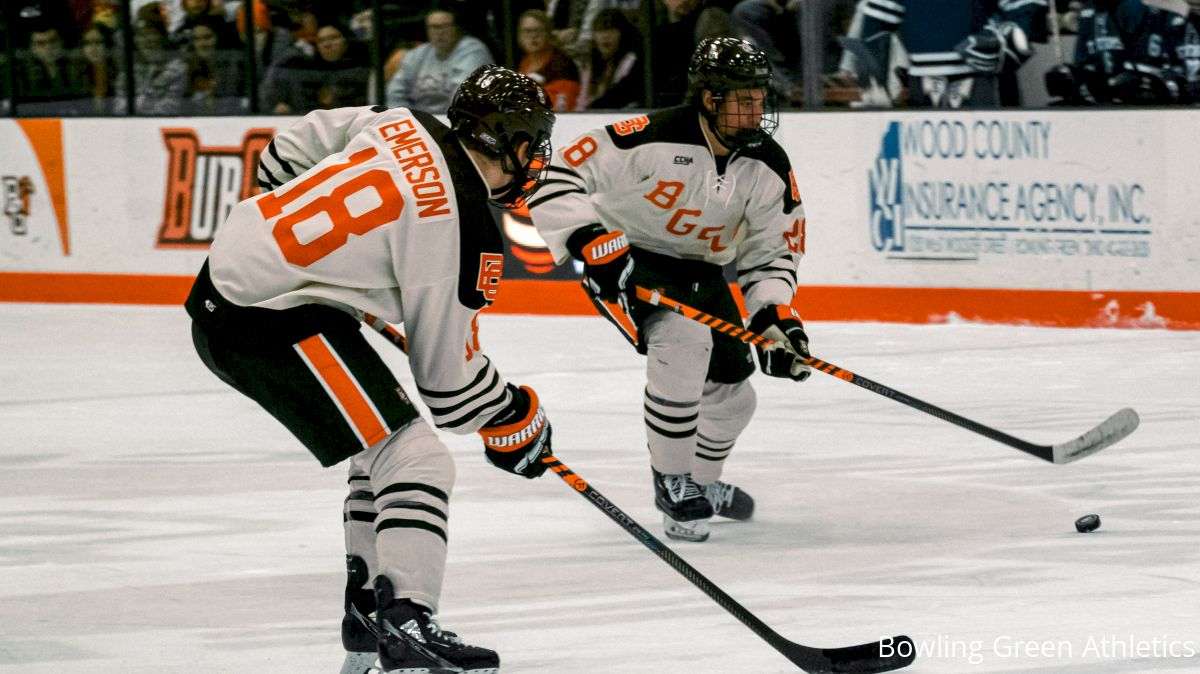 This week, the CCHA has plenty of reasons to turn on FloHockey, including a potential out-of-body experience in the Twin Cities, a bubble balancing act in Big Rapids and 10 angry men making a stand in Mankato.
No. 24 Bowling Green Vs. No. 46 St. Thomas
This week, the Twin Cities of Minnesota became the epicenter of college yet again.
This time, it was a $75 million individual donation to St. Thomas athletics that had the CCHA watchers setting their calendars for Rico Blasi's return to the league's penthouse.
Thanks to the astounding generosity of Lee and Penny Anderson, a sparkling 4,000-seat arena officially is in the works for the Tommies, a team that already had a recruiting advantage due to its location in the heart of hockey's greatest state.
Thanks to a record-breaking, $75 million gift from the Anderson family, we are excited to announce a multiuse, on-campus arena in St. Paul for D-I men's and women's hockey and basketball programs. Learn more: https://t.co/lJSVS5sJpD pic.twitter.com/fVOhnMsKVm

— University of St. Thomas (@UofStThomasMN) January 17, 2023
The visions of a new hockey palace - and a clutch road win against No. 13 Michigan Tech - will generate an enthusiasm bump for the hometown Tommies this weekend, and they will need it against first-place Bowling Green.
The Falcons have been channeling the wicked witches of ancient fables: "Sweep, sweep, sweep."
BGSU has rung up six straight wins, topping RPI, Lake State and Bemidji. After each sweep, a scene straight out of pro wrestling explodes within the BG locker room.
For the THIRD consecutive weekend, we present: The Diamond Cutter💎✂️ pic.twitter.com/zckpAVkzpg

— Bowling Green Hockey (@BGFalconHockey) January 15, 2023
Coach Ty Eigner, like the rest of his club, clearly is enamored with 58-year-old equipment manager Scooter Jess and his rendition of the infamous WWE Diamond Cutter.
"He transforms into some out-of-body experience, everybody around it loves it and it's a lot of fun," said Eigner, who also loves the immense amount of social impressions those videos generate. "It's a huge thing for our program."
If Jess is to emulate Diamond Dallas Page once again Saturday night, BGSU's starting goalie, Christian Stoever, will have to outplay CCHA Rookie-of-the-Week Aaron Trotter between the pipes.
There are two major reasons to watch this series from St. Paul.
The first, is to track Austen Swankler's 16-game scoring streak - the longest in the NCAA.
The second reason is if BGSU is in position to sweep Saturday, check the @BGFalconHockey social feeds for the wackiest post-game party in college sports.
Prediction: Scooter will be relegated to packing sticks and skates after Saturday's game, as there will be no sweep for the Brown and Orange. Playing Blasi's Tommies has become one of the toughest chores in the league.
No. 13 Michigan Tech Vs. No. 31 Ferris State
On Monday, Joe Shawhan appeared sincere when he said he thought Ferris should be favored this weekend against his Huskies.
It sounds disingenuous on first blush, what with Shawhan's nationally ranked squad - which had a recent win over No. 7 BU - playing a .500 Ferris squad, but upon further review, Ferris coach Bob Daniels plays the selfless, egoless game for which Shawhan yearns.
The greater Tech's success, the more Shawhan needs to remind his club of its winning identity.
"Our strength is our group," Shawhan said. "Not the individual. As the season winds deeper into the second half, the players find themselves distracted. Scouts and contracts . . . SportsCenter: Top 10 Plays."
Shawhan laments the "me-first" characteristics of the successful Division I player, and carefully cautions against it.
Goaltending in this series is a reason to watch.
Tech's Blake Pietila is the league's king with a .924 save percentage, but Noah Giesbrecht of Ferris is within one-thousandth of a point, a statistical push.
Blake Pietila is a Hobey Baker Award nominee for the third straight season. #mtuhky #FollowTheHuskies

🗳️ https://t.co/bOFAzRYHrg
📝 https://t.co/Hg9Ppk1FPd pic.twitter.com/tz94U8X1P4

— Michigan Tech Hockey (@mtuhky) January 19, 2023
The other reason to watch on the Huskies' side is the return of captain Arvid Caderoth.
His overall play, particularly in the faceoff circle, along with his leadership intangibles, should push Tech to victory.
Prediction: Michigan Tech should come through this weekend with at least four points in the standings, but as is its habit, each game will be a nail-biter.
No. 60 Lake Superior State Vs. No. 15 Minnesota State
Earlier this month, Minnesota State's Mike Hastings announced that clutch scorer Sam Morton has been lost for the season due to injury.
Many think that losing Morton, a key performer in the Mavericks Frozen Four trips of 2021 and 2022, spells a death knell for MSU's chance at a third straight trip. They would be wrong.
Ten current MSU players, in addition to Morton, have traveled to the college hockey mountaintop the last two years.
Clutch scorers, such as Ryan Sandelin, Brendan Furry, Lucas Sowder, Ondrej Pavel and Cade Borchardt, as well as the best defense tandem in the sport - Jake Livingstone and Akito Hirose, are chomping at the bit.
"We are all excited about being back at home," Coach Hastings and his Mavericks take home ice for the first time in over a month this weekend.#letsgomavericks | #ccha pic.twitter.com/8ID5KCiGMN

— Minnesota State Hockey (@MinnStMHockey) January 19, 2023
It's a perfect 10. They all have swept through not one, but two, NCAA tournament regionals. They all have the experience of playing in a national championship game, and they all have rounded into form for this season's home stretch.
Coach Mike Hastings goes into this weekend's series having just won four straight games on the road, eager to make amends for a spotty record at home this season.
Pity the Lakers arriving from the Soo.
Despite an impressive win over Ferris in its last outing, LSSU will run into the latest rendition of the Purple People Eaters, a club on the cusp of securing a seventh straight NCAA Tournament bid, via the Pairwise rankings.
Prediction: A rousing sweep for Minnesota State. The Ole goal song should play 10 times over the weekend.