Atlantic Hockey
Coast To Coast: Moving Up And Moving Forward
Coast To Coast: Moving Up And Moving Forward
Even with winter breaks, roster freezes and less action, December still brought plenty of news at every level that continued into the New Year.
Jan 14, 2023
by Jacob Messing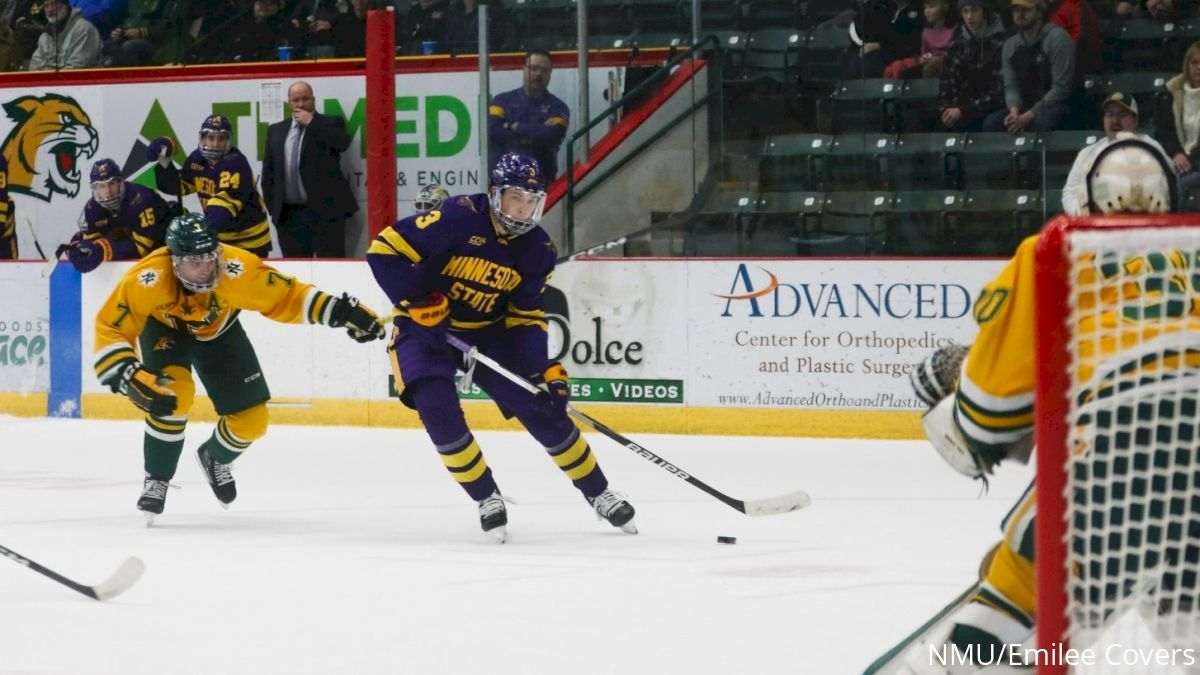 Coast To Coast is FloHockey's monthly, cohesive news on North American hockey and livestreaming partnerships.
Even with winter breaks, roster freezes and less action, December still brought plenty of news at every level that continued into the New Year.
Don't miss a second of Atlantic Hockey, CCHA, USHL or ECHL action. Catch it all live all season long, right here on FloHockey.
Atlantic Hockey Announcements
The Niagara Purple Eagles made a pair of notable moves, including an extension for head coach Jason Lammers.
Lammers entered the season with a 58-93-18 career record with the Eagles, where he started ahead of the 2017-2018 season.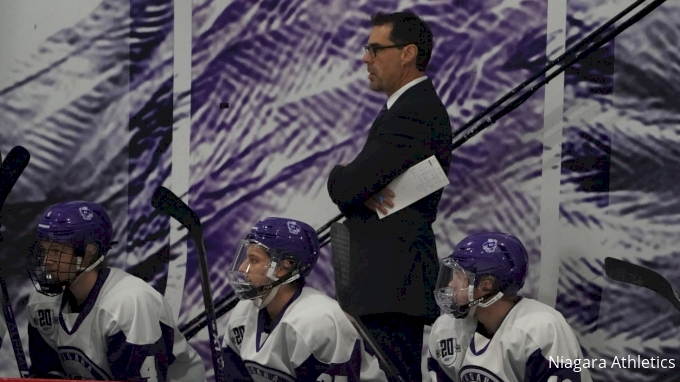 The Eagles had their best start to the season since the 2012-2013 campaign, earning Lammers an extension through the 2026-2027 season.
Joining Lammers in the news is former NHL forward Brian Gionta, who the Eagles hired as the director of player development.
In more than 1,000 NHL games, Gionta captained the Montreal Canadiens and Buffalo Sabres. He also was a member of Team USA at the 2006 and 2018 Olympic Games.
1,026 NHL Games
Two-time Olympian
2x NHL Captain

We have added Brian Gionta to the coaching staff as the Director of Player Development!

📰: https://t.co/I3U21uejEJ#Uncommon pic.twitter.com/NIwGtlFccx

— Niagara University Men's Hockey (@NiagaraMHKY) January 12, 2023
The Sacred Heart Pioneers are set to open their program-changing facility, Martire Family Arena, this weekend, and they'll host Boston College.
The arena is poised to be among the best college facilities in the nation and a step toward the Pioneers' program development.
The wait is almost over as @SHUHockey gets set to open its new state-of-the-art Martire Family Arena this week with a marquee matchup against @BC_MHockey. Head coach C.J. Marotollo previews the highly-anticipated opener: https://t.co/tkYFt7bMfi

— FloHockey (@FloHockey) January 9, 2023
CCHA Come-Ups
Despite being 10 months away, this month marks the first year of Augustana University's two-year transition into joining the CCHA as the conference's ninth program.
Augustana has taken off the 2022-2023 season but will begin playing CCHA programs at the start of the 2023-2024 season, followed by a full CCHA schedule in 2025-2026.
Vikings head coach Garrett Raboin spent four years as an assistant at Minnesota. He spent the previous six years in the same capacity with St. Cloud State.
The Minnesota State Mavericks have taken a step back this season after four years of being a national powerhouse and pre-season lock for the national tournament. We'll call that the Dryden McKay Effect. More on him later.
But December's Rookie of the Month, Christian Fitzgerald, is the latest monthly honor for Mankato this season. Jake Livingstone was the CCHA Defenseman of the Month, while David Silye was the CCHA Forward of the Month in November.
The pieces are in place for a turnaround in the second half, and the dangerous program that is Minnesota State hasn't forgotten that. Expect to see continued contributions throughout the lineup this spring to push the team back into the spotlight.
At Michigan Tech, moving forward means a third Mike Richter Watch List alert for netminder Blake Pietila. The senior holds a 13-6-2 record with a 2.17 GAA, .923 SV%, and career-best and league-leading four shutouts. This could be the year.
Blake Pietila has been named to the Mike Richter Award Watch List after being a two-time finalist. #mtuhky #FollowTheHuskies

📝 https://t.co/qehLhEFLBi pic.twitter.com/yv8098NqKm

— Michigan Tech Hockey (@mtuhky) January 12, 2023
ECHL Experience
Following four years with Atlantic Hockey's Army West Point honing his goal-scoring ability, Colin Bilek has registered nine goals and 17 points in 26 games with the Trois-Rivières Lions.
Bilek recently earned a two-game stint with the AHL's Manitoba Moose, as his work ethic often touted by Army coach Brian Riley has his hockey career continuing to develop toward the next level.
A standout 2021-2022 season with Northern Michigan earned forward Hank Crone a contract with the Allen Americans entering this season. He has contributed 16 goals and 42 points in 32 games, placing him fifth in scoring in the ECHL.
A consistent scoring threat means it's only a matter of time before his chance at the AHL.
Another CCHA alum, former Minnesota State goaltender Dryden McKay, has split time between the ECHL's Newfoundland Growlers and AHL's Toronto Marlies.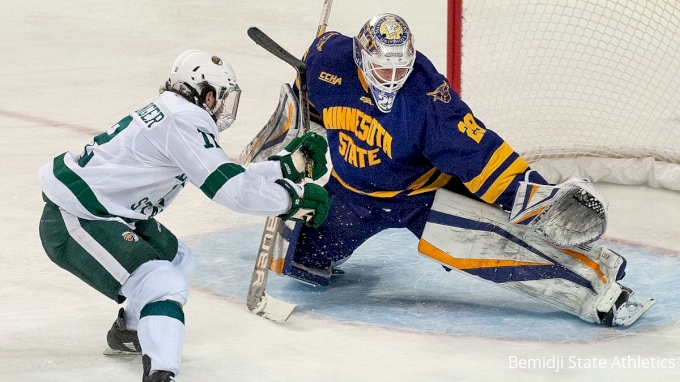 McKay's adjustment to the next level has come with some rocky starts.
He holds a 3.38 GAA and .885 SV% in two games with Toronto and 3.57 GAA and identical .885 SV% in 13 games with Newfoundland.
As the season progresses, McKay is a solid bet to bounce back and begin gaining confidence after an elite collegiate career with the Mavericks.
---
Have a question or a comment for Jacob Messing? You can find him on Twitter @Jacob_Messing.