Men's CCHA Hockey
CCHA RinkRap: Blake Pietila's Ascendancy
CCHA RinkRap: Blake Pietila's Ascendancy
This week in CCHA RinkRap: two stars thrust themselves into Hobey contention while a Trophy Trolley rolls through Tempe, Arizona.
Jan 9, 2023
by Tim Rappleye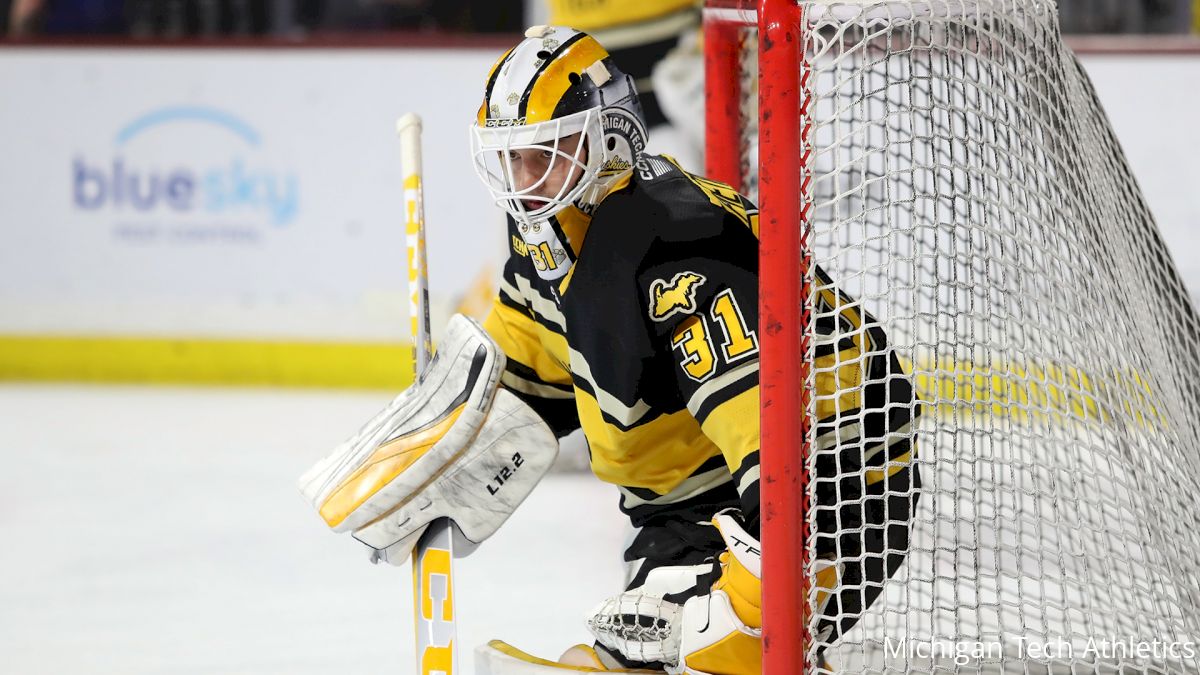 This week RinkRap recaps a banner weekend for the CCHA. Two stars thrust themselves into Hobey contention while a Trophy Trolley rolls through Tempe, Arizona, and an at-large NCAA berth beckons.
The Streak
With exactly one second left in Bowling Green's impressive sweep over Lake State, Falcon sophomore Austen Swankler wound up and blasted a puck into the Lakers empty net. It was emblematic of the kind of puck luck—not to mention will and skill—Swankler has enjoyed since early November.
He is in the midst of a league-best 14-game scoring streak, one that has seen him score at a Gretzky-like 1.93 points per game: 10-17-27 in those 14 games played.
"He came to Bowling Green and his calling card was offense," said BGSU coach Ty Eigner.
"He is continuing to grow and improve, it's fun to watch."
Swankler had to petition the NCAA for a chance to jump from the OHL to college hockey, "I'm just trying to have fun," he said after his four-point (1G, 3A) performance Saturday night.
Highlights from @BGFalconHockey's 5-3 victory over Lake Superior State on Saturday night at Slater Family Ice Arena. Falcons earn their fourth straight win.

🎥: https://t.co/yRw1IaFMPQ#CCHAHockey pic.twitter.com/mTiRLM0V6Z

— CCHA (@CCHAHockey) January 8, 2023
He lauded his linemates who finished his three setups.
"They put in a great effort to get open."
Swankler has figured out that pressing for more production is detrimental to his cause.
"Last year was a learning curve . . . I've learned not to take it too serious."
His sensational streak has vaulted him to second in the national scoring race, making him impossible to ignore regarding Hobey Baker Award consideration. Every game the streak continues, the spotlight will shine brighter. But for him, attention doesn't mean tension. He's learned his lessons and will treasure his teammates and appreciate the good fortune that has brought him to Northern Ohio.
The Stopper
When asked why his team managed to snatch the Desert Hockey Classic title in Arizona this weekend, Michigan Tech coach Joe Shawhan got right to the point: "Goaltending, goaltending goaltending."
His star kicker Blake Pietila was immense in the wins over Arizona State and No. 6 Boston University out west, winning the Most Outstanding Player award on the strength of his .932 save percentage.
The senior stopper, who never speaks in the first person, credits the grueling CCHA schedule for his success.
"Every weekend prepares us."
Blake's cousin Jed, the defenseman who set up the winning goal in Saturday's championship game, told it like it is.
"Blake stood on his head."
Blake's twin brother Logan also had a terrific title game, contributing a goal and an assist. The Pietila clan put a ton of ink on Saturday's scoresheet with a combined total of one goal, three assists and 31 saves while claiming the 2023 Desert Hockey Classic.
Tied for the national lead with four shutouts, Blake Pietila is on the rise in every other goaltending statistic. Anyone who follows the CCHA realizes he is a national treasure, a winner who deserves Hobey recognition. His style, compete level and sterling results are reminiscent of his formal rival Dryden McKay, last year's Hobey Baker Award winner.
The Computer Smiles
Pitiela's work in goal over the holiday break, which includes consecutive wins over Michigan State, Arizona State and BU, has thrust the Huskies into a prominent perch in their quest for a return to the NCAA tournament. Stuck at No. 21 in the Pairwise rankings on December 27, Pietila's streak of excellence has boosted MTU eight spots to No. 13. That's the same ranking the Husckies had last season when they were granted their at-large berth for the 2022 NCAA tournament.
This is great news for the CCHA, as it appears Tech is now in a very good position to be awarded its second straight at-large berth. Should someone other than Tech win the Mason Cup—which grants that team an automatic berth—the CCHA has an excellent chance at getting a second team into the 2023 NCAA tournament.
Unlike last year, Shawhan does not mention the Pairwise rankings. He is more focused on helping his players learn to win. He claims to be entirely surprised by his club's 14 wins thus far.
"I really have no idea how we got to this place," said Shawhan.
In the case of the Desert Hockey Classic, a tournament that pushed his club onto the favorable side of the NCAA tournament bubble, the answer is clear: Pietila, Pietila and Pietila.
Notes
Michigan Tech leads the CCHA with five short-handed goals, and the Huskies leading scorer Ryland Mosley has had a hand in all of them (3-2-5). Mosley kicked off the scoring at the Desert Hockey Classic with a brilliant feed to freshman defenseman Evan Orr for a much-needed shorty vs Arizona State. It was Orr's first goal of his career. "It felt great to get the monkey off my back."
Bowling Green sophomore Ben Wozney also tallied his first career goal on Friday vs Lake State, taking a feed from Swankler. The two combined the next night as well, with Wozney getting regular time on the Falcon power play.
Jake Livingstone tied an unofficial college hockey record in Minnesota State's weekend sweep over Northern Michigan. In both games of the series he scored the empty-net dagger, showing uncanny accuracy in both cases. Last year's CCHA defenseman of the year has maintained his dominant play from a year ago, scoring 21 points in 22 games from the back line.
BGSU backup goaltender Salvatore Evola found out at the morning skate Friday that Falcon ironman netminder Christian Stoever was suffering from flu-like symptoms, and that he would be getting his first career start in that night's game against Lake State. Evola answered the call with a solid effort, kicking out 28 of the 30 shots fired at him for his first career win. "I was a little nervous, sometimes nerves help. The guys backed me up."
Michigan Tech junior Jack Works now has proof that he was aptly named. He earned the coveted MTU hard hat Friday night for his stellar goal and intangible contributions at both ends of the rink in Tech's win over Arizona State.
Nothing symbolizes blue-collar victory than a winger named "Works" donning the @mtuhky hard hat for the Desert Hockey Classic champs. Jack Works of Yellow Knife of Canada's Northwest Territories dangled and sniped in GM1 win over ASU pic.twitter.com/ynHifljpFP

— Tim Rappleye (@teeraps) January 8, 2023