2023 IIHF World Junior Championship
2023 World Junior Rewind: Team USA Player-By-Player Evaluations
2023 World Junior Rewind: Team USA Player-By-Player Evaluations
Prospects analyst Chris Peters runs down USA's entire roster to assess how each player played at the 2023 World Juniors.
Jan 9, 2023
by Chris Peters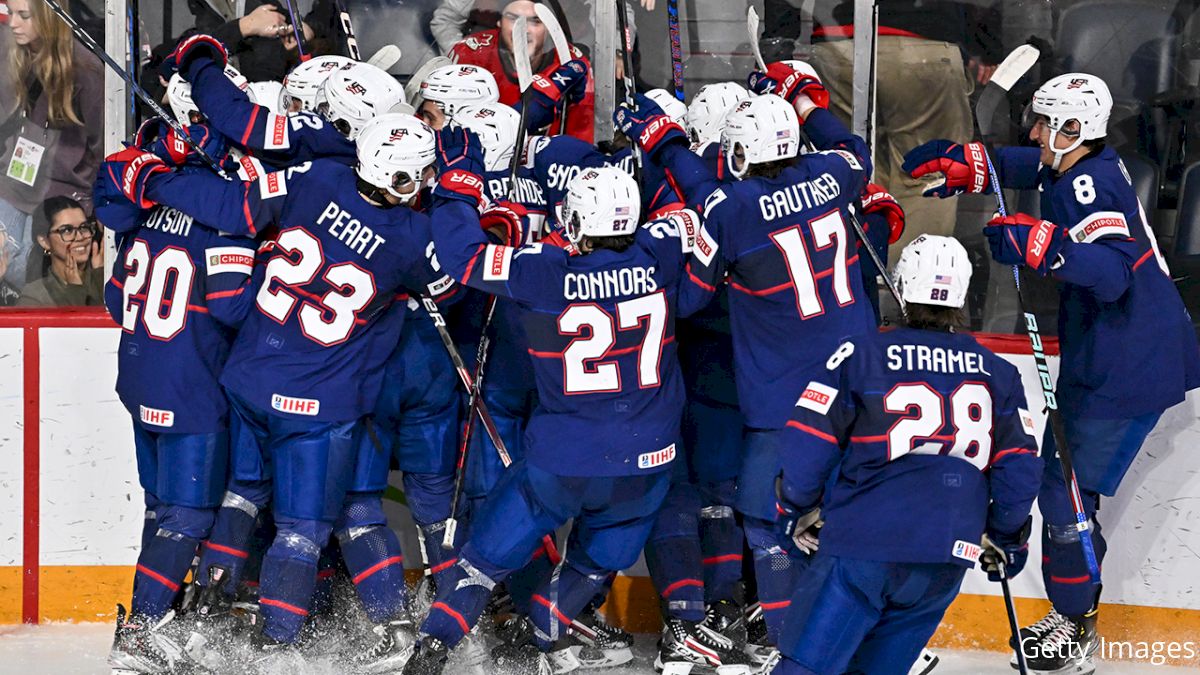 The 2023 World Junior Championship is a few days in the rearview. After the spectacular tournament that brought plenty of drama and intrigue, we're looking back at the prospects who played in the tournament.
Since I spent most of my tournament following Team USA, I figured I'd put together a review of how each played.
The World Juniors is one of the great prospect showcases on the hockey calendar, but it isn't the end-all, be-all of a player's season or where they fit as a prospect. It's a snapshot that is part of the greater body of work. Where it is valuable, is as a measuring stick against other elite players in this moment in time. It doesn't mean players won't get better or decline between now and when they reach the NHL, but it does give us a glimpse into where they might be right now.
Additionally, I ordered the players based on how much of an impact I felt they had on this team at the tournament.
Logan Cooley, C (ARI)
Cooley's 14 points at the WJC was the sixth most by an American in the tournament's history and he's one of only seven Americans to average two points per game at the World Juniors. He had points in every game and showcased his elite skating ability and high-end skill. If there's one complaint about his tournament, it's that Cooley tended to start games extremely hot and fade a little bit. Sometimes he would overcomplicate the game by forcing plays. That's not necessarily a new thing, but I think the World Juniors shows how hard it becomes to force those plays as the competition ramps up.
USA strikes first 🚨

Logan Cooley makes it 1-0 early in the 1st period.#WorldJuniors pic.twitter.com/UAoykI2nMX

— TSN (@TSN_Sports) January 4, 2023
You don't want Cooley to go too far the other way, because the top end of his game is elite. All he really needs to do is pick his spots a little better. You look at the numbers and the way he was able to drive the offense for this team and you see all of the special qualities that made him the No. 3 pick last summer.
Jimmy Snuggerud, RW (STL)
As we look back at the 2022 NHL Draft, I think we're often going wonder how Snuggerud lasted as long as he did. And I had him ranked in a range similar to where he went, so I'm right there with everyone else. Snuggerud's impact throughout this season has been felt significantly, both at Minnesota and with Team USA. He had 13 points at the World Juniors, which is seventh most by an American in a single tournament. He was a top-line scoring threat, made USA's second power play unit a bigger challenge to defend and could impact the game in all three zones. He plays the game like a pro and never cheats for offense. Snuggerud was probably the exemplary player for how the U.S. wanted and needed to play to be successful and it's also why Snuggerud will be a valued NHLer.
Luke Hughes, D (NJD)
USA's captain averaged 23:01 of ice time to lead all players and scored four goals from the back end, including a dazzling game-tying goal in the bronze-medal game that helped the U.S. stave off an embarrassing finish. Hughes ended with just five points in the tournament, but he was the team's most important player on just about every night.
Hughes didn't have a perfect tournament and even he'd probably rate his performance below his standard. That said, he was in a difficult position, leading a blue line that just wasn't all that good defensively and also having to help the offensive scoring attack. Yes, Hughes was prone to some of those big, noticeable giveaways which got him a ton of criticism, but USA needed him to try things sometimes just to get a spark. He is an elite talent in so many ways and the reason he'll make those mistakes is because he's not afraid to try a lot of things most players don't have enough confidence to try.
Just watch this Luke Hughes goal for yourself... unreal. #WorldJuniors pic.twitter.com/q24DYP8sil

— USA Hockey (@usahockey) January 5, 2023
I thought Hughes was the team's best defenseman and the staff agreed, naming him one of the team's three best players of the tournament. Even when he wasn't making things happen offensively, he made his team a bigger threat for offense every time he was out there. The U.S. also often used him against the opposing teams' best players and there were stretches of games where he was out there almost every other shift.
Cutter Gauthier, LW (PHI)
Playing a central offensive role for Team USA as a first-line winger, Gauthier made his impact felt often at the tournament. He probably wanted to score more goals with all four of his coming across two games – two against Germany in the quarters and two against Sweden in the bronze-medal game – but he still made a positive impact on his team. Gauthier had four multi-point efforts, but was held off the score sheet against Canada in what was perhaps his least effective performance. You can see the flashes of Gauthier's still developing offensive game. He made a lot of the right plays. He still needs some sharpening and refining, but the foundation of a solid game that will make him a top-tier player is there.
Ryan Ufko, D (NSH)
One of USA's real breakout performers of this tournament, Ufko was a second-pairing defenseman who ran the No. 2 power play unit. He had points in each of USA's last five games including a five-assist effort against Germany in the quarterfinals. What I saw with Ufko's game was a confident puck-mover who can really skate. His feet did a lot of the work for him. Defensively, he was only OK. I thought he had some tougher moments in some of USA's more difficult games where he missed a read here or there that put him in bad spots. I think he's a far better player today than he was in his draft year and his continued development at the collegiate level should be encouraging for the Predators. He was one of USA's most pleasant surprises after a 10-point World Juniors.
USA's power-play strikes ⚡️

Ryan Ufko's shot finds the back of the net to give USA a 2-0 lead.#WorldJuniors pic.twitter.com/uA9FhwmDqb

— TSN (@TSN_Sports) January 5, 2023
Red Savage, C (DET)
A heart-and-soul player who made USA's depth matter a bit more, Savage did a little bit of everything for Team USA. He had six points in seven games, was an integral penalty killer and made USA's third line tougher to play against. The reason I have Savage listed this high is that he made the most of his minutes. He only averaged 14:36 of ice time, but it seemed like he gave Team USA a lot of meaningful shifts.
Trey Augustine, G (2023)
Coming into the World Juniors as a 17-year-old and playing as well as he did is no small thing. The U.S. has had six goalies play in the tournament as U18s. Only one played more than the six games Augustine saw. His numbers are not going to look good because of the last two games he played in, with Canada hanging five on him and Sweden doing the same. But in that Canada game, he was hung out to dry all night. Amazingly, that loss to Canada was Augustine's first regulation loss of the entire season. The tournament didn't finish how he would have hoped, but considering that Augustine has two more cracks at it, the experience he's gained is invaluable and the confidence should be there, considering how he played before the stats took a tumble late in the tournament.
Sean Behrens, D (COL)
Behrens didn't have a ton of points in this tournament, but I thought he had a solid two-way game and eventually became one of USA's most important defensemen. He played a lot with Luke Hughes and when those two were on the ice, USA was probably at its most stable defensively. Behrens played on the PK and I thought was one of USA's most consistent defensemen at five-on-five. He was sure-handed with the puck on his stick and was able to make effective plays to get pucks out of the zone. He wasn't as prone to the big mistake as some of USA's other defensemen seemed to be. Behrens finished with three points and averaged just shy of 20 minutes per game.
Chaz Lucius, C (WPG)
Lucius had his two best games of the tournament at the end, I thought. He had just come off an injury and it took him a while to get going. He was awesome in the bronze-medal game, scoring a hat trick including the game-winning goal. Lucius also scored a big goal in the opener against Latvia and another against Finland. Lucius just needs more time to play after all the injuries he's dealt with, and made the most of the big role he was given here. He also could probably use a top gear in his skating to make him more effective, but you could see the flashes of that dynamic skill level that made him a first-round pick.
That'll do it! 🙌

Chaz Lucius picks up the loose change for the OT-winner after Lane Hutson's effort in the zone 💪 #WorldJuniors pic.twitter.com/z01yC0MBHI

— USA Hockey (@usahockey) January 5, 2023
Rutger McGroarty, LW (WPG)
McGroarty rather quietly put together impressive numbers in the tournament. He finished with seven points, getting on the score sheet in five of the seven games and had three assists in the bronze-medal game. Though McGroarty produced, I thought the pace of the tournament challenged him quite a bit. He's not the speediest player and that is where you can see some limits to his effectiveness.
Gavin Brindley, RW (2023)
Brindley had a spectacular tournament. He was one of USA's quickest forwards and that speed made the fourth-line a lot more effective at challenging the opposition and making it harder for the other team to get out of their own zone. Brindley finished with four points and was noticeable just about every game he played. His speed and work ethic were the highlights, but he also flashed some skill. His versatility is why Brindley is going to stay in the first-round conversation all year.
Charlie Stramel, C (2023)
At the NHL level, Stramel might end up being a middle-six center. In this tournament, however, he settled into the 4C role and I thought he played it remarkably well. As USA's biggest forward, they needed him to use that size in a variety of ways. He played disciplined, solid defensively and USA used him as their top penalty-killing forward. His speed and solid play in puck pursuit and protection were valuable to the U.S. Stramel finished with three assists and very likely will be a top-six stalwart for the team at the next World Juniors.
Kenny Connors, LW (LAK)
USA's fourth line was solid throughout the tournament and Connors was a reason for it with his effective two-way play and solid work on the forecheck. He scored two big goals for Team USA. His low moment of the tournament came on a contact to the head penalty that saw him get a major and game misconduct against Slovakia. Aside from that, though, there were not a ton of missteps from Connors. Normally a top-line player in college, he adapted to the role he needed to play and managed to give the U.S. effective five-on-five shifts and did some work on the PK as well.
Kenny Connors finishes off the tic-tac-toe to extend USA's lead to 2-0.#WorldJuniors pic.twitter.com/a6E6hvE6pw

— TSN (@TSN_Sports) January 5, 2023
Jack Peart, D (MIN)
After USA put Peart with Ryan Ufko, I thought he had a much better tournament. At times, however, Peart's lack of top-end speed proved detrimental in his ability to defend against the rush and recover. Ufko's jump allowed Peart to hang back a little bit more and that allowed him to find the right balance of when to stay back and when to push. After being on a power play unit in the last WJC, Peart was used more on the PK. I thought he defended in his own zone well enough and was able to make some decent passes up and out of the zone. He was essentially a top-four defenseman for Team USA, averaging 17:40 per game. He finished with three assists.
Lane Hutson, D (MTL)
I think Hutson is poised to be a major piece for Team USA at the next World Juniors and he'll take a lot of valuable experience from this tournament. I also thought there were times where Hutson's size disadvantage showed up in this tournament. It's not something we've seen a ton, but when you're playing against the elite of the elite of your age group, everything gets tougher. That said, Hutson was often dangerous with the puck on his stick and he helped create the bronze-medal winning goal. He finished the tournament with four points, while averaging third-pairing minutes with 15:47 per game. He is as dynamic as it gets among defensemen.
Tyler Boucher, RW (OTT)
Early on in the tournament, I thought Boucher was one of USA's more impactful forwards. He was good on the forecheck and made some effective plays with the puck on his stick. He also brought the physical game. One thing that I was most impressed with was Boucher's pace. As the tournament wore on, however, Boucher was a bit less effective and impactful. Then he got injured in the game against Canada and couldn't play the bronze medal game.
Jackson Blake, RW (CAR)
The U.S. staff handed Blake a big-time role with this team, as a second-line winger and one of the flanks on the second power play. While he did manage to finish the tournament with six points and had a goal controversially called back against Canada, I didn't think Blake impacted the game enough on a consistent basis. That was somewhat true of the entire second line until later in the tournament. Blake has some clear skill and can make some plays, but his lack of dynamic skating ability did limit his effectiveness in this tournament.
Jackson Blake's first goal of the tournament is a beauty 🚨#WorldJuniors pic.twitter.com/czIJnHPkGH

— TSN (@TSN_Sports) January 2, 2023
Dylan Duke, LW (TBL)
Duke had a regular spot on USA's third line and was the net-front on the second power play unit. Duke finished with four points in the tournament while averaging 12:19 of ice time. He had some effective games and some flashes, but was a bit behind the pace of the games at times. Duke has good work ethic and competes, plus he has very strong offensive instincts.
Luke Mittelstadt, D (2023+)
Essentially USA's No. 6 defenseman, Mittelstadt made some of his bigger impacts in the tournament on the penalty kill. He finished the event with three assists and 14:24 of ice time. Mittelstadt has some decent tools as he skates well enough and can move pucks with reasonable effectiveness. I thought he was a defensive liability at times, however, especially in the games against tougher opponents. There are definitely some tools there, he just needs more refinement.
Sam Lipkin, LW (ARI)
Used as USA's 13th forward and part of their penalty killing group, Lipkin finished the tournament with one assist, while averaging 9:16 of ice time. He played decently well on the penalty kill, but struggled in his even-strength shifts when inserted among different linemates. He also managed to take three minor penalties despite limited ice time, which made him the third-most penalized player on the team.
Kaidan Mbereko, G (2023+)
He had a chance to be USA's starter at the beginning of the tournament, but soon found himself backing up 17-year-old Trey Augustine. Mbereko made three appearances, taking the loss against Slovakia, but coming on in relief and holding on for the win in the bronze medal game against Sweden. He finished the tournament with an .829 save percentage.
Ryan Chesley, D (WSH)
Chesley started up in Team USA's top four at the beginning of the tournament, but was soon moved to the seventh defenseman position and saw his usage drop significantly. This was a pretty surprising development as I thought Chesley has historically been a strong defender and solid at getting pucks out of his own end. He ended up averaging just 5:49 of ice time per game and barely saw the ice in USA's most critical games.
Andrew Oke, G (2023+)
Oke was primarily used as USA's third goaltender and managed to get into the third period of the game against Germany. He stopped seven of eight shots against.
Noah Laba, C/W (NYR)
Laba was inserted into the lineup as an injury replacement for Tyler Boucher in the bronze-medal game and got two shifts in the game. It's a tough position to come into, but Laba will get a bronze medal for his efforts.