2023 Chicago Steel vs Madison Capitols
Chicago Steel's Jayden Perron Continues To Impress
Chicago Steel's Jayden Perron Continues To Impress
North Dakota commit Jayden Perron looks to build off a strong start and continue producing for league-leading Chicago Steel.
Jan 6, 2023
by Jordan McAlpine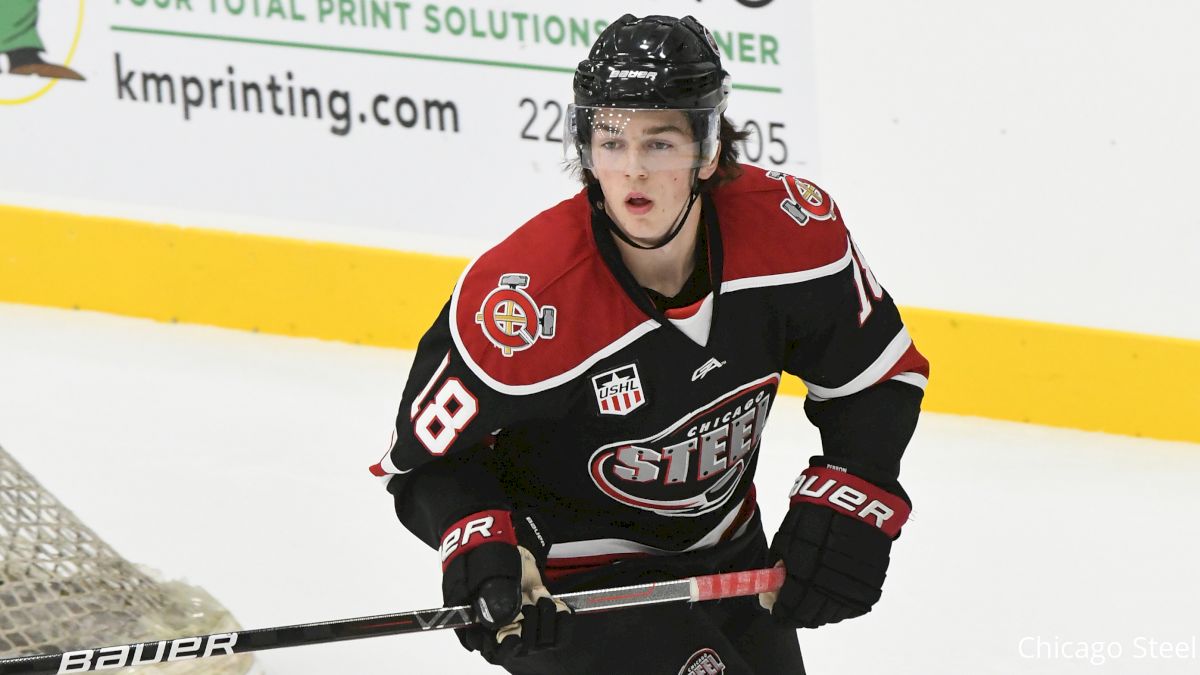 With the holidays in the rearview, the Chicago Steel sit comfortably atop the USHL's Eastern Conference with 40 points.
On top of having an eight-point lead in the standings, the Steel have the USHL's most wins (19), and Chicago's lineup features six of the league's top 15 point producers.
One of those six is Jayden Perron. A name USHL fans will very likely hear called during next June's NHL Draft.
"Jayden's just a special hockey player," said Chicago head coach Mike Garman.
"The way he sees the game is unique and the way he can move and manipulate defenders and checks, he's got very good escape ability.
"He's just an incredibly intelligent player that has a very unique skating ability and a very high skill set."
The North Dakota commit is one of the USHL's top 2023 NHL Draft prospects. Perron was rated a C by Central Scouting earlier this fall, and several throughout the sport feel the shifty 5-foot-9 forward could‌ be picked within the first two rounds.
The skill set Garman mentioned has shined through the first 28 games as Perron has been a fixture on Chicago's power-play and a constant producer.
Perron's 28 points are the 12th-most in the USHL and his 12 goals are the fifth-most on Chicago's roster. He's well over halfway to his rookie season point total (45).
"I think one of my biggest takeaways from last season was what works and what doesn't," Perron said.
"Going from U-16 hockey to the USHL is obviously a huge jump and I think that was a learning curve. But I learned a lot more last season and now being in my second year (in the USHL), I'm a lot more comfortable.
"This is a good league and the games are so fast and guys are so smart. So you have to be at your best every night if you want to have success."
Sources have confirmed: the recent heat wave in Chicago is due to Jayden Perron setting the USHL scoring lead on fire#FeelSteel | @PetSuitesUSA https://t.co/ScUeWjDpgx pic.twitter.com/N9RYroVxI0

— Chicago Steel (@ChicagoSteel) October 22, 2022
Perron's goal last summer was simple—get bigger, get faster and get stronger. His two main focuses were to put on weight and improve his skating heading into his second USHL season.
Perron also knows the 2022-23 season is a big one for his future. As is the case for many players at the junior level, the draft year is usually met with heightened pressure and attention.
At the same time, Perron's trying to focus on what he can control and not look too far ahead.
"Sometimes it's tough not to think about it, because you know it's important," he said.
"But I've really tried not to let it get to me and I've tried to just go out every day and play my game. It'll all work itself out in the end and I'm just focused on getting better every single day."
His head coach has seen exactly that.
"I think for all of these kids there is so much pressure in your draft year. And honestly, I think there's just a lot of pressure in general in our league in today's day and age," Garman said.
"But one of the things in Jayden's favor is he truly loves hockey. He has a smile on his face every day and I think that's part of the reason he's been as good as he has been, because he just loves the game and works so hard at his craft."
FORWARD OF THE WEEK

Jayden Perron (@ChicagoSteel) leads the USHL in points and picked up another five last weekend in a pair of games. #StarsRise @UNDmhockey pic.twitter.com/NkmMJ1lU7a

— USHL (@USHL) October 19, 2022
Chicago's success has probably helped alleviate some of the potential pressure too, as the Steel have been the USHL's best team through the first three months.
Chicago owns an impressive .714 win percentage and the Steel are 19-7-1-1 through 28 games—including an 11-3-1-1 record away from home. Chicago has also scored a league-best 122 goals and Perron has‌ continued to get better by the game.
"As a team, I think we've had a pretty good start and we're happy where we are right now. And same with myself," Perron said.
Garman quipped Perron is the best ping-pong player on the team and is also a great teammate. He praised Perron for his attention to detail and daily approach on the ice, too, throughout the first half of the season. Both want to raise the Clark Cup in the spring.
The USHL Three #StarsRise of the Night!

⭐️ Jayden Perron (@ChicagoSteel ) 3-1-4, 5 Shots, +4

⭐️⭐️ Mack Celebrini (@ChicagoSteel) 2-3-5, 5 Shots, +4

⭐️⭐️⭐️ Eric Pohlkamp (@RidertownUSA ) 3-0-3, 8 Shots, +3

— USHL (@USHL) December 4, 2022
As for what's next for the Winnipeg native, he'll be heading back closer to home. Perron grew up just over two hours north of Grand Forks—where he'll play his collegiate hockey at the University of North Dakota.
"I've just always wanted to go to North Dakota and after talking with the coaching staff and seeing The Ralph, it's tough not to go there," Perron said.
"I'm really excited to be playing there next year."
Make no mistake, Garman looks forward to keeping tabs on the Manitoba product in the future. At the same time, he's going to enjoy working with Perron and the rest of Chicago's talented roster over the coming months.
"It's a blast working with this group. Especially during the week because you see how much these kids put in and how hard they work to get better," Garman said.
"So it really is a treat to work with this group and it's a great group of guys that love hockey. They all have bright futures ahead of them and Jayden is a big part of that."