2023 Minnesota Duluth vs Bemidji State - Men's
CCHA Reasons To Watch: Time To Unpack For The New Year
CCHA Reasons To Watch: Time To Unpack For The New Year
This week's CCHA action on FloHockey features a spoiler-alert in Ohio, prey becoming predator in Marquette and an old-school clash in the State of Hockey.
Jan 6, 2023
by Tim Rappleye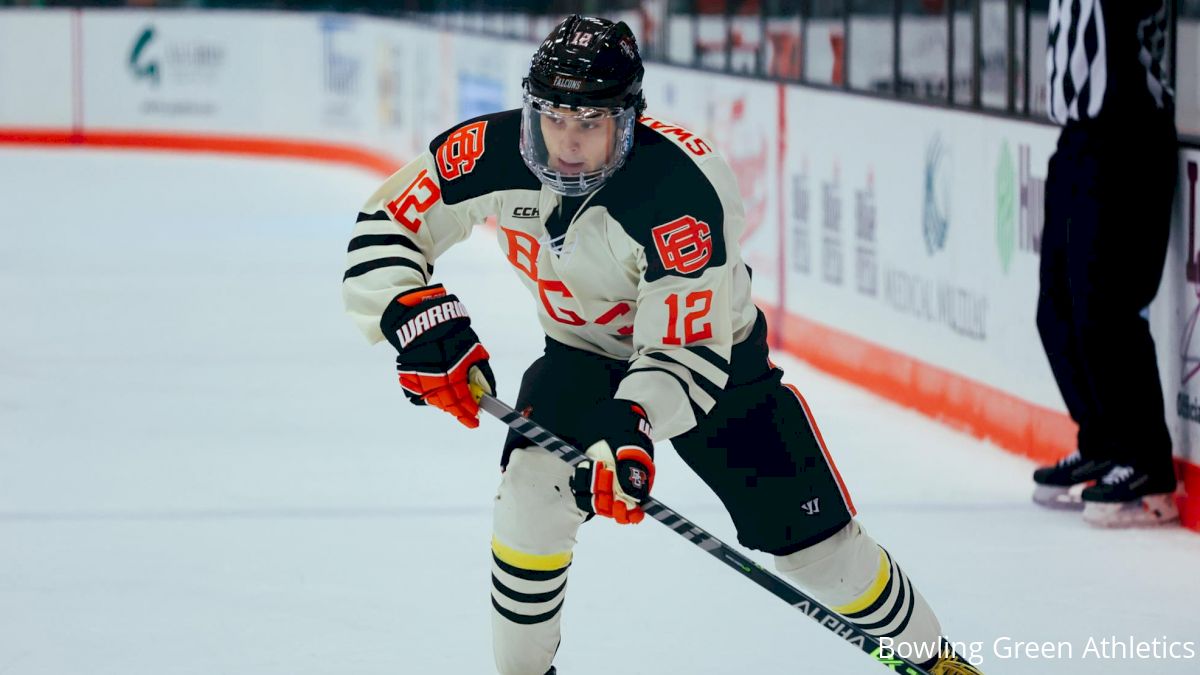 This week's CCHA action on FloHockey features a spoiler-alert in Ohio, prey becoming predator in Marquette and an old-school clash in the State of Hockey.
It's time to unpack for the New Year.
Ranking alert: the numbers before each team represents their national Pairwise rankings.
No. 58 Lake Superior State Vs. No. 31 Bowling Green
Lake Superior, the supreme underachiever in the CCHA, has been relegated to the role of spoiler.
The Lakers have stolen wins from league front-runners Bemidji and Michigan Tech in their last two league series, so they appear to be comfortable in their new role.
Bowling Green, on the other hand, has a perch in fourth place, a precious home-ice spot for the CCHA playoffs.
These are the two biggest teams in the CCHA, with both rosters averaging a shade over 6-foot-1 per player, so fans of big collisions and heavy hockey should delight in this matchup.
If there is one player to watch all weekend on FloHockey, at any level, it is Bowling Green's 6-foot centerman Austen Swankler.
The OHL product is enjoying a 21-game point-scoring streak that has vaulted him to the top of the CCHA with 28 points in 21 games, eighth in the nation at 1.33 points per game.
He is a beast on the power play, he is clutch with the game on the line and he probably will be playing for pay next season.
Fans should enjoy watching this future pro play this weekend as the Falcons press for home ice.
Prediction: League points are precious from here on in, and BGSU cannot afford to stub its toe. Look for Swankler and the Falcons to escape this weekend unspoiled.
No. 24 Minnesota State Vs. No. 33 Northern Michigan
For the past five seasons, MacNaughton Cup champion Minnesota State has been the hunted, not the hunter.
The Christmas break finds them in third place, a game over .500, which is uncharted waters for the entire squad and most of the coaches.
Now, they are stalkers, a group eager to hunt for wins without remorse.
Over a dozen veteran Mavericks have experienced the Frozen Four, most having played in the past two. Underestimate this wounded bunch at your peril, as forwards David Silye (13 G) Ryan Sandelin (8 G) and Christian Fitzgerald (6 G) can score in bunches, and they have two brilliant power-play quarterbacks in Jake Livingstone (14 A) and Akito Hirose (13).
But Mankato's shooting percentage is among the worst in the league - buckets of shots without a finish.
That was not the case when alternate captain Sam Morton was in the MSU lineup, scoring six goals through October. He has been missing in action since Halloween, however, and the Maverick offense has sputtered in his absence.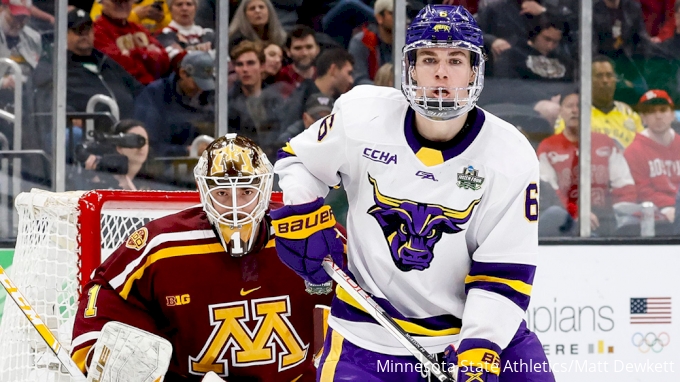 Friday's purple line chart is a major reason to watch. The return of Morton for the reigning champs can change the balance of power, not only in the CCHA, but in the national picture, as well.
The Mavericks do not want to get into a run-and-gun shootout with Northern Michigan.
Wildcats coach Grant Potulny loves to turn his skaters loose on the big ice of the Berry Events Center, and with good reason. David Kiefer and AJ Vanderbeck both have 11 goals, while Moscow-born Artem Shlaine has eight. Senior Andre Ghantous leads the circuit with 16 helpers.
They are an offensive circus waiting to perform.
For Minnesota State to be successful, the Mavericks must maintain their identity as greedy, puck-possession hustlers, a group that plays a dominant game of keep-away in the attacking zone.
Prediction: Northern has found a way to steal games from Minnesota State, even in the midst of the Mavericks' dynasty. This weekend should be no different. An entertaining split in Marquette.
Both teams likely are to eclipse the 5.5 goal over/under line set by Draft Kings. Take the over, and double up on the popcorn.
No. 33 Minnesota Duluth Vs. No. 19 Bemidji State
Over the break, Bemidji played a nonconference exhibition within state borders, giving the No. 1 Minnesota Gophers all they could handle New Year's Eve.
Duluth is ranked 32 places behind Minnesota, and Bemidji is hungry for the Pairwise points, with a NCAA at-large berth still feasible, if they sprint off to a hot start in January.
Supreme goaltender Mattias Sholl got New Year's Eve off, so he will be more than ready to tangle with the Bulldogs this weekend at home.
Congrats to our @CCHAHockey Players of the Month, @sholly_32 and @WZmolek12!!#GoBeavers #BeaverTerritory pic.twitter.com/9I9fhlTjuU

— Bemidji State Men's Hockey (@BSUBeaversMHKY) January 4, 2023
Prediction: Draft Kings has made home team Bemidji a 1.5 goal underdog, despite the Beavers superior computer ranking. Duluth does not have the offensive weapons to overcome a pre-game deficit against the likes of Sholl. Take the Beavers and the goals, and enjoy your Friday.