2023 IIHF World Junior Championship
2023 World Juniors: USA-Canada Semifinal Preview - Five Factors To Watch
2023 World Juniors: USA-Canada Semifinal Preview - Five Factors To Watch
One of the great rivalries in hockey will be on display in the semifinals at the World Juniors as the U.S. will face Canada for a trip to the final.
Jan 3, 2023
by Chris Peters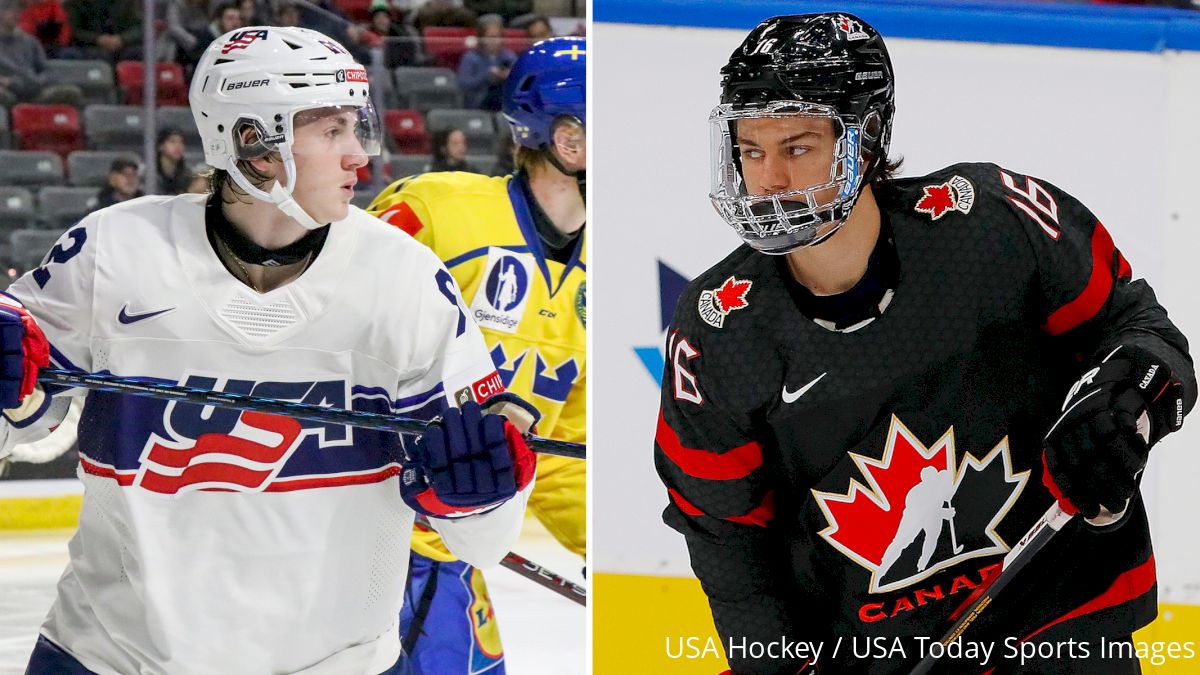 HALIFAX, Nova Scotia -- An already memorable tournament may not have felt complete if we didn't get a chance to see the U.S. square off against Canada at the 2023 IIHF World Junior Championship Wednesday. With all of the great games, great moments and incredible performances we've been treated to, getting a look at one of the best rivalries in sports in such a high-stakes game only adds to the drama and intrigue.
Sweden and Czechia will play in the day's first semifinal at 2:30 p.m. ET, with Canada and the U.S. meeting at 6:30 p.m. ET. The winners of those games will meet Thursday in the gold-medal game, with the losers playing for bronze.
The U.S. won its group despite some stumbles and steamrolled Germany in its quarterfinal, while Canada finished second in Group A and drew a tough matchup with Slovakia, escaping with a 4-3 overtime victory.
Now the rivalry will be renewed for the first time since the gold-medal game at the 2021 World Junior Championship, played in a pandemic bubble in Edmonton.
USA and Canada have met in the semis or later 11 times in World Junior history including five semifinals, five gold-medal games and once for bronze. Canada has a 6-5 advantage in those games, but the U.S. has won each of the last three medal-round games against their fierce rivals.
Though Canada will have home ice advantage in terms of crowd support, the higher-seeded U.S. team will actually get the last change in the game.
So let's take a look at some of the key factors that will play a role in this spectacular matchup.
Can USA Slow Connor Bedard Down?
The biggest question the U.S. faces is the one that only the Czechs were able to solve. How on earth do you slow down the highest-scoring player this tournament has seen in 30 years? Connor Bedard leads all players with 21 points, the most scored by any player since Peter Forsberg and Markus Naslund had 31 and 24, respectively, in 1993. Even the Czechs gave up a goal to Bedard, but holding him to just one seems like a win.
CONNOR BEDARD SENDS CANADA TO THE SEMIS! #WorldJuniors pic.twitter.com/4s06UDY6oX

— TSN (@TSN_Sports) January 3, 2023
This is going to be USA's biggest mission of the game, but may also open things up for some of Canada's other dangerous offensive weapons like Dylan Guenther (ARI). Either way, we saw against Slovakia that Bedard can decide when to take over a game and limiting his chances is going to be a key point of emphasis.
I wouldn't be surprised to see the U.S. shuffle its lines a little bit to find the right matchup for Bedard. It also wouldn't surprise me to see Luke Hughes (NJD) and Red Savage (DET) among the Americans most frequently on the ice when Bedard is out there. Savage has been USA's top penalty killer and his two-way tenacity can be effective against top lines.
The U.S. has managed to roll four lines without a ton of concern for line-matching in this tournament. The change in strategy isn't necessarily a given, but it seems like it might be warranted in this kind of game against a player of Bedard's caliber. Especially so with the U.S. having the last line change as the home team.
Goalie Matchup Looms Large
The weak point of these two teams looked like it could be in the crease, but both teams found good options over the course of the tournament. Canada has stuck with Thomas Milic for much of the tournament after giving Ben Gaudreau (SJS) the opening game start. Meanwhile, Team USA's 17-year-old starter Trey Augustine (2023) was not the projected No. 1 coming in, but he's taken over the job.
Milic has a .921 save percentage over 213:39 for Canada, allowing six goals on 76 shots. He's provided stability in the position and made several key saves late in the game against Slovakia.
The U.S. is likely going to generate more shots against Canada than most of their other opponents, which is going to put more pressure on Milic than he's faced so far in this tournament.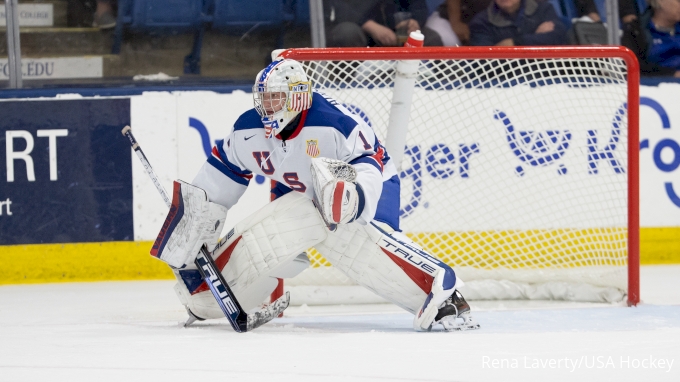 The U.S. feels especially confident in their young goaltender, with players continually complimenting Augustine's self-confidence and calmness between the pipes.
Augustine has had an exceptional season at the National Team Development Program with the U.S. Under-18 Team. During the tournament, he's basically been consistent with his numbers from the entire season. Augustine is 4-0-0-0 with a .938 save percentage, allowing five goals on 81 total shots.
Canada has a lot more elite shooters than any team the U.S. has faced to date, however, which is going to make for a lot more work for Augustine.
On top of that, atmosphere matters and Augustine probably has never played in an environment quite like the one that will be present in Halifax, whereas Milic was in net for that epic quarterfinal against Slovakia that got Scotiabank Centre rocking. It should be interesting to see how the youngster handles that situation, but the pressure of the game is going to be on both goalies.
A Tale Of Two D Corps
The thing I'm most fascinated to watch is how these two D corps play the game. USA is comprised of smaller, offensive-minded puck movers who thrive on puck possession and transition. Canada has a more balanced blue line, with some pure defenders with size and some dynamic puck-movers.
The gap in size between these two groups is almost comical. Canada only has one defenseman that is shorter than 6-foot-2, the U.S. has only one defenseman who is 6-foot-2 or taller. The rest are 6-0 or shorter. If you ever wanted to debate size in hockey, this game could become a fun one-off test case, albeit a remarkably small sample.
Beyond that, though, Canada has had some defensive issues in their games. There have been times where they didn't have the pace or precision in puck movement on the back end to get pucks up to their star forwards. The U.S. has had less trouble with that, especially as the tournament has progressed.
The Americans may have a quicker defense, but it won't matter if they don't have the puck a lot. The U.S. needs to establish puck possession to make it so they don't have to be on the defensive as much. It's part of the strategy and the way they have to play with how they're structured. Puck management is critical.
As for Canada, they can best pressure the U.S. defense by getting in hard on the forecheck and outmuscling them in the hard areas of the ice. If Canada establishes their interior game, it's going to be very difficult for the Americans to have much success.
On the other side, the 2021 U.S. roster showed one of the best recipes for success against a talented blue line is an attacking brand of hockey that doesn't give the opposing defense time to think in their own zone. The Americans don't have a big lineup, but they've got some speed. The more that speed game gets established, the harder it becomes for Canada's defense to get comfortable with the puck on their stick in the defensive zone.
Secondary Scoring
Connor Bedard has been involved in 64% of the goals scored by Canada in this tournament. He's going to get a lot of attention in this game, but that should give the other lines more chances to get good matchups and good looks.
The bottom of Canada's lineup hasn't given them a ton of points at this stage of the tournament. It's going to require guys like Zach Dean (VGK), Zack Ostapchuk (OTT) and Adam Fantilli (2023) among others, taking advantage of the chances they're given. Canada can't wait for Bedard to take over the game like he did against Slovakia.
As for the U.S., if Canada manages to slow down the top line of Logan Cooley (ARI), Jimmy Snuggerud (STL) and Cutter Gauthier (PHI), they need a lot more from their second line in particular. Chaz Lucius (WPG), Rutger McGroarty (WPG) and Jackson Blake (CAR) have shown flashes of their offensive prowess, but not consistently enough to feel like they can pick up the scoring if Canada slows down the top unit.
Luke Hughes' point shot finds the back of the net 🚨

🇺🇸 4-1 🇫🇮#WorldJuniors pic.twitter.com/hqgMnKoFcK

— TSN (@TSN_Sports) December 31, 2022
The U.S. also relies heavily on getting scoring from their back end. Luke Hughes (NJD) and Ryan Ufko (NSH) have three goals and seven assists, respectively. It might be harder for the D to get involved offensively knowing how good of a counter-attack Canada has, which is why the U.S. needs a bit more from the middle of its forward lineup in this particular game.
Meeting The Moment
We have more data than we know what to do with when it comes to hockey. It's all valuable and much of it is very instructive, but the human element is always a factor in these games.
We often forget that these players are teenagers playing on a stage unlike most of them have ever seen, with a spotlight brighter than it's ever been on them. It's why you can't predict this tournament and the best teams on paper don't always win.
Despite that, there is almost always a player who finds a way to do the extraordinary. Bedard has been doing it for over a week, but there have been many players in this tournament coming up with massive performances when their team needed it most.
The World Junior Championship has created a lot of heroes over the years and it all comes down to one individual meeting the moment. In a matchup like this, in a rivalry this intense, in a moment this big, it really could be anyone.
This particular semifinal leaves the stage perfectly set for yet another signature moment in a tournament that has been full of them.
---
For more World Junior Championship coverage, be sure to follow @chrismpeters on Twitter.