2023 IIHF World Junior Championship
2023 World Juniors: Breaking Down USA's Quarterfinal Win Over Germany
2023 World Juniors: Breaking Down USA's Quarterfinal Win Over Germany
Team USA rolled to a quarterfinal win over Germany, advancing to the World Junior semifinal and guaranteeing they will play for a medal.
Jan 3, 2023
by Chris Peters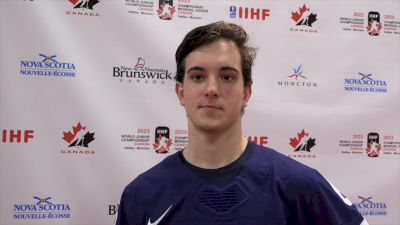 MONCTON, New Brunswick – Team USA started hot and pretty much never looked back as they rolled past Germany for an 11-1 win in the quarterfinal matchup they earned by winning Group B in the preliminary round. Next, they'll meet Canada in the semifinal in Halifax Wednesday.
Team USA earned its largest margin of victory in a quarterfinal in World Junior history with the plus-10 differential against Germany. The previous high was seven, achieved twice in the last decade.
Cooley making his way through traffic for the 🚨 #WorldJuniors pic.twitter.com/gyH7dAyTDh

— USA Hockey (@usahockey) January 2, 2023
The U.S. started hot with three unanswered within the first 8:39 of the game starting with a Logan Cooley (ARI) goal just 3:51 into the game. They kept it rolling with a five-goal second period before potting three more in the third. The U.S. allowed starter Trey Augustine (2023) to get a breather in the third period and Andrew Oke came in for his tournament debut, stopping seven of eight shots faced.
Here are some brief observations from the quarterfinal win and some notes on standout players.
Another Hot Start
For the second straight game, USA started on time and came out flying. They jumped on Germany early and didn't let up. They scored three in the first half of the period and seemed to add a fourth from Charlie Stramel (2023), but that goal was overturned on offside review.
The U.S. allowed just two shots on goal in the opening period and completely owned the puck.
Every single line was contributing and it seemed like every time the U.S. had the puck, they were a threat to score. Fast starts can be critical in these late-stage games. The less they have to chase, the better. That's two straight games where they jumped out at the start.
Finding Their Footing After A Lull
This U.S. team still hasn't played a perfect 60 minutes of hockey and that was even true in this game. After the disallowed goal, the U.S. didn't quite have their A game for the rest of the first period. They only had three shots the rest of the way after having nine to that point.
They got a little sloppy and a little loose. That lasted even into the second period, but after the first media timeout, they seemed to wake up again. Team USA exploded for three goals over a span of just 1:16 to make it 6-0 and leave no doubt.
They finally put the game away and didn't allow themselves to get sucked into the loss of momentum for too long. They can't do that against better teams, but you also have to prove you can get it back after losing it for a bit.
Ryan Ufko's Brush With History
Getting closer...

Looking forward to playing for a spot in the gold-medal game on Wednesday! 🇺🇸#WorldJuniors

— USA Hockey (@usahockey) January 3, 2023
Assisting on each of USA's first three goals, I thought we might be on record watch for Ryan Ufko (NSH). When he notched a fourth assist in the second period, it got a little more serious. The record for points in a game by a defenseman was set in 1987 is seven.
Ufko nabbed one more assist to finish with five and was named U.S. player of the game.
Coach Rand Pecknold said that he's been one of the players that's really popped in the tournament and has taken his game to an even higher level.
Getting offensive contributions from the defense corps was always part of the plan for this team. They have mobile puck-moving defensemen that can make a lot of plays and Ufko has become one of the go-to players for this team.
🚨 @redsavage_19 from @RyanUfko! #WorldJuniors pic.twitter.com/ttIOFLjyp8

— USA Hockey (@usahockey) January 2, 2023
He has high-end hockey sense and excellent vision. The pass he made on the Red Savage goal that made it 3-0 was an awfully pretty one that got everyone to bite that he was shooting, before he found the better option.
Ufko noted after the game that the U.S. wants to have the puck a lot and that's part of the defensemen's job on this team. They have to move pucks effectively for this team to have success and beyond USA's No. 1 defenseman Luke Hughes (NJD), few are doing it as proficiently as Ufko is.
Discipline
In a game that could have gotten out of control, the U.S. kept their composure and also didn't take any needless penalties over the course of play. They finished the game with two penalties against and killed both of them.
USA's PK has been solid, but you don't want to get yourself into killing off a ton of penalties. Discipline has not been too big of a problem yet in this tournament, though it did hurt Team USA in its only loss. They've been among the least penalized teams in the World Junior to date with just 14 minor penalties over the first give games. That's a good omen heading into a tough semifinal.
USA Player Notes
Ryan Ufko (NSH): Ufko did a tremendous job of getting pucks up ice and getting pucks to the net. That's something he has done well over the course of much of the tournament, but he was on fire in this one. Every time you looked up, he had another assist. Ufko's confidence continues to grow in this tournament and he continues to get rewarded with meaningful minutes. He's become a true top-four defenseman for this team.
Logan Cooley (ARI): With three goals and an assist, it was another dominant showing for Cooley, who now leads the U.S. with 11 points through five games. Cooley opened the scoring with a nice goal, dangling around a defenseman and putting a quick shot through the goaltender. Cooley has played fast, he's made smart plays and he's dominating the offensive elements of the game.
Logan Cooley with the net-front presence and a hat trick 👏 #WorldJuniors pic.twitter.com/hYtun66ADG

— USA Hockey (@usahockey) January 2, 2023
Cutter Gauthier (PHI): After not scoring a goal in the tournament to date, Gauthier popped two in the game against Germany. He said after the game that he felt like he got the monkey off his back and hopes that's a sign of things to come. Gauthier has played extremely well throughout the tournament, but he's a goal scorer and definitely was feeling the pressure to score. That's gone now and perhaps this will open the floodgates for him.
Red Savage (DET): With a pair of goals, including a shorthanded marker, Savage left his mark on the game in a variety of ways. His speed and tenacity off the puck is so disruptive to the opposition. But he's also finishing very well. Savage has three goals and two assists in the tournament so far. His work on the PK has been impressive and he gives the U.S. a center to match up against anyone.
🚨 @redsavage_19 off the backhand#WorldJuniors pic.twitter.com/MXq2CxBHWH

— USA Hockey (@usahockey) January 2, 2023
Jimmy Snuggerud (STL): With another mutli-point game, posting three in the win, Snuggerud continued his impressive performance at this World Juniors. Snuggerud has made USA's second power-play unit more deadly with his presence. It allows USA to have two threatening units that are tough to match up against. Meanwhile, Snuggerud continues to positively impact each game in all three zones.
Dylan Duke (TBL): It's been a somewhat quiet tournament for Duke, who has had a very good season with Michigan. He managed to get two points in the game against Germany and made a positive impact overall. He's made a lot of the simple plays, but today he showed his ability to get to the net and create a little bit, too.
Charlie Stramel (2023): He had a goal taken off the board on an offside review, which left him with no points in the game, but I think this World Junior has showcased Stramel in a very positive way otherwise. He's been a primary penalty killer, he's playing with pace and no matter who the U.S. plays in the semis, they need his size down the middle.
---
Stay tuned for a semifinal preview and make sure you follow @chrismpeters for more World Junior coverage on Twitter.