2023 IIHF World Junior Championship
2023 World Juniors: Bedard, Fantilli Lead Top 15 Draft-Eligibles At WJC
2023 World Juniors: Bedard, Fantilli Lead Top 15 Draft-Eligibles At WJC
The 2023 World Junior Championship will be an especially important scouting event as many high-end 2023 NHL Draft prospects will be competing.
Dec 21, 2022
by Chris Peters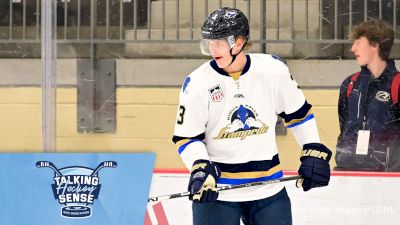 If you are closely following the NHL Draft this season, the 2023 World Juniors are going to give you plenty to see. A number of countries will be leaning on draft-eligible players in prominent roles on their teams, which is great news for anyone that wanted an up-close look at some of the very best of the 2023 class.
Highlighted by consensus top-two, Connor Bedard and Adam Fantilli both playing for Canada, here is a look at 15 first-year draft-eligible players to know.
1. Connor Bedard, C/W, Canada
The consensus No. 1 pick heading into 2023, Bedard has done nothing to dissuade anyone from that notion. He leads the WHL in scoring with 64 points in just 28 games played. With his tremendous goal scoring ability, he is a continual threat. Slated to play on the wing on Canada's top line, he'll play alongside Seattle Kraken prospect Shane Wright in what could be one of the more dominant lines of recent WJC memory. The WJC won't have a significant impact on Bedard's astronomical draft stock, but it definitely will drive the narrative of the second half of the season, rightly or wrongly. He's an exceptional talent who should make a sizable impact at this event.
Connor Bedard gives Canada their 6th goal of the night! #WorldJuniors pic.twitter.com/YOeBovXWaB

— TSN (@TSN_Sports) December 20, 2022
2. Adam Fantilli, C/W, Canada
Currently slotted on the left wing on Canada's second line, it wasn't a foregone conclusion that Fantilli would be in the top six. The big, rangey center with speed and physicality to go along with his high-end scoring touch should be freed up to produce while playing on the flank as opposed to down the middle. Having a high-end playmaker like Logan Stankoven to drive play will only make Fantilli better. Canada has a big team, but they don't have a lot of speedsters. Fantilli can play fast and can challenge defenders on the rush. His style of play should fit in very comfortably with the way Canada has been built. For Fantilli, this will be his one shot to play in the same environment as Bedard and while the draft will not be his focus here, it is a big opportunity to show how close the gap between the two may ultimately be.
3. Leo Carlsson, C/W, Sweden
A power winger with scoring touch, Carlsson should be a significant piece of Sweden's quality forward group that is loaded with first-round talent. Carlsson has played the entire season with Orebro's pro team in the SHL and has 14 points in 25 games. His ability to play as well as he has against professionals suggests he should be able to make a significant impact against his age peers. The 6-foot-3, nearly 200-pound forward can play in a variety of spots for Sweden and will be very difficult to contain. He's already considered no worse than a top-four pick in this draft and some even believe he could challenge for as high as the No. 2 pick. A good showing at the WJC certainly wouldn't hurt those efforts.
Leo Carlsson (2023) scored his prettiest goal of the season so far in Sweden's 6-1 win over Finland's challenger team in today's U20 tournament action. #2023NHLDraft pic.twitter.com/g0eS2Lpalp

— Lassi Alanen (@lassialanen) November 13, 2022
4. Eduard Sale, RW, Czechia
A tremendously gifted playmaker who can make those around him better, you might not know how good offensively Sale is based on his numbers in the Czech pro league. He has just six points in 26 games while playing down the lineup with Kometa Brno. When he's been against his age group, however, he's often been dominant. Sale had six points at the Hlinka-Gretzky Cup this summer and last spring had nine points at the World U18 Championship as Czechia finished fourth in the event. He has some dynamic skill elements, high-end vision and he works hard off the puck. With decent size, he'll only get better as he gets physically stronger. Czechia should be looking to him to be a big part of their offensive attack in this tournament.
5. Dalibor Dvorsky, RW, Slovakia
After a hot start to his season in Sweden's second pro division this year, Dvorsky has cooled off a bit and his usage has waned, too. Getting back within his age group could not be better timed as he's been absolutely dominant against the U20 level in Sweden. That said, with eight points in 21 pro games this season, some of which he's barely played in, he's showing the progression needed to stay in the top-10 conversation. A high-end skill player with a good shot and high-end offensive instincts, Dvorsky has had some sensational performances on the international stage. He wasn't as effective at the summer WJC, but with more time and experience, he should be a big key to Slovakia's offense this time around.
6. Charlie Stramel, C, USA
A power center with two-way skills and a great shot, Stramel will likely play down USA's lineup and may be on their fourth line. Despite that, his ability to change the game with his size and physicality should come in handy for a U.S. team that is mostly undersized. He was one of USA's better players in their first pre-tournament game that likely took him from on the bubble to make it to necessary piece for the tournament.
Stram the man 🚨

🍎: Gorniak pic.twitter.com/j8bJs9G1Ee

— Wisconsin Hockey (@BadgerMHockey) December 3, 2022
7. David Reinbacher, D, Austria
The Austrians are going to struggle, but they'll still have a ton of NHL scouts at their games to see how Reinbacher handles adversity. A 6-foot-2 right-shot defenseman who is a late 2004 birth date has had a very strong start to his professional season in the top league in Switzerland. He has 14 points in 28 games for EHC Kloten, which is an unprecedented mark for a draft-eligible defenseman in the Swiss National League. The previous high was 10 points over 44 games. Also for added context, Roman Josi had eight points in 35 games over his draft-eligible season. Reinbacher has shot up draft boards throughout the season and is trending towards being one of the first defensemen picked in the forthcoming draft. This WJC won't impact him a ton because Austria won't have the puck a lot, but definitely get to know this player better.
8. Samuel Honzek, C, Slovakia
Another relatively steady riser up draft boards at this stage of the season, Honzek has made an immediate impact in the WHL after playing pro in Slovakia last season. He has 43 points in 31 games for the Vancouver Giants and has been a handful to defend. At 6-foot-3, 180, he's got good reach and protects pucks well. On top of that, he's getting stronger and more difficult to play against. He's trending towards a first-round selection and can greatly help his cause by showing well against elite junior players at the WJC.
The @WHLGiants keep up the pressure and Samuel Honzek capitalizes!#NHLDraft pic.twitter.com/plNFioCZ9l

— The WHL (@TheWHL) December 5, 2022
9. Gavin Brindley, RW, USA
A spark-plug player with a lot of speed, Brindley is tenacious and versatile. While he'll likely play a depth role for the U.S. and have a harder time impacting games, he's been a quality top-six forward for Michigan this season in the NCAA ranks. Brindley hasn't scored a ton, but he can impact the game in a variety of ways, which is likely why USA is bringing him as a draft-eligible player.
10. Axel Sandin Pellikka, D, Sweden
With 14 SHL games under his belt already this season, Sandin Pellikka looks like he's well ahead of schedule in his development. He's been over a point-per-game player in the Swedish U20 league, which has made it pretty much necessary for him to play against men. He's a good skater and has some crafty offensive skills. He's an average-sized right-shot defenseman and his play in the D zone can use a little work, but being part of Sweden's team at this tournament at his age is no mistake.
11. Maxim Strbak, D, Slovakia
A 6-foot-2 right-shot defenseman with some range, Strbak has been playing well in his first North American season in the USHL with the Sioux Falls Stampede. He has 12 points in 21 games and can handle himself well in his own zone. There's definitely been an adjustment for him and he's hovered around first-round projections throughout the year. There's still some question about his overall skillset and hockey sense that may see him dip into the second round, but the recent Michigan State commit already has played in one WJC and will be looking to make a bigger impact in his second.
12. Lenni Hameenaho, LW, Finland
A late 2004 birthdate who had a solid performance at the last U18 World Championship and has been in Finland's top pro league all season, Hameenaho should play a mid-lineup role for Finland in this tournament. He has 13 points in 28 games in Liiga, which ranks tied for third among U20 players in the professional ranks in Finland. Hameenaho should be an early-mid-round pick in this draft.
13. Trey Augustine, G, USA
In the mix to start for the U.S., but hardly a guarantee, Augustine will be one of the youngest goalies in the World Juniors. The 17-year-old has had a strong season at the NTDP and made the U18 World Championship roster last year as an underager. He helped the U.S. to a silver in that event. He might not get a ton of playing time, but just being part of this team says a lot about where his game is at and how he fits in among American goalies. He is looking like a mid-round pick in this draft.
Trey Augustine shut down one of the USHL's leading scorers Friday night, highlighted by this breakaway save for this week's @kroger Great Save! pic.twitter.com/L3xiVOC7vK

— USA Hockey's NTDP (@USAHockeyNTDP) December 13, 2022
14. Alex Ciernik, LW, Slovakia
The Slovaks have a young team, but they've got a lot of excitement in that group. Ciernik is starting to generate some draft buzz with his play in Sweden. He's been over a point per game in their U20 league and has appeared in nine games in the second division Allsvenskan. He also dominated the U18 Division IA last season with 12 points in five games. It's unclear how big a role he'll play, but he's a player I'm excited to see live for the first time.
15. Martin Misiak, C, Slovakia
A big two-way center with some range to him, Misiak was part of the U20 team last year and showed a few flashes. He has seven assists in 27 games in Slovakia's top pro league this year. As of right now, he looks like a potential late-round pick.