Men's CCHA Hockey
CCHA RinkRap: Hockey Titan Falters
CCHA RinkRap: Hockey Titan Falters
This week in RinkRap: a giant stumbles, a power grab for the MacNaughton Cup, and a batch of freshmen defy logic.
Dec 19, 2022
by Tim Rappleye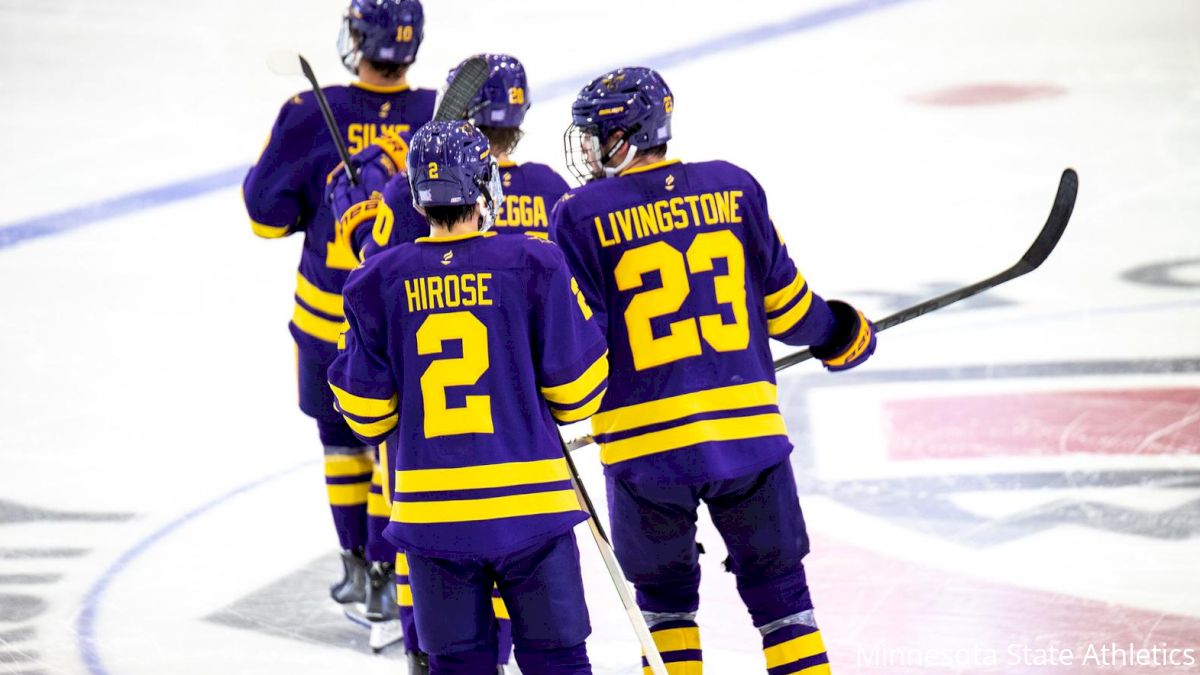 This week in RinkRap: a giant stumbles, a power grab for the MacNaughton Cup, and a batch of freshmen defy logic.
Requiem For A Heavyweight
There is a lot of hand-wringing in Mankato these days. The once-dominant Mavericks—the five-time reigning MacNaughton Cup champs—are now a pedestrian team, third place in the CCHA, only a game over .500.
In what seems like a Twilight Zone re-run, they have been swept in in their past two home series.
"I feel terrible about it," said coach Mike Hastings in a rare moment of candor following Friday's defeat. Here's a coach with an .800 winning percentage the last four seasons, who is now flirting with mediocrity according to his record.
When asked to grade this year's club over the first half, he gave them a "B," but that was prior to being swept by rival Bemidji, and surrendering first place.
A ton of theories are swirling about the club's fall from grace: absence of will around the offensive net, defensive details, costly turnovers in neutral ice. In reality, it's none of those.
There are two reasons for his club's demise, and one of them received a major ceremony Thursday night. Dryden McKay returned to Mankato to see his Hobey Baker Award banner hung from the rafters. The back of the banner should read ".930 Save Percentage."
That number was a primary reason for the Mavericks success the past four years. This year's MNSU save percentage is .886. Crunching the numbers, that translates to one additional goal allowed for every 25 shots compared to the McKay era. A poor save percentage leads to a stunted winning percentage.
The other reason for Minnesota State's struggles is their lack of scoring. Yes, they lost a combined 100 points when Julian Napravnik and Nathan Smith graduated to the pros, but there were no complaints in October when the Mavericks beat national powers Minnesota and Duluth.
Then, on November 5th, a scary hit put top scorer Sam Morton on the shelf. He has not played a shift since being laid out by the Tommies' Jake Braccini. The Mavs have not been the same team since.
November 5 injury to Minnesota State scoring star Sam Morton derailed the Mavericks season. pic.twitter.com/52HdNmvxiC

— Tim Rappleye (@teeraps) December 18, 2022
Filling The Power Vacuum
Michigan Tech was given a lot of credit for steeling Minnesota State prior to their run to the 2022 NCAA Championship Game. The final series of the regular season looked like a Stanley Cup playoff war between two teams that mirrored each other, and with good reason. Joe Shawhan has long studied the Mavericks winning ways, how they dominate possession battles, winning the wars on "hard ice" to keep opponents pinned in their own end for minutes at a time, particularly in the second period when changing personnel can be so difficult.
Tech has now surpassed the master, thanks in no small part to their elite goaltender Blake Pietila, he of the .928 save percentage, 40 points higher than MNSU's tandem of Alex Tracy and Keenan Rancier.
Michigan Tech shares the top spot in the standings with Bemidji State, who has two games in hand. Serratore's Beavers appear to have cured their "disease" of coughing up leads at the end of games after their impressive sweep of Minnesota State. Bemidji goaltending star Mattias Sholl stopped 94 percent of the 69 shots he faced.
"Shollsy was the X-factor," said Serratore.
Another key to the Beaver's success is Serratore's emphasis on what he calls "Sacrifice Stats."
"Blocked shots and hits are definitely a sacrifice play," said Serratore.
"An effort-based play that a coach deems a sacrifice. The beauty with sacrifice stats is that it doesn't take talent, just will."
A perfect example of a sacrifice play was made by Bemidji freshman Lleyton Roed Friday night. With the game on the line in the third period and Minnesota State swarming around the Beavers net, Roed was shoulder-to-shoulder with Elias Rosen on the goal line defending an open cage, winning a crucial stick battle to preserve the tie before overtime.
Those intangibles, along with goaltender Sholl, have catapulted the Beavers atop the CCHA standings heading into the holiday break.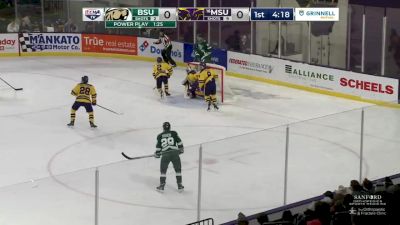 Unlock this video, live events, and more with a subscription!
Get Started
Already a subscriber? Log In
Rookie Watch
There is a time-honored sports saying that the best thing about freshmen is that they eventually become sophomores. The conventional wisdom is that college rookies learn hard lessons that give coaches gray hair from watching newbies lose their check and turning pucks over. That trope, however, simply doesn't apply this season.
The CCHA has an embarrassment of riches when it comes to elite freshmen. St. Thomas has two newcomers—Josh Eernisse and Mack Byers—with 10 goals apiece at the break. Northern Michigan's Joey Larson has lived up to his billing as preseason favorite to win CCHA rookie of the year with his 13 points, while Michigan Tech's Kyle Kukkonen is a fixture on all of coach Shawhan's special teams with a tidy 7-7-14 scoring line.
But it's Bemidji's Roed who wins the unofficial Calder Trophy as rookie of the year at the halfway point. His offensive tool-box is prodigious: an ability to score off the rush with both speed and a devastating shot. He also has a gift for finding open teammates in tight spaces. Thursday night, his cross-crease helper to Alexander Lundman was a perfect example. "Lleyton has been one of our best players," said Serratore.
"He's hard to play against, plays the game honestly. We'll have him out there in the last minute of a game if we need a goal, and we're not afraid to have him out there in the last minute of a game if we're up a goal."
It is this two-way play that makes Roed FloHockey's R.O.Y. He has adopted Serratore's defense-first mindset, a young man who has bought into personal sacrifice, and therefore is rewarded with gobs of crucial ice time.
These newcomers will all be impact players in the new year as they lead the chase for the 2023 MacNaughton Cup, no longer exclusive property of Minnesota State.