2023 IIHF World Junior Championship
2023 World Juniors: First Look At Team USA's Lines
2023 World Juniors: First Look At Team USA's Lines
The U.S. will play Finland in a pre-tournament game Monday night in preparation for the 2023 World Juniors and announced their first lineup.
Dec 19, 2022
by Chris Peters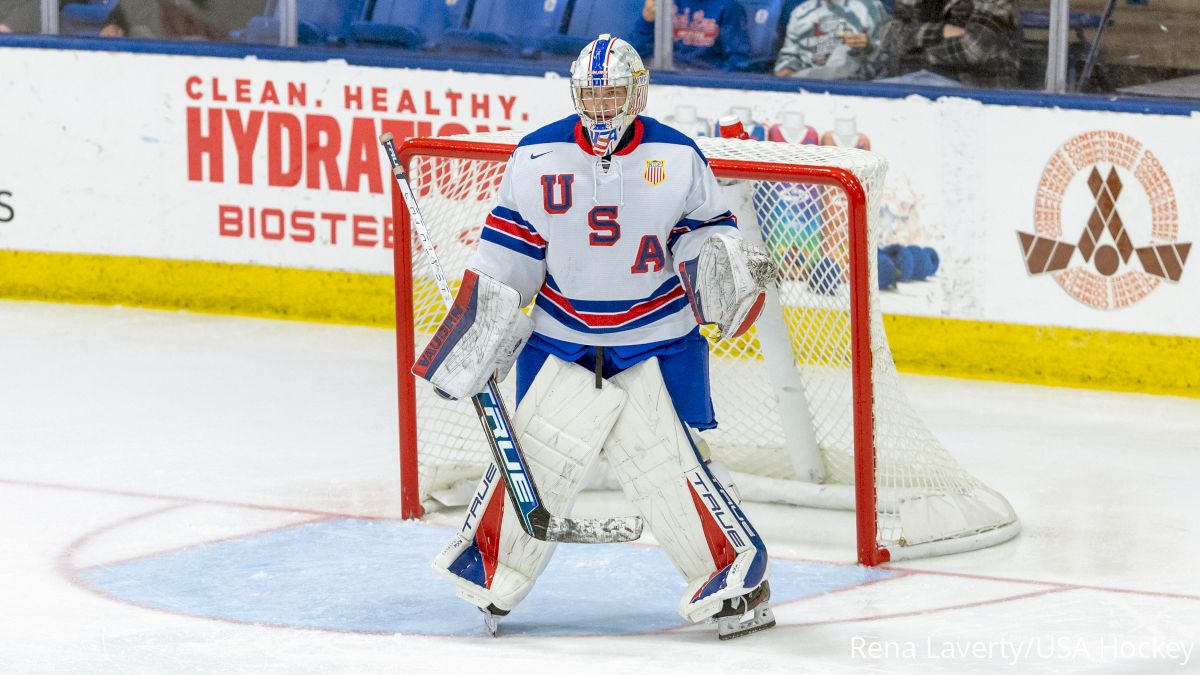 All 25 members of the U.S. National Junior Team arrived in New Brunswick over the weekend and won't waste much time getting to work to prepare for the 2023 IIHF World Junior Championship.
After a weeklong camp at USA Hockey Arena and a flight into snowy Atlantic Canada, the Americans will play their first pre-tournament game Monday night against Finland. The game will be played in Quispamsis, New Brunswick at 6 p.m. ET.
Ladies and gentlemen, this is your captain speaking. Team USA has arrived in Canada. #WorldJuniors pic.twitter.com/4E6DTbkgn5

— USA Hockey (@usahockey) December 19, 2022
Ahead of the pre-tournament game, USA Hockey released the projected lineup for the contest which will see all 22 skaters see action. In a normal IIHF game, the U.S. would only be able to dress 20 skaters, but the roster rules are relaxed for pre-tournament play, usually based on an agreement between the two competing teams.
In Monday night's contest, we'll get our first look at what USA is thinking in terms of its line combinations and defensive pairings.
Here's a look at how Team USA is expected to look for its first pre-tournament game against Finland.
Team USA Lineup vs. Finland (12/19)
Cutter Gauthier (PHI) - Logan Cooley (ARI) - Jimmy Snuggerud (STL)
Rutger McGroarty (WPG) - Chaz Lucius (WPG) - Jackson Blake (CAR)
Dylan Duke (TBL) - Red Savage (DET) - Tyler Boucher (OTT)
Kenny Connors (LAK) - Charlie Stramel (2023) - Gavin Brindley (2023)
Extra Forwards: Noah Laba (NYR), Sam Lipkin (ARI)
Jack Peart (MIN) - Luke Hughes (NJD)
Lane Hutson (MTL) - Ryan Chesley (WSH)
Sean Behrens (COL) - Ryan Ufko (NSH)
Luke Mittelstadt - Seamus Casey (NJD)
Trey Augustine (2023)
Kaidan Mbereko
Analysis
The U.S. top six appears to have been pretty well set for a while in camp. Gauthier, Cooley and Snuggerud were all linemates at the NTDP last season with all three being picked in the first round of the NHL Draft. Gauthier has been playing center at Boston College this year, but has moved over to the wing and should be viewed as a critical scoring threat for Team USA. Cooley and Snuggerud, meanwhile, have continued their connection at the University of Minnesota where they have been dominant scorers over the last five weeks or so.
Team USA's second line has a lot of scoring ability with Blake being a primary set-up man and both McGroarty and Lucius liking to shoot a lot. McGroarty has been scoring consistently for Michigan this year, while Blake has been one of North Dakota's most important players this season. Lucius has dealt with injuries and that remains a concern going in, but he was in a non-contact jersey most of last week. To see him in the lineup is encouraging for the U.S. as they'll need his dynamic presence down the middle.
That third line also looks like it probably will stay intact for the tournament. All three were teammates at the NTDP two years ago and can play a grinding style without giving away too much offense. Duke is a natural net-front scorer despite not being all that big, while Savage has a tenacious two-way game and Boucher plays a booming physical game. That group very well could be USA's top matchups line that sees some of the opposition's best scoring groups. They'll be tone setters for the Americans.
The U.S. has some decisions to make on the fourth line. I think all of Charlie Stramel, Gavin Brindley and Sam Lipkin are on the bubble to be part of the final 23. My expectation is that Laba, who is listed as an extra today, will be USA's regular fourth-line center, but they want to get more looks at Stramel, Brindley and Lipkin in those roles down the lineup. Each will have to adapt to that role to show they have a spot on the team.
Meanwhile, we knew USA's D corps would be mobile and move pucks well, but we didn't know exactly how they'd be structured. Left-shot Luke Hughes often plays his off-hand side and appears to prefer it. Jack Peart is a returnee and should see a lot of ice time. That second pairing of Hutson and Chesley has been together before at the NTDP and Chesley plays the role of being more of the defensive guy on that pair well as Hutson is a puck-rushing blueliner.
It's a pre-tourney game day in St. John, N.B.! The U.S. will face Finland tonight at 6pm ET. #WorldJuniors

Preview → https://t.co/3wGoFMtwY2 pic.twitter.com/U0t1f1qW9i

— USA Hockey (@usahockey) December 19, 2022
I think the last D spot is still to be decided with each of Ufko, Casey and Mittelstadt vying for the spot. Sean Behrens was named an alternate captain, so he's obviously on the team. Those other three have to be effective in limited minutes and in tough situations. Ufko and Casey may have the upper hand as two of three remaining right-shot defensemen in camp.
Lastly, the goaltending battle for the No. 1 is going to come down to Augustine and Mbereko. The latter is a returnee, but Augustine has had a very strong season. Both could see action in this game and then we'll see who gets the net against Sweden in the final pre-tournament game on Dec. 21.
This U.S. roster will have a big test in the pre-tournament games with two of the top four teams heading into the tournament. Finland and Sweden will provide the right kind of challenge for the coaching staff to make their final roster decisions. They may not register all 23 players right before the tournament, but getting through these two games should get them close to knowing who they want in the group to start the tournament.