2022 Kalamazoo Wings vs Iowa Heartlanders
Defenseman Matt Murphy Is A Proven Winner
Defenseman Matt Murphy Is A Proven Winner
Ask around enough about Iowa Heartlanders defenseman Matt Murphy, and you'll keep hearing it. He's a winner.
Dec 16, 2022
by Mike Ashmore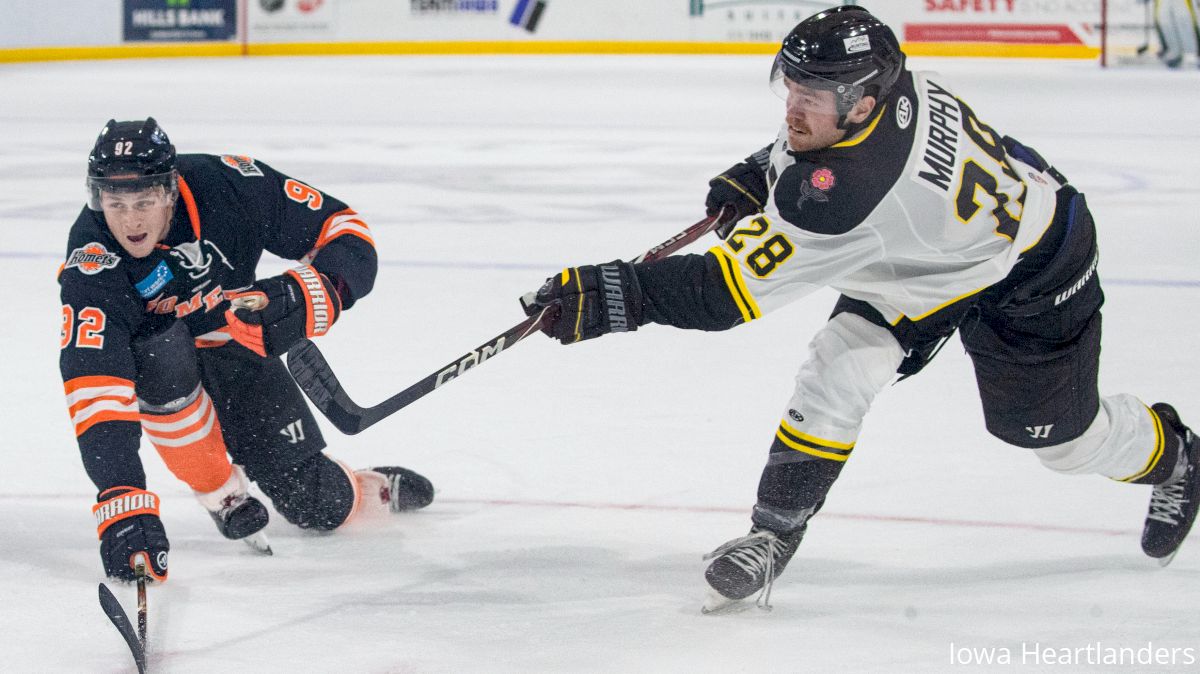 Ask around enough about Iowa Heartlanders defenseman Matt Murphy, and you'll keep hearing it.
Winner.
It isn't a bad trait to be associated with, and one the 27-year-old blueliner has earned in spades, with a collection of championship rings from nearly every stop he has made.
After a while, it stops being coincidence.
He's won a Memorial Cup with the Halifax Mooseheads, two uSports titles with the University of New Brunswick and then the Kelly Cup in his first pro season in the ECHL, helping the Fort Wayne Komets to the title during the 2020-2021 season.
Winning just seems to follow Fredericton, New Brunswick, Canada, native.
Why?
Well, that's a tough question to answer when you're the one doing it all.
"I think I always just had that taste of winning from an early age, and when it's from a young age, you figure out what it takes to win," Murphy told FloHockey via cellphone. "To be totally honest, I've just been really fortunate to play on really good teams with really good coaches, and I think once you have done that, and you've learned from other players what it takes to do that, I've tried to bring my best foot forward on any team I've been on to contribute to a winning atmosphere."
🚨 WE'RE BACK BABYYY 🚨

back 2 back goals from Matt Murphy to TIE THE GAME pic.twitter.com/D9rxlRsJ2l

— Iowa Heartlanders (@GoHeartlanders) December 1, 2022
Often, success creates momentum. Before you know it, everyone is caught up in the excitement.
"I think a winning atmosphere can be very contagious, and when one guy starts, every guy starts to follow," Murphy added. "Once you begin winning, you get on a roll, and once you build that confidence within a team, it's difficult to beat a team like that."
Back with the American Hockey League's Iowa Wild after a Dec. 8 recall, Murphy had been off to a career-best start with the Heartlanders this year, posting five goals and 12 assists in his first 13 games en route to emerging as an unlikely early candidate for the All-Star Game.
He again has found a way to combine his experience and confidence to be a leader on the ice.
"It's difficult to pinpoint one specific factor, but I came down here from the Wild after spending the first almost month and a half with them in Des Moines, and I just kind of gained confidence in getting my game back," he said. "When I got sent to the Heartlanders, I came down here with a lot of confidence, but I knew they'd been struggling at the time I got there, so I wanted to come down and help them win."
Murphy was hopeful he'd be able to use his experience on winning teams to help lead the charge and get things turned around.
"I know it's been difficult, even before I arrived here," Murphy said. "I think the team had been 0-5, and our record is (up to) 4-9-2-1 or something along those lines, so it's been a difficult stretch down the last 15 or so games with winning. But, we're a young team, and a lot of forwards who started in the E are now up in Des Moines with injuries and whatnot."
Simply enough, the work does not end. The goal, of course, is for it to eventually pay off.
"You've got to work at it every day," Murphy said. "In the last few games, we'd picked up points, something like six out of our last 10 games or something like that, so I think we're turning the corner. The biggest thing I'm trying to bring is that you've got to stay positive, but at the same time, you've got to be able to look at yourself in the mirror and hold yourself accountable."
For now, however, Murphy is back up in the AHL, having signed a one-year, two-way deal during the offseason after earning numerous PTOs with the Belleville Senators, Providence Bruins and Abbotsford Canucks.
"To be able to sign a contract and be able to prepare and know exactly where you're going, especially with last year, when I was on an (ECHL) deal and started the year in Belleville and there were multiple different teams," Murphy said. "It was really nice to get something done in the offseason, where I could really focus in on where I was going to be."
Defenseman Matt Murphy has been recalled from loan by the @IAWild.⁰
Murphy ranks 2nd among ECHL defensemen in goals (5) and points (18). pic.twitter.com/g7Nb4Zai97

— Iowa Heartlanders (@GoHeartlanders) December 8, 2022
It was both a logical and well-deserved next step for the 6-foot-2, 196-pound veteran left-shot blueliner, who figures to stick at that level sooner, rather than later.
"The systems were a little bit different than here in Iowa City, but it's nothing drastic, and they try to align it all pretty well," he concluded. "Being up there with those type of players and those coaches, it showed me what I need to do to stick at that level. It's all just trying to adjust and learn from that staff about what you need to work on to be able to make it last."