2022 Maine Mariners vs Adirondack Thunder
Former Vancouver Canucks Prospect Michael DiPietro Happy With New Start
Former Vancouver Canucks Prospect Michael DiPietro Happy With New Start
After a significantly challenging start to his career with the Canucks organization, Michael DiPietro is reinvigorated with Bruins affiliate Maine Mariners.
Dec 16, 2022
by Mike Ashmore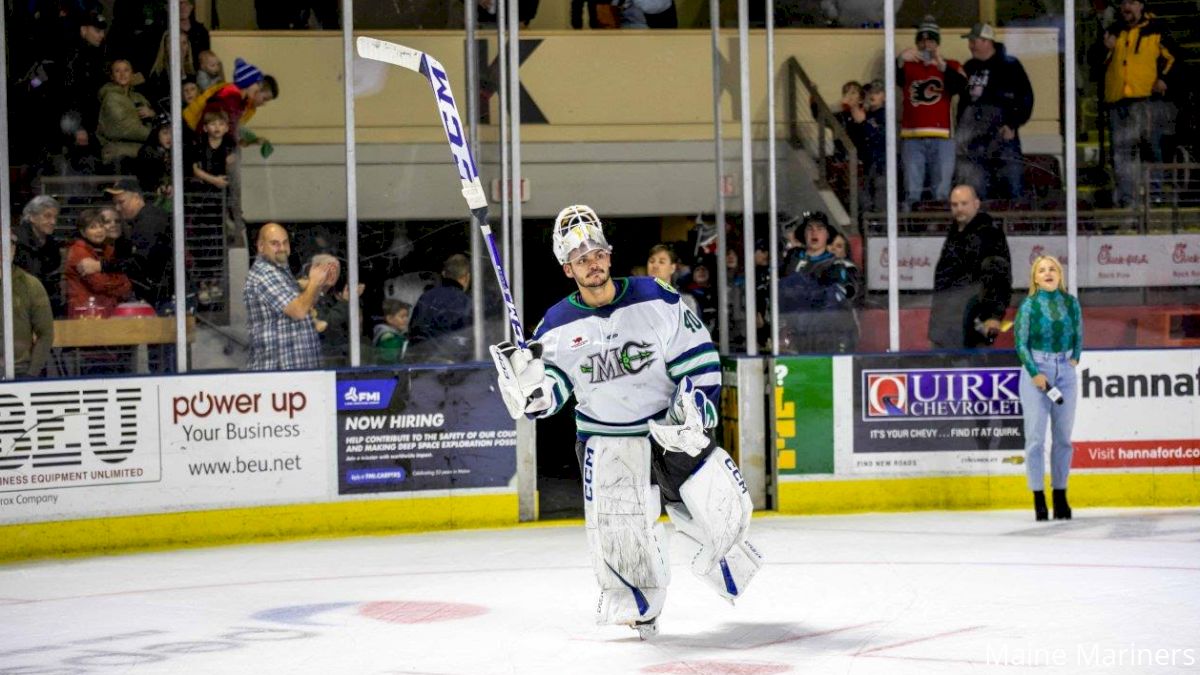 It was a loaded question for Michael DiPietro.
But, after a well-documented stay with the Vancouver Canucks that presented challenges on more than one occasion, it seemed only fair to ask if the 23-year-old goaltender felt a sense of relief about an early-season trade that sent him to the Boston Bruins organization. One that ultimately has him with the ECHL's Maine Mariners.
"I don't want to say it was relief," he told FloHockey in a lengthy and candid interview.
"There's no need to hash out the past or anything. Vancouver is an organization that gave me an opportunity and believed in me on draft day all the way back in 2017. As time goes on, business happens, and at the end of the day, sometimes things don't work out for one side or the other, and you move on."
DiPietro says he still keeps in touch with his now-former Canucks teammates, and took the high road at every possible turn, expressing gratitude for his new opportunity with Boston, while being appreciative of what he accomplished in Vancouver.
"I wouldn't say it's a relief—that's a bad word to use, it can sometimes insinuate something more distasteful, and there's no distaste for anyone in my mouth. I wish the best for my brothers and everybody back in Vancouver—but I'm excited for this opportunity and having new brothers and new friends in the locker room," he said.
"But, any time you get a fresh start somewhere, it's good."
While we'll get to that fresh start—one that DiPietro and his agent were given permission to seek this off-season to help give him a new opportunity—there's plenty to unpack from the past few years. A tenure that ultimately saw a large portion of the Canucks fanbase create a groundswell of support for the well-liked Windsor, Ontario native.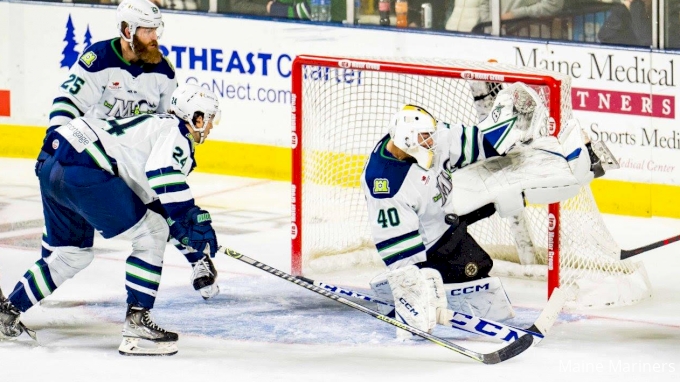 Taken by the Canucks with the 64th overall pick in the 2017 NHL Draft, DiPietro was considered a potential goalie of the future in Vancouver alongside Thatcher Demko. He further bolstered his stock with a standout performance for Team Canada at the 2019 World Junior Championships.
That path ultimately never materialized, however.
DiPietro made just three appearances at the highest level for the Canucks—one each in 2018-19, 2019-20 and 2021-22—and got into just four games across the board during the "COVID year" of 2020-21. DiPietro spent most of that season on the organization's NHL taxi squad and lost critical game development time in the process, before a late assignment to the American Hockey League's Utica Comets salvaged his season.
After posting a solid season in the AHL with Vancouver's new affiliate in Abbotsford last year, it was time for both sides to move on. On October 27, DiPietro, along with defenseman Jonathan Myrenberg, was dealt to Boston in exchange for forward Jack Studnicka.
While Boston was waiting for a spot to materialize, the young goaltender was loaned by the Providence Bruins to Abbotsford in the short term. Eventually assigned to the Mariners, and even though he's at the ECHL level for the first time in four pro seasons, he's ecstatic to get his career back on track.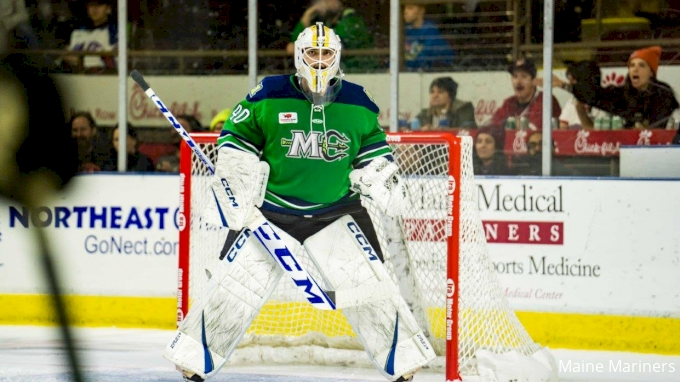 "Especially after the start of the season for me with not being able to play in games, having the opportunity to play is all I care about at the end of the day," DiPietro said.
"You never really know how long you can play the sport for, so when I got down here and met the group of guys, it felt great just to be a part of a team again and have a sense of belonging and a sense of working towards a common goal. Being a part of things here is good, and I just want to progress in my hockey career. I'm happy to be here."
Jumping back into playing was a challenge for DiPietro, but he handled it well, posting a 3-1 record, 3.52 goals against average and .898 save percentage in his first four starts with Maine.
He's quickly adjusting to a level of hockey that is often unpredictable—given the ECHL style of play—while remaining grateful that this layoff from game action wasn't as long as his previous one.
"Unfortunately, it wasn't my first rodeo in the sense of having a long time between games," he said.
"The COVID season, I think it was 417 days I had to wait in Vancouver's organization to play games with COVID circumstances and everything. With it being six months since playing my last game, it was re-teaching myself my game day routine and what works for me and what didn't. When I played that first game, it was great to be out there with the guys and get used to being put into uncomfortable situations like having a penalty kill in a crucial part of the game."
Even while playing with a heavy heart after the unfortunate passing of his grandmother shortly after his team debut, DiPietro resolved to find his game quickly. On December 4, he had a 35-save performance in Adirondack, which he earned first star honors.
To be sure, it's been a roller coaster year—being traded represents just one of the peaks and valleys. Going through that process for the first time was something DiPietro called an "odd" experience, but also somewhat familiar, having been traded previously in juniors as well.
However, things are a bit different in the pro game, where DiPietro is having to work his way up the depth chart all over again behind a glut of goaltenders in the Bruins organization. Linus Ullmark and Jeremy Swayman comprise one of the top tandems in the NHL, while Keith Kinkaid, Kyle Keyser and Brandon Bussi have all seen action in the AHL so far this season. That's a tall task, but one that he's embraced thus far.
"For me, I have the personality where I want things done yesterday and I'm a very impatient person," DiPietro said.
"I hold myself to a very high standard, and I demand doing things the right way. Sometimes, when you don't get results right away when you think you should and you think you deserve, it definitely takes a toll on you physically, and most importantly, mentally. So, looking at this new opportunity for myself, I'm kind of stripping all the added pressures and stuff the old me would have added on to a situation like this."
Now, with a mature approach well beyond his years, DiPietro is just happy to be back out there again regardless of where it is, all while continuing to work towards the ultimate goal of getting back to the National Hockey League.
"Now, I'm just playing."