2022 Bemidji State vs Minnesota State - Men's
CCHA Reasons To Watch: Pairwise Powder Keg In Mankato
CCHA Reasons To Watch: Pairwise Powder Keg In Mankato
This weekend, Bemidji and Minnesota State put all the chips on the table for a two-game series in Mankato.
Dec 15, 2022
by Tim Rappleye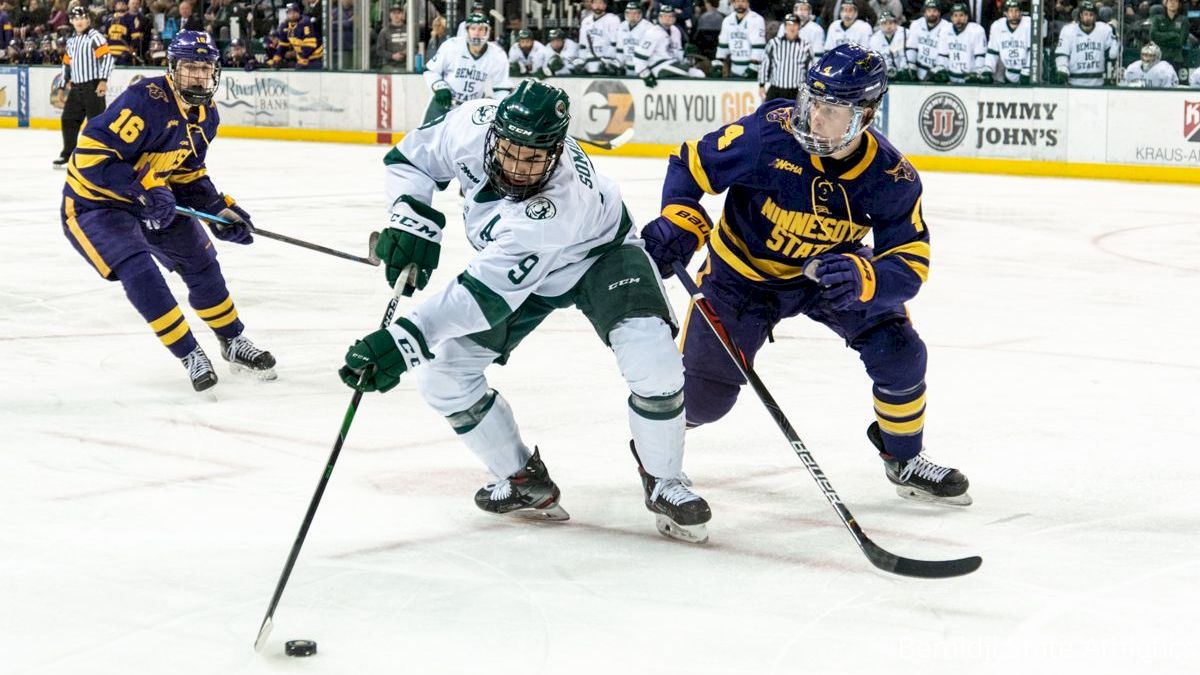 This weekend Bemidji and Minnesota State put all the chips on the table in a two-game series in Mankato and Lake Superior State aims for an upset against Michigan Tech.
Bemidji State Vs. No. 16 Minnesota State
The balance of power in the CCHA is now tilting decidedly west, as the State of Hockey (Minnesota) contains three schools, including the two 2022 CCHA tournament finalists.
Bemidji and Minnesota State, the two traditional CCHA powers, battle Thursday and Friday, looking to improve on their Pairwise rankings. The Mavs are 20th, and Bemidji is 26th on the computer rankings that determine at-large NCAA tournament berths. Both schools are eager to claw past one another to contend for the precious at-large bid. And there's nothing like head-to-head clashes to settle business in a hurry.
Putting it bluntly, if Bemidji is swept in their two-game set in Mankato, one of their two paths to the national tournament will be sealed shut. Teams seeking to make a mark nationally, whether they are in Boston, the Upper Peninsula or Minnesota, have to take care of business in their region before contending for league and national crowns.
"We want to play in the NCAA tournament, and we're on the outside looking in right now," said MNSU coach Mike Hastings on Wednesday.
"It creates a broader scope when you're playing you're rival. Year in, year out, more often than not, we're playing Bemidji . . . deciding opportunities. Tommy (Bemidji coach Serratore) and I have been butting heads a long time."
On a weekend in which Minnesota State's Hobey Baker Award winner Dryden McKay returns to Mankato for a victory lap, another goalie from Chicagoland—freshman Alex Tracy—will get an opportunity to placate the fans who have grown accustomed to excellence in the net.
Prediction: In a hard fought grind, look for Minnesota State to dominate in the race for points, both on the computer and in the CCHA standings.
No. 17 Michigan Tech Vs. Lake Superior State
There are no hockey secrets in the Upper Peninsula. Michigan Tech coach Joe Shawhan knows that Lake State is much better than their 2-12-2 record.
"I like that team," said Shawhan, "they can run off a string of six-straight wins."
Shawhan admitted to channel surfing on FloHockey this past weekend, and not only did he see Lake State's "Miracle in Minnesota," Friday night, but he saw Damon Whitten's team refuse to quit Saturday, despite trailing 4-0 entering the third period. The Lakers won the period, and outshot a good Bemidji team 15-2. It was a calling card for every team in the CCHA.
Huskies assistant coach Tyler Shelast named three Lake State forwards that he has been prepping his troops for: Louis Boudon (speed), Brandon Puricelli (speed), and Logan Jenuwine (strength). LSSU defenseman Jacob Bengtsson's octopus-like reach has Shawhan concerned.
"He can wrap you up and hold you," said Shawhan.
"Bengtsson is a pro."
What a game, what a crowd, and what a night! #mtuhky #FollowTheHuskies pic.twitter.com/pJ84MDcpCp

— Michigan Tech Hockey (@mtuhky) December 4, 2022
On the Tech side of the ice, Shawhan assesses all his players via a single criteria: scoring chance differential per minute played. And he is in sheer awe of how the line of Levi Stauber, Tyrone Bronte and Nick Nardella played in their last series vs Northern.
"They dominate every shift," said Shawhan.
"Every shift they drove momentum."
This line's puck dominance makes them supreme defenders, because the game is played in Tech's attacking zone when they are on the ice.
This provides fascinating game-within-the-game insights to look for this weekend.
Shawhan continues to ice a team minus three excellent defenders—Chris Lipe, Trevor Russell and Jake Crespi, and it's bound to catch up with his club. He hopes the shoe doesn't drop against Lake State, the CCHA sleeping giant about to come out of its slumber.
"They're a team that's going to pop. I just hope it's not against us."
Prediction: Tech must battle to find their 11th win before the Christmas break. Lakers will settle for a split, wishing they had more games to play this December.
Ferris State Vs. St. Thomas
In a clash of two of the nation's most improved teams, one needs to drill down on some data for perspective. Thanks to the research of St. Thomas sports information director Gene McGivern, we have just that.
Regarding goals against average, St. Thomas has shrunk theirs by 1.14 (2nd most improved in the nation), while Ferris has shrunk theirs by 0.81 (7th best).
Measuring win percentage, St. Thomas has climbed .24 (4th nationally), while Ferris has improved .181 to climb to the .500 mark (7th most improved).
Finally, the St. Thomas uptick in scoring differential is second in the nation only to Michigan State.
After this weekend, one of these teams' stats will keep improving, while the other's will turn south. Both clubs have dedicated players making them tough to play against. In terms of entertainment, St. Thomas will impress with their speed.
Prediction: Another split, though Ferris will need another big night from goalie Logan Stein to pull it off.
No. 14 Ohio State Vs. Bowling Green
The first night of the home-and-home "Battle of Ohio" takes place up north at Bowling Green. Anybody who tuned in to last year's clash between these teams saw a truly bizarre finish in which a lead by Ohio State was threatened by a penalty shot in the closing seconds.
These battles typically resemble trench warfare, with every zone fiercely contested. FloHockey viewers will get to see one of the Big 10's best goalies in Jakob Dobes, the 6-foot-4 Czech who was in the eye of the storm in last year's fiasco. (He saved the penalty shot to preserve the game in 2021, for the record.)
For those who like a wager to enhance their viewing, this is the only game on DraftKings college hockey docket. The Kings got it right this week, BGSU a 1.5 goal underdog at home, and the 5.5 over/under is an appropriate figure for two clubs with solid goaltending. If you had to wager, go small on the underdogs at home
Prediction: BGSU should make it interesting at Slater Arena Friday on FloHockey—the nationally ranked Buckeyes should win handily in Columbus.