United States Hockey League (USHL)
Canadiens Pick Emmett Croteau Thriving In USHL's Top Tandem In Waterloo
Canadiens Pick Emmett Croteau Thriving In USHL's Top Tandem In Waterloo
The Waterloo Black Hawks goalie and Clarkson commit continues to make strides in his third USHL season.
Dec 14, 2022
by Jordan McAlpine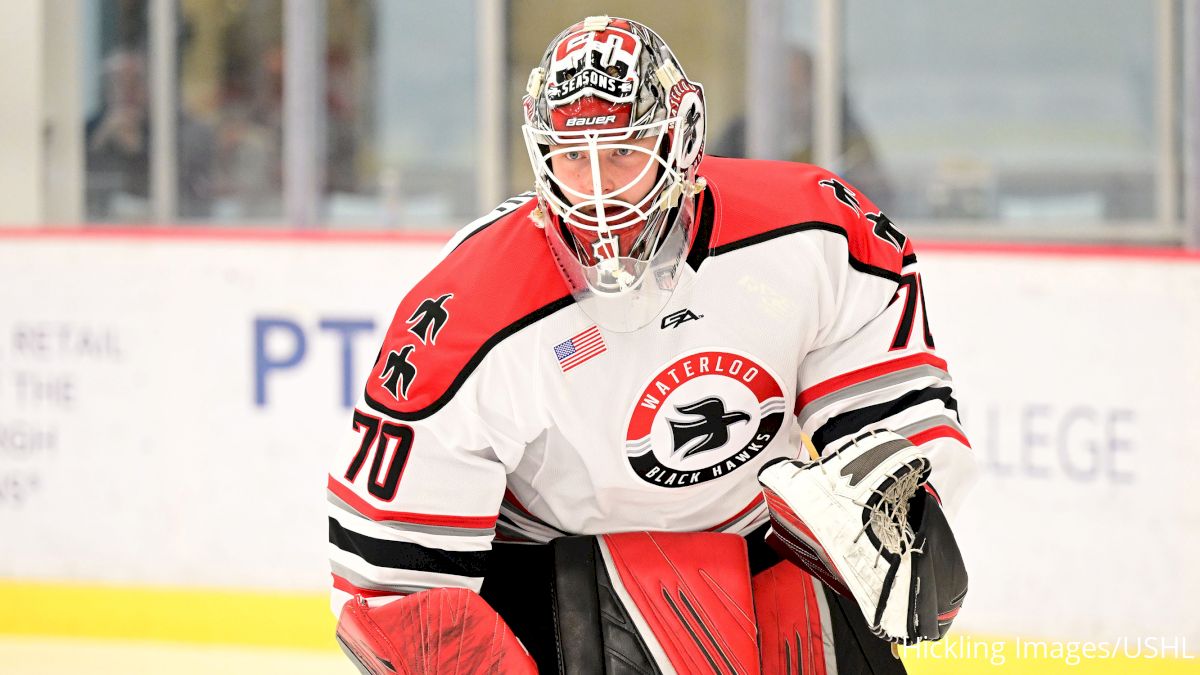 Spending three straight winters in northeast Iowa might not be a glamorous lifestyle to some. But that's been the life of Waterloo Black Hawks goaltender Emmett Croteau and he wouldn't want to be anywhere else.
Still just 19 years old - which he turned last week - Croteau is 11 games into his third season with the Black Hawks. The 6-foot-4 goaltender is one of the league's most experienced netminders with 62 career games under his belt, and he's also one of the most promising.
Croteau was selected by the Montreal Canadiens in the sixth round (162nd overall) of last July's NHL Draft.
"It was a pretty cool experience and it kind of lets you see that all the work you've put in has led to that moment," Croteau said. "It's just a starting point, but it's a big moment and staple in everyone's career, and it was cool to share it with family and friends."
The Bonnyville, Alberta native was back home training when he got the news. Croteau said he had just finished an off-ice session and was about to gear up and head on the ice when his phone rang.
Although he grew up 2,000 miles northwest of Montreal, he's well aware of the history and tradition that exists in the organization - an organization he hopes to join someday.
Croteau said he didn't exactly have a favorite team growing up but he did closely watch a group of goalies - Roberto Luongo, Jonathan Quick, Cam Ward and perhaps fittingly, Carey Price being his favorites.
"Being able to watch those guys growing up, obviously everyone has their own style, but those were great guys to look up to and model pieces of my game after," he said.
Avec le 162e choix au total, les Canadiens sélectionnent le gardien Emmett Croteau de Waterloo dans la USHL.

With the 162nd-overall selection, the Canadiens have drafted goaltender Emmett Croteau from Waterloo in the USHL.#GoHabsGo | #RepêchageLNH | #NHLDraft pic.twitter.com/b4oj59ir2U

— Canadiens Montréal (@CanadiensMTL) July 8, 2022
Croteau currently finds himself nearly 1,400 miles from home in Waterloo. However, he'll nearly double that distance when he heads to Clarkson next fall. The decision to become a Golden Knight was an "easy one" and Croteau said he's excited for his future in Upstate New York.
At the same time, it's crazy how fast his hockey career has progressed over the past few years. Especially considering how it started.
"When I first started skating I'd throw fits and I honestly hated it," Croteau said with a laugh. "My dad just told me to stick with it though and I started to like it. And then when I got a hockey stick in my hands it was tough to get it out of them."
Croteau laughs about it now, but he started as a forward as a young kid. He tried goalie once he reached atom hockey - the 9-10 age level - and he's stuck with it ever since. Croteau said when he was initially drafted by Waterloo in May of 2020 it "really opened his eyes" to what he could do in hockey.
Since Croteau arrived in Waterloo, he's continued to make strides each season. Few know him better than his goalie coach in Waterloo, PD Melgoza, who has seen the work that has gone into Croteau becoming an NHL draft choice.
"I wasn't surprised to see him picked based on some of the conversations I'd had and Em's put the work in for it," said Melgoza. "I've told him this several times, but at the end of the day, all it is is an invite to camp and a logo by your name.
"It's cool and it's an awesome moment, and I'm super proud of Emmett. But the work can't change and you can't stop there."
Melgoza joined Waterloo before the start of the 2021-22 season and is in his second season working with Croteau. The coach said he's seen a lot of progress from the third-year goaltender, especially his positioning and movement.
"He's been really consistent and he's been big when we've needed him to be," Melgoza added. "He competes, he's big, he's athletic and he's just a gamer."
Croteau finished last season 16-16-3 with a 3.00 goals-against and a .899 save percentage.
He was 7-6-0 in 2020-21 and was named a Second-Team All-Rookie Team selection. Through 11 games this fall, Croteau is 5-6-0 with a 2.66 goals-against and .904 save percentage.
"I've really just tried to continue working on and developing my game this season," he said. "I'm a big goalie but I think I move well in the crease. I'd like to say I track pucks well and make the first save and make some big saves."
Year two in the books for Emmett Croteau! Take a look 👏🏻 pic.twitter.com/8cPn5r9BMR

— Waterloo Black Hawks (@BlckHawksHockey) June 9, 2022
Waterloo is off to a 13-8-0-0 start and currently sits third in the Western Conference with 26 points. The goaltending duo of Croteau and Jack Spicer are a big part of that success and have allowed 57 goals - the second-fewest in the conference. Waterloo went on a seven-game win streak last month where the Black Hawks allowed just eight goals.
Another part of this season's fast start is last spring's finish. Waterloo was bounced by Sioux City in the Western Conference semifinals, leaving a sour taste in the mouth of those who returned.
"We made a push at the end of last season and I think with the group we had come back, it made all of us want to make another push together," he said. "So we just want to win games, have fun as a group and go on a deep run in the playoffs this season."
Emmett Croteau
Round 6
Pick 162 @CanadiensMTL @BlckHawksHockey #WhosNext pic.twitter.com/r6ylHsA27h

— USHL (@USHL) July 8, 2022
Three years in the USHL can mean a lot of things - a lot of bus rides and long weekends being at the forefront. Croteau has gotten the grand tour of Iowa, Nebraska and the Dakotas over the past three seasons, along with a look at some of the top junior hockey prospects in North America.
It's three years he feels will benefit his development in the long run.
"I've learned a ton here but the biggest thing is these seasons are long, so I've really just learned to have fun with the game," Croteau said. "You don't want to make this feel like a 9-5 job. This is a fun sport so when you learn to come to the rink every day with a smile on your face and enjoy what you're doing, it makes it more enjoyable and it also makes you want to get better."