2023 NHL Draft
2023 NHL Draft Spotlight: Charlie Stramel's Stock In Flux Amid Slow Start
2023 NHL Draft Spotlight: Charlie Stramel's Stock In Flux Amid Slow Start
With just seven points in 18 games, Stramel could use a rebound in both his draft stock and his chances of making Team USA at the World Juniors.
Dec 12, 2022
by Chris Peters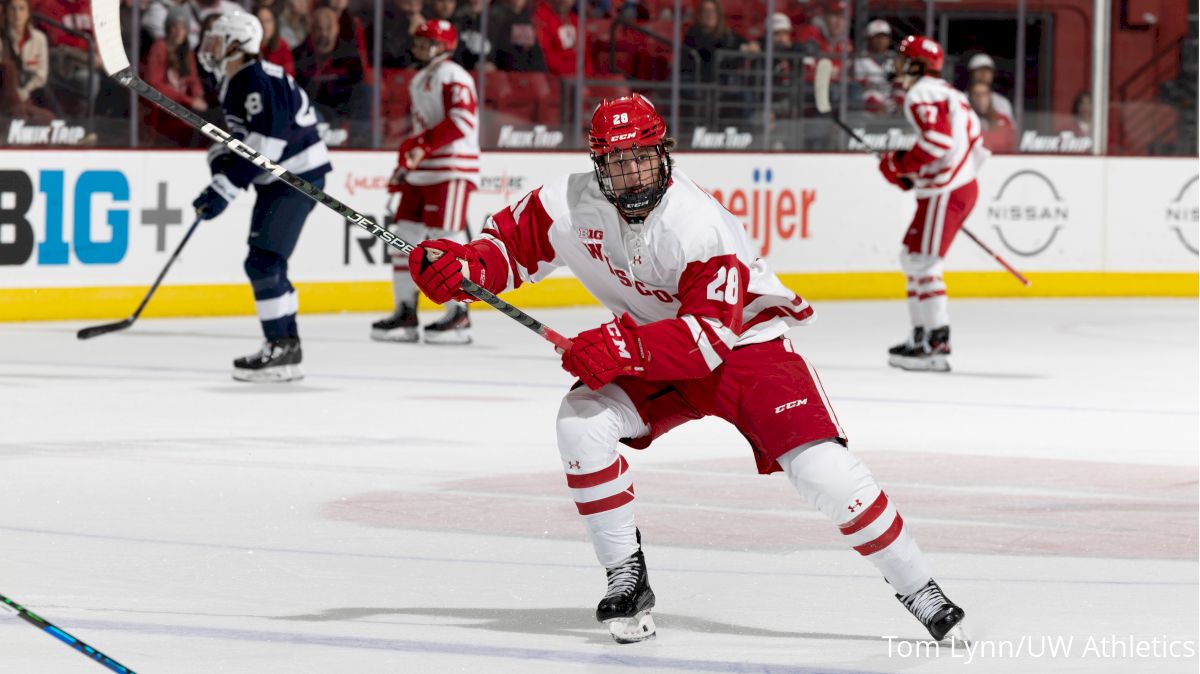 MADISON, Wis. -- As the U.S. National Junior Team opens its selection camp this week in Plymouth, Michigan, University of Wisconsin freshman center Charlie Stramel will be one of the 32 players vying for a spot to play for Team USA at the 2023 IIHF World Junior Championship.
In most years, Stramel would have all of the advantages to make Team USA. He's a returning player from the most recent World Juniors, played in two World Under-18 Championships while a member of the National Team Development Program and he's one of USA's biggest forwards in camp. Yet he'll enter this week's evaluation, by most accounts, as being on the bubble to make it.
Being big, physical and rangy does not hurt his chances, but his inconsistent play to start the campaign and his recent propensity for major penalties is part of what could keep him on the wrong side of the roster decisions. There's still plenty of time for him to prove he belongs, though.
While his stock for making Team USA is waning, so too may be his draft stock. Stramel entered the season on the fringe of the top-10 or top-15 conversation. Through 18 games at Wisconsin, however, he's slipped down the boards and we have to start entertaining the idea that he may not end up as a first-round pick after all.
Stramel may be turning the corner, though. After just two points in his first 11 games at UW, the 18-year-old Minnesota native has five points over his last seven games.
Stram the man 🚨

🍎: Gorniak pic.twitter.com/j8bJs9G1Ee

— Wisconsin Hockey (@BadgerMHockey) December 3, 2022
I recently traveled to Madison to watch Stramel go head-to-head with two other high-end draft prospects from the University of Michigan -- Adam Fantilli and Gavin Brindley. Stramel got the better of the two the first night with a goal and an assist in the Badgers' 6-3 win, then had less of an impact the next night.
Despite that, you could once again see the tools that made Stramel such a highly-regarded prospect in the first place. He's noticing the difference as well.
"I think my confidence has gone up a lot," Stramel said after Friday's win "Winning obviously helps a ton and my linemates – Cruz [Lucius] has been awesome and [Jack Gorniak] as well."
Playing alongside a more skilled player in Lucius and a speedy attacking winger like Gorniak, each of whom are drafted players, has helped to open up Stramel's offensive game a bit more. He's also making a better adjustment to the NCAA after two years at the NTDP. According to the young forward, adjusting to the maturity of the game in college hockey has been the thing he's felt has been among the bigger challenges he's faced so far.
"There's a lot of older guys out here," he said. "They're big, they're strong and they play the game to the system. They play the right way. So I think it took a little adjustment at the start, but I'm starting to feel better and better and I think the team adjusted as well."
The Badgers have struggled mightily this season, which has certainly impacted the big forward's ability to produce. They're 1-9-0 in Big Ten play this season and 7-11-0 overall, though they have played one of the more challenging schedules to start the season. The Badgers certainly did not ease themselves into the season with games against ranked opponents right away to start the campaign, which is something coach Tony Granato thinks impacts the way Stramel's stat line looks.
"He's a scorer and he will score," said Granato. "It's a big jump from where he came from. When you get a big body like that, the pace of college hockey [is challenging]. The teams we played to start his college career, those aren't easy buildings to go into and just start filling the net."
Now that Stramel is starting to find his scoring touch, Granato has seen the progression throughout the season.
"He's gained confidence," said Wisconsin's head coach. "I like the strides he's made. I like the strides he's made without the puck as much. I think that's the most important part about his development. The better he is without the puck, with a big body in the middle of the ice, if he's good defensively, he's going to force a lot of puck changes in our direction. I think that's a big part of what he's going to continue to grow into. But he's got great hands a great shot."
.@charliestramel gets on the board! 8-0 Team USA after two.#U18MensWorlds | @usahockey pic.twitter.com/TMMYpO7VK3

— NHL Network (@NHLNetwork) April 26, 2022
Stramel will be spending the next week in Plymouth, making a case to be part of Team USA for the second straight tournament. Should he earn a spot on the team and get regular playing time in Moncton and Halifax, it can only help bolster his draft stock. Here's a more in-depth scouting report on one of the draft's most intriguing and increasingly polarizing players.
The Stramel Report
It takes next to no time to see why Stramel came into this season as a highly-regarded draft pick. His size and strength at his age help get him on the map, but his ability with the puck is where he has a chance to create separation. Stramel does not have flashy skill, but he is sure-handed with the puck and doesn't try to do too much when he has it. He makes good reads and can find the open ice or create it with his strength and skating ability.
He doesn't have explosiveness in his stride, but he moves well for a bigger player and as he gets stronger in his lower body, he should have a bit better push. He can still get some separation from a good chunk of defensemen and then can use his body position to fend off attackers when his feet aren't quick enough. It can be hard to get the puck off of him because he knows how to protect, but also has quick enough hands to make a few moves to get into space.
One of Stramel's better attributes is his shot. He has a quick release and can be deceptive with it, while also spotting the right placement. In that Friday game against Michigan, he scored on a perfectly-placed shot off the rush that beat goaltender Erik Portillo in that sweet spot under the glove and above the pad when the goalie goes down. He is a confident finisher in space.
Stramel is often spotted at the net-front creating problems for defenders in high-danger offensive areas and taking the goaltender's eyes away. He's impossible to move and has the nimbleness to get off a check to make a dangerous play or extend the play a bit more.
Off the puck play is an important factor, too, just as Granato praised him for. He isn't a pure defensive forward, but he's disruptive. There's a physicality to his defensive play that isn't always about making a big hit or driving an opponent into the boards. He's got good awareness and gets sticks in lanes, while also taking away options with his length.
He's played with an increasing physical edge and is starting to get a little bit more of that snarl in his game, which helps for the most part. That said, he's taken some undisciplined penalties in recent weeks that make you wonder if he understands how to toe the line, though I will say his ejection from last weekend's Minnesota game was fairly ridiculous.
While the offensive numbers haven't been there, the potential is undeniable. He's an athletic, big center who is defensively responsible and can score goals. In his frame, those are increasingly difficult to come by. Stramel processes the game well, can make mature reads and executes. There's a lot of development time left ahead for him to become a true power center, but the possibilities of where his game can go next seems endless to me as I think he's only just scratching the surface.
Charlie Stramel puts the "power" in power play🚨⚡

🍎: Lucius, Gorniak pic.twitter.com/MXr8f2eVvJ

— Wisconsin Hockey (@BadgerMHockey) December 10, 2022
The early lack of scoring is a concern, but he's starting to find ways to drive play at the collegiate level. We're only in the first half of the year and whether he makes the World Junior team or not doesn't dictate where he standing for the draft ultimately goes. Bigger players do often get the benefit of the doubt, whether they should or not. Stramel, however, absolutely is deserving of it. He has too many tools and has enough of a track record for us to point to that there's a lot of talent there.
The team that drafts him will have to exercise some patience and a lot of focus on development, but the ceiling he has is especially high.