2022 Idaho Steelheads vs Worcester Railers
Ryan Dmowski Playing Key Role In Successful Start For Idaho Steelheads
Ryan Dmowski Playing Key Role In Successful Start For Idaho Steelheads
The courtship of Ryan Dmowski started long before he ever actually ended up in Boise with Idaho Steelheads.
Dec 10, 2022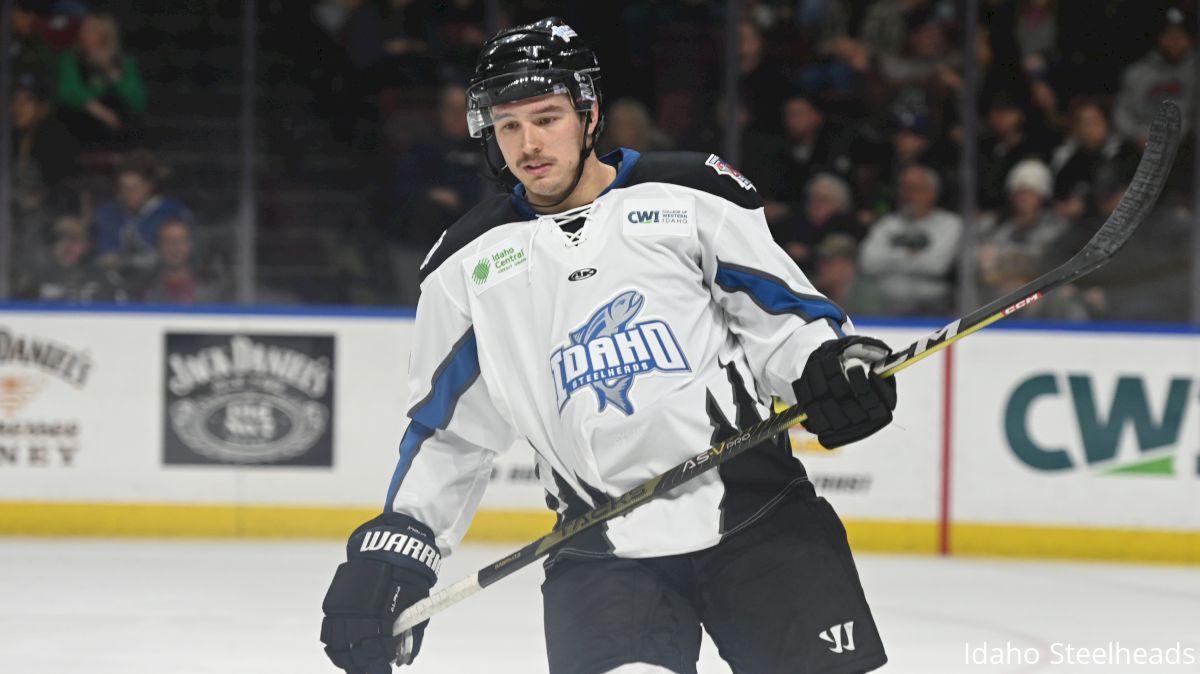 The courtship of Ryan Dmowski started long before he ever actually ended up in Boise, with Idaho Steelheads head coach Everett Sheen having a full understanding, even prior to the start of last year, of the impact the skilled forward could have on his team over the long haul.
"I'd tried to recruit him quite heavily, but lost out to South Carolina, which is a great spot, so I didn't really blame him," Sheen recalled to FloHockey via cellphone.
Indeed, Dmowski had signed with the Stingrays prior to the start of the 2021-2022 season, and for the first time in his pro career, was given the opportunity to show the scoring touch he had during a standout collegiate run with UMass-Lowell.
He posted a stunning 16 goals and seven assists in just 24 games with South Carolina, before Sheen came calling again at the trade deadline, finally getting his man in mid-March in a cross-country deal.
"I knew he could score goals, and we were struggling for some scoring at the time I made that trade," Sheen said. "He just came in and took off for us. He's really continued that this year, so it's been nice to have him. He's a pure, natural goal scorer, which is something we've lacked in the past."
For Dmowski himself, he says a trade wasn't on his mind at all at the time, and it wasn't something he'd asked for.
"'Sheener' was calling me in the preseason saying he wanted to sign me, but I went with knowing the coach in South Carolina over going somewhere that was foreign to me," Dmowski said. "But as soon as he could get me, he got me. I got a phone call, I think it was 4-something before a game in South Carolina, and he was like, 'Yeah, you got traded.' And I was like, 'Oh. All right.' I was not expecting that, but it was great, and I couldn't have been more ecstatic. It sucks we didn't make the playoffs last season, but I think this year is going to be a little different."
🚨🚨🚨
Dmowski gives us the 3-2 lead at 8:06 of the 2nd
🍏: Pelton-Byce pic.twitter.com/rBCitl3A4W

— Idaho Steelheads (@Steelheads) December 3, 2022
That seems like a safe bet, with Idaho off to a stunning, league-best start with a 14-3-0-1 record and .806 points percentage heading into a highly anticipated three-game series against the Eastern Conference's best team, the Worcester Railers.
The series will get underway Friday night and air live exclusively on FloHockey.
An argument certainly can be made that the Steelheads turnaround started with the acquisition of Dmowski, a 6-foot, 205-pound, 25-year-old Connecticut native who currently sits tied for fourth place in the ECHL with 12 goals in just 18 games, while also contributing 11 assists.
Dmowski says he chalks up the strong start for the team to confidence in each other and confidence in themselves, where all three lines know they can be the group leading the charge on any given night.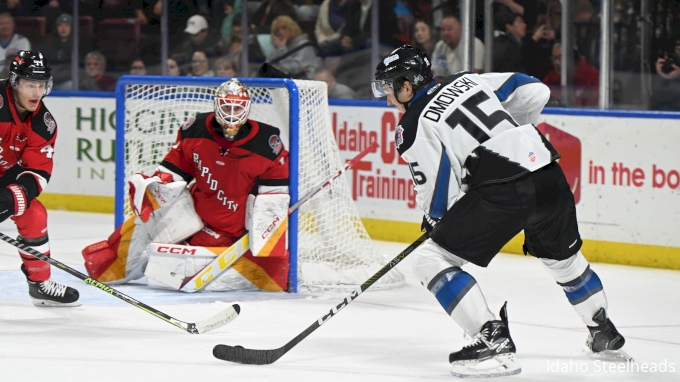 But for him individually? That same team-first approach also applies to his own success.
"I think it has to a lot more to do with my linemates than myself," he said. "Our team is playing really well, and that helps individuals shine. For the goal-scoring specifically, I put myself in the right spots, and that's on me, but my teammates and linemates, specifically, are making great plays. It's the plays that should be made and are made, it's a high-level lineup we have, and these are plays where I'm in the right spot at the right time, but credit to (Ty Pelton-Byce) for all the passes he's making.
"I'm finally starting to pick up some more assists now too, which is good, so I'm not just a one-dimensional player."
Dmowski had been on American Hockey League deals in the first two full years of his pro career as a member of the Hartford Wolf Pack, before re-establishing himself with South Carolina last year, a season in which he earned a return to the AHL on a PTO with the Hershey Bears. In that successful stint, he scored seven goals in 23 games.
The East Lyme, Connecticut, native was able parlay that success into an AHL deal with the Texas Stars this offseason, and he's enjoyed returning to Idaho, where he patiently awaits his next opportunity at the next level.
"Any time you can sign a deal in a higher league, it's great," he said. "But I'm not necessarily looking ahead, I'm playing where I am now. I want to excel and be the best for I can be for our team here, and then whenever I do get rewarded and get called up, it is what is. I'm happy to be where I am."
During the offseason, Dmowski told his coach and agent there wasn't another team he wanted to play for and that he'd rather sign a two-way contract than a one-way deal somewhere else in the ECHL.
That's not to say it hasn't been tough for Dmowski and his family. His wife has remained in Austin with their pets in anticipation of that opportunity, with the personable star taking a "good-things-happen-to-those-who-wait" approach to the situation.
In the meantime, he truly has embraced Idaho.
"I don't think there's a better team in this league, and the fanbase is actually incredible," he said. "Every game is sold out. Even Wednesday games are sold out, and it's a very fun place to play. I'd heard only really good things about this place, team-wise and city-wise, so coming out here and experiencing it all first-hand...this city is phenomenal. Idaho was kind of foreign at first, and it's different than what I'm used to, but I'm enjoying it so far."
The only thing that could make it better?
A Kelly Cup, which the Steelheads are very much in contention for with Dmowski leading the charge.
The group, as a whole, will have a much better feel for their chances at that after going through this measuring stick-type series in Worcester.
"I want to be the best team in the league, I don't want to be complacent with being in second place, and that's a huge weekend for us," he said. "That's going to be a big booster for us if we do well. Whatever happens, regardless, the weekend is going to show us who we really are. I think we're a very skilled team."
Despite limited experience, Dmowski can look back at some of the teams he has played with and make comparisons.
"I'll relate this the best I can from when I played in the AHL," he said. "When I signed there out of college, my first couple games were against the Charlotte Checkers, and that was the year they won the Calder Cup. They were just unbelievable, saucing passes through people, sticks were strong and they were making NHL-caliber plays.
"I truly believe this is a team similar to that team. We're considered a very good team right now, and I think our identity is that every aspect of our team is strong. We're going to come to play every single night, be physical and score a lot of goals. We want to keep that going. We're firing on all cylinders, and I don't anticipate us stopping at any point."