2022 Army vs Mercyhurst - Men's
Army, Mercyhurst Are Hot Teams And Set To Meet To End Semester
Army, Mercyhurst Are Hot Teams And Set To Meet To End Semester
Mercyhurst and Army wrap up the fall semester with a head-to-head series. They look to skate into the break after taking advantage of their games in hand.
Dec 9, 2022
by Jacob Messing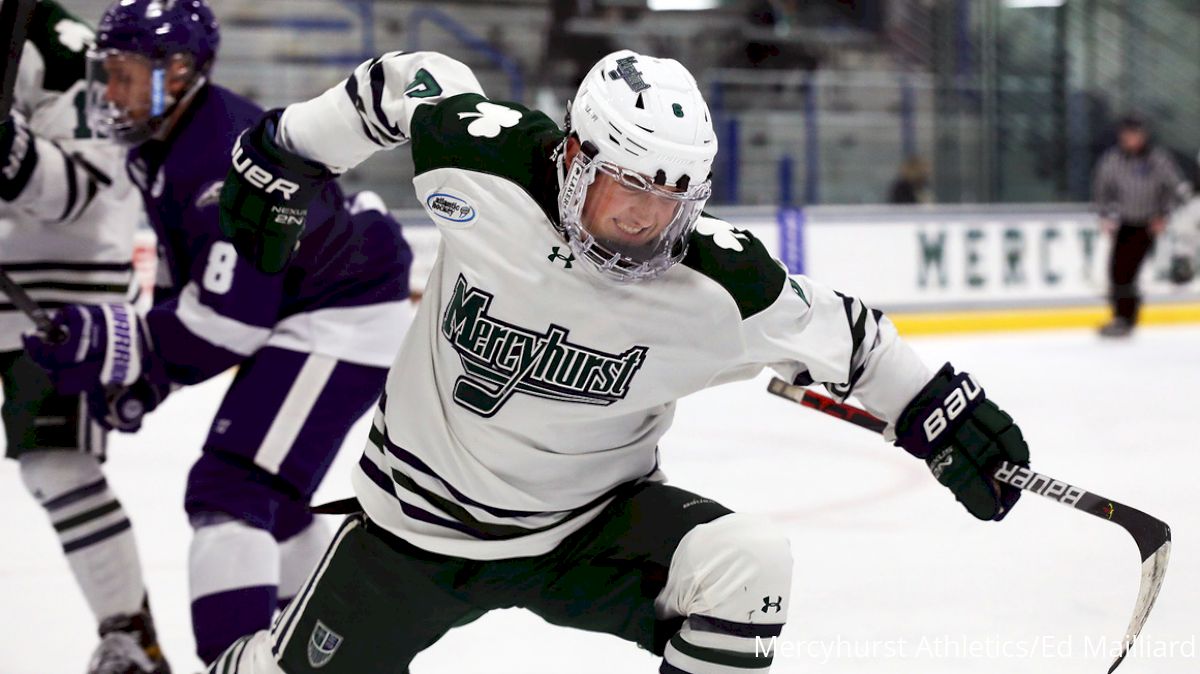 Mercyhurst and Army West Point wrap up the fall semester with a head-to-head series this week, as both teams look to skate into the break after taking advantage of their games in hand.
The Lakers sit sixth in Atlantic Hockey with a 4-2-0-2 record (5-9-2 overall) and have won four straight, helping build confidence in their power play and find more consistency in their 200-foot game.
"The power play has really just not finished," Lakers coach Rick Gotkin said. "We seem to do a lot of good things on the power play other than finish consistently, but we're still trying to figure that out."
Coach Gotkin shares his thoughts on the Lakers hot streak 👇 pic.twitter.com/dN5tlfy3gC

— Mercyhurst Men's Hockey (@HurstMensHockey) November 26, 2022
Last season, the Lakers' power play converted 22.1% of their opportunities, finishing tied for 18th in the NCAA. This season, the Lakers have converted on just 7.5% of their chances, placing them last among all 61 programs.
During their current winning streak, the man advantage has been just that - an advantage.
Their streak-starting win over Holy Cross was capped with a game-winning power play goal. A week later, the Lakers extended their streak to three wins with a power-play goal that proved to be the game-winner against Air Force.
As RIT coach Wayne Wilson told FloHockey last week, "you've got to get at least a goal a game from your power play in order to have success in the game."
A reinvigorated power play could be the answer for junior Carson Briere's turnaround after near per-game scoring rates as a freshman and sophomore.
Entering the season, Briere had recorded 18 goals and 28 assists for 46 points in 52 games with the Lakers, chipping in 12 of those points on the power play.
Through 13 games this season, Briere has just two goals and seven points. While there may be some frustrations on the offensive side of the puck, Gotkin isn't worried.
"Carson's been working really hard, and he's been playing pretty well," Gotkin said. "There's no secret he lost two linemates, and that line was very good for two years. He's impacting our team in other ways. We look back at those four wins we just had. He was a big part of that, and he's getting really good chances."
Briere was a key piece of the sophomore trio that packed the proverbial scoring punch of the Lakers over the past two seasons. Austin Heidemann transferred to RPI, while Dante Sheriff signed with Tulsa in the ECHL.
As the Lakers continue to sort through new options, Gotkin is still finding the right combination of linemates.
As signs point to what could be a pivotal semester-ending series between two hot teams, each with games in hand on the conference leaders, Briere may be a part of those signs.
In the Lakers' last meeting with Army, which came in February of last season, Briere recorded a goal and an assist in the series split, while the Lakers went 1-for-3 with the man advantage.
Lakers Hold Military Appreciation Weekend for Army Series

📰: https://t.co/m0JR09HNro#HurstAthletics @HurstMensHockey

— Mercyhurst Lakers (@HurstAthletics) December 8, 2022
Catch the series live, right here on FloHockey, as both programs look to end the semester with a pair of wins heading into the break.
Army enters the series with a 4-4-0-1 record (5-8-2 overall) that has seen all four conference wins come over their past six games. In that span, the Black Knights have successfully killed 17 of their past 18 penalties, lifting their penalty kills to 83.6%, tied with Mercyhurst and Ferris State for 17th in the NCAA.
The penalty kill has been a part of the Knights' recent success during a 4-1-0-1 stretch that coach Brian Riley said has been about trying to be harder to play against.
Riley regrouped his players during the bye week that followed a series sweep by Lindenwood and had the Knights sitting 1-7-1 on the season.
"That meeting we had on Monday, Nov. 7 was an important meeting," Riley said of the bye week. "We all sat in there, and the biggest thing we realized was we were a team that wasn't hard to play against."
Riley said they focused on turning spurts into consistency and discussed the buy-in to being stingier and tougher to play against. Now, that mentality will meet a team on a similar trajectory in Mercyhurst, as they host the Knights.
"I know they're feeling really good about themselves, as they should," Riley said of the Lakers. "This is our final test of the first half."
Just 5⃣ games left before we break for the holidays! The puck drops on Week 11 Thursday night.

📰 https://t.co/Cs5HXmLfd6#AHA20 pic.twitter.com/7lFii9Zeay

— Atlantic Hockey (@Atlantic_Hockey) December 7, 2022
The Knights sit one point behind the Lakers, leaving a lot of options in standings shifts entering the semester break.
"Our guys are feeling really good about how they've been playing lately, and we're excited to play against another team that's feeling really good about how they're playing, too."
Entering the series, Army boasts an early front-runner for Rookie of the Year in Max Itagaki.
The freshman has posted a goal and 12 assists for 13 points in 15 games this season. The playmaker's consistency has seen him held off the scoresheet just four times.
"On paper it says he's 5'5," Riley said. "Max plays bigger than his size, but I don't think we have anyone here that has his vision, hockey IQ or his hands. Every time he's on the ice, he creates opportunities."
As the season progresses and chemistry builds for Itagaki and his linemates, those opportunities can be expected to continue as Army marches forward.
Don't miss Mercyhurst host Army this weekend for a pair of 7 p.m. games. They'll be live, right here on FloHockey.
---
Have a question or a comment for Jacob Messing? You can find him on Twitter @Jacob_Messing.