2022 Idaho Steelheads vs Worcester Railers
Worcester's Henrik Tikkanen Quickly Comfortable In ECHL
Worcester's Henrik Tikkanen Quickly Comfortable In ECHL
It would seem that Henrik Tikkanen is handling the transition to playing in North America for the first time just fine, thank you.
Dec 10, 2022
by Mike Ashmore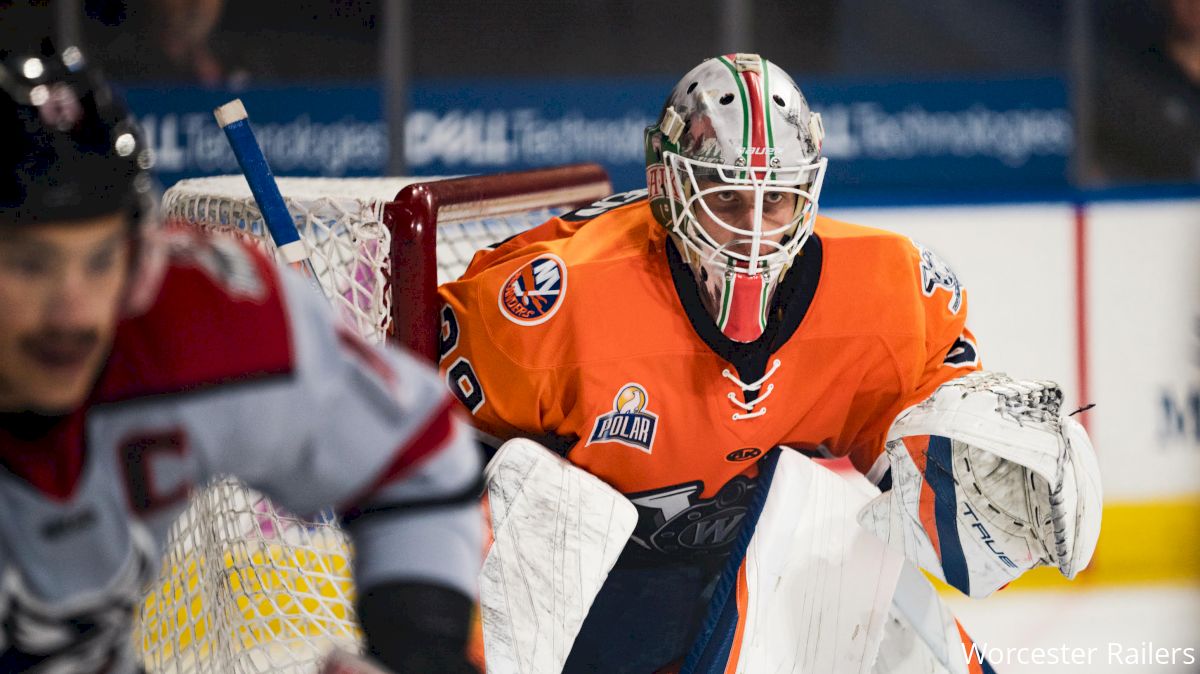 It would seem that Henrik Tikkanen is handling the transition to playing in North America for the first time just fine, thank you.
The Worcester Railers goaltender has played a big part in his team being on top of the league standings in advance of their huge three-game weekend against the Idaho Steelheads in what could serve as an early preview of this year's Kelly Cup Finals.
The 6-foot-7 Finnish-born netminder, paired with 6-foot-5 Ken Appleby, have formed arguably the ECHL's best tandem. They have provided a steady, calming presence in the net for first-year head coach Jordan Lavallee-Smotherman.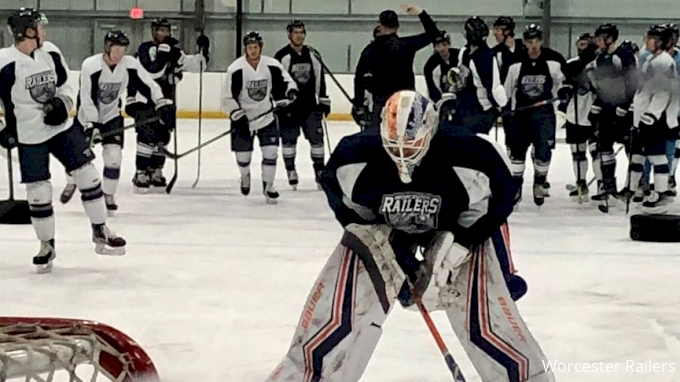 "Just knowing that all 13 feet of our goalies are going to be good, whoever you put in there, it certainly builds confidence," he cracked. "It's huge, and they're both fantastic goaltenders and fantastic people.
"I think (Henrik) is doing a really good job, and everybody is very happy with his game. I look at goalies a little bit differently as a forward than most would. I look at where they could be beat. I've got to be honest, in practice, there aren't a lot of holes when you look at that guy. He's huge. But, not only is he big, he's athletic too. That's helped him with this transition a lot, and he's fit in with the room great. The guys love him, he's got a great attitude."
TIKKANEN with the save!!! Railers looking to comeback down 3-0. #AllAboutTheW | #RailersHC | #Worcester pic.twitter.com/U6SnYg7igV

— Worcester Railers HC (@RailersHC) December 8, 2022
Tikkanen has emerged as one of the top prospects in the league, posting a 2.12 goals against average and .935 save percentage in his first 10 games, even as he makes the adjustment to the North American-style of play.
"I have enjoyed my time here, and I've felt really good on and off the ice, so I think that's the biggest thing for why I've been able to play so well, but of course, the team gets the most credit for the wins," Tikkanen told FloHockey via cellphone. "When the rink is smaller, things happen faster, and I don't have to move that much all the time. I can mostly stay on the post and just turn my body to the puck, so I think I have to play more calmly here, and that's maybe the biggest change."
Having come up playing most of his junior and pro hockey in his native Finland, before spending the majority of last season in Sweden, Tikkanen said he'd never even been to the United States before finally getting the opportunity to come to the New York Islanders training camp this fall.
Numbers on the ice aside, the 22-year-old has clearly enjoyed his first experience stateside thus far.
"It's been really nice to be here," he said. "With spending last year in Sweden, I kind of knew what it is to be away from your home country. I think that helped me a lot. Everyone here has been really good for me and helped me all the time if I need something. It's been easy to be here. It's nice to see different places. Of course, we don't play in the big cities, so that kind of sucks, but it's been nice to see different things."
At this rate, Tikkanen will be off to the big cities sooner rather than later, which, even with the Islanders taking it slowly with bringing him to North America after they took him in the seventh round of the 2020 NHL Draft, was always the goal for him.
With that said, being patient as he continues to get critical development time in the ECHL hasn't been a problem. Really, his living his dream and continues to use advancing to the next level as motivation.
He's getting the playing time as part of a top team, he's improving and he continues to get more comfortable.
Another factor is his quick friendship with the veteran Appleby, who has reached the NHL with the New Jersey Devils and has been a valuable asset to both the organization and Tikkanen in getting the latter quickly up to speed at this level.
"It's been really good for me," Tikkanen said. "We're good friends now, and he treated me well when I got to training camp. He was always friendly to me and gave me help and would drive me to the rink and stuff like that. He's been a really big help for me on and off the ice, so it's really nice to be with him. We push each other all the time at practice, and that's been good, too."