2023 IIHF World Junior Championship
2023 World Juniors: Shane Wright, Brandt Clarke Loaned To Team Canada
2023 World Juniors: Shane Wright, Brandt Clarke Loaned To Team Canada
Canada's roster will benefit from the addition of two players with NHL experience this season.
Dec 8, 2022
by Chris Peters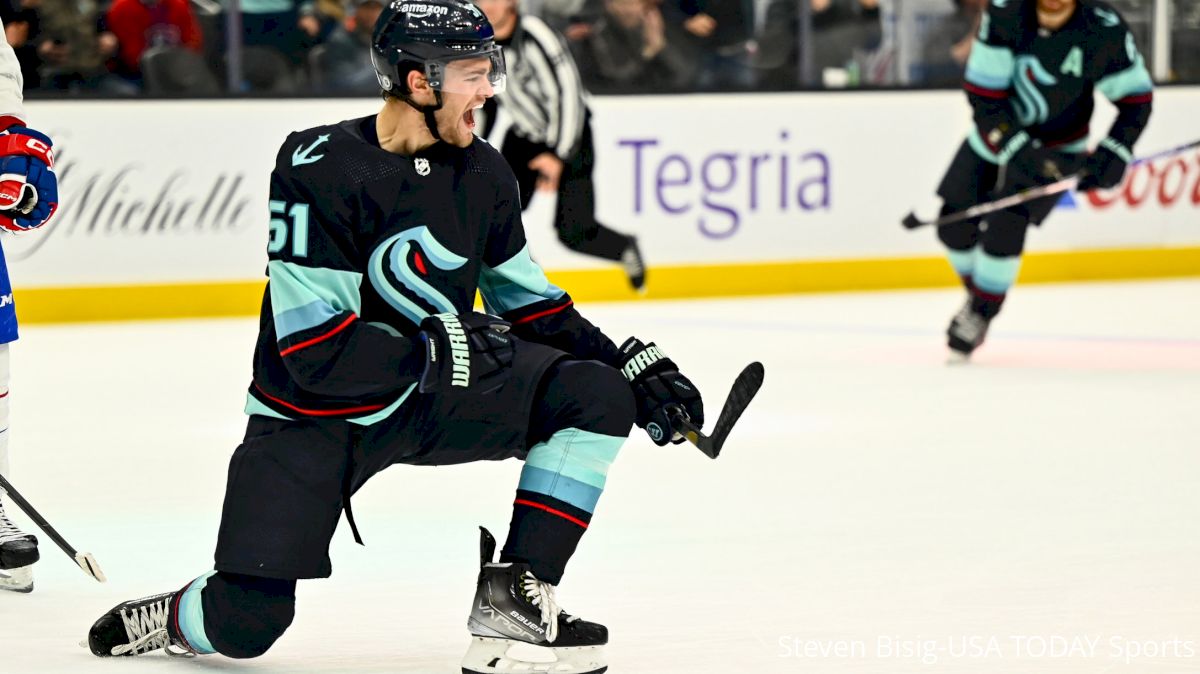 Over the last 24 hours, Canada's entry for the 2023 World Junior Championship got a whole lot better. On Wednesday, the Los Angeles Kings announced they were loaning rookie defenseman Brandt Clarke to Team Canada to compete in the tournament. Thursday morning, the Canadians got another boost when the Seattle Kraken announced the team loaned rookie center Shane Wright as well.
The two will join the 29 players previously invited to Canada's selection camp, which begins Friday in Moncton, New Brunswick. Both are expected to be on the final roster, barring injury, and each should play a significant role for Canada as they look to defend the gold medal won at the rescheduled 2022 World Juniors.
Wright was supposed to be on that team, and he was when the initial tournament was held last December before being canceled less than a week into the tournament due to coronavirus infections among the teams. He had played a somewhat limited role before the tournament was shut down. Since Wright was preparing for his rookie season with the Kraken, he was not available for the summer World Juniors.
Clarke on the other hand did not make last year's team and was not included in the group this summer either. Perhaps the extra time allowed him to get ready for his first NHL season because he made the Kings out of training camp because of his strong play. He has appeared in nine NHL games with the Kings and an additional five with the Kings' AHL affiliate Ontario Reign. Should he return to Los Angeles and play one more game, the Kings will have to burn the first year off of his entry-level contract. Should they decide to send him back to the Barrie Colts and the OHL after the WJC, his contract would slide one more year.
Wright had struggled out of the gates and couldn't get into a Kraken lineup that has surprised everyone this year with being among the best teams in the Pacific Division. Being healthy-scratched for more than five games allowed the Kraken to send him to the AHL where Wright promptly scored four goals in five games for the Coachella Valley Firebirds. When he was recalled to the Kraken, he appeared in one game and scored his first NHL goal against the Montreal Canadiens, which was one of the three teams that passed him over in the NHL Draft last season before Seattle nabbed him at fourth overall.
SHANE WRIGHT SCORES HIS FIRST NHL GOAL... AGAINST MONTREAL 🚨😱 pic.twitter.com/vvUOYRSroy

— B/R Open Ice (@BR_OpenIce) December 7, 2022
Clarke showed real poise in the early stages of the season, but he got banged up a bit and had to sit out for long enough where it was going to be hard to work him back into the lineup. In nine games with the Kings, he posted two assists. With the Reign, Clarke scored his first North American professional goal -- since he played pro in his draft season in Slovakia with hockey in Canada shut down -- and had one assist.
Why This Is The Right Call
Sending both of these players to the World Juniors is a good decision for both NHL teams. They've both shown flashes of their NHL readiness, but giving them both a chance to play among their peers and to play high-intensity and meaningful games in substantial roles will be good for their development and their confidence.
Though Wright had a great first game back from his AHL conditioning stint with the Kraken, it's still going to be hard to get him consistent playing time. There's value in being around the NHL team and working with the skill coaches, but Wright has already missed an awful lot of hockey when the OHL was shut down for the 2020-21 season. What this move does more than anything is it buys Seattle time to try to decide what is the best path forward for Wright.
If he has a massive tournament and is brimming with confidence and returns to an NHL roster that still doesn't have a spot for him, it's going to be a challenge to keep that momentum going. If they send him back to junior, where his rights are still held by OHL Kingston, he can be the dominant force in the league we expected him to be.
There's no one way to develop a player, but I'm of the mind that Wright has to play more since his development was already disrupted one season. Now the Kraken have been able to kick that can down the road. It also buys time to see if Kingston would consider trading him to one of the top contending teams in the OHL so that Wright can experience a deep playoff run and potentially play for a Memorial Cup. A lot of options are available.
Brandt Clarke scores his first AHL goal. @ontarioreign pic.twitter.com/NL9SDc2K1I

— American Hockey League (@TheAHL) November 21, 2022
For Clarke, this is an opportunity to play meaningful minutes among his peers, while still playing the game at an intense pace. His NHL experience should help him adjust to the World Juniors and if he has a strong tournament, perhaps there's a spot for him back in Los Angeles. That said, the Kings are loaded up on the right side of their defense and they may have to do some future maneuvering to get some balance back there and create opportunities not only for Clarke, but also Jordan Spence. You'd rather have too many right-shot defensemen than not enough, so it's a good problem to have. It just creates some challenges.
Clarke had shown flashes that he can handle the pro game and the pro pace, but I think he still needs to get stronger before he can make an impact at that level. Just like the Kraken, the Kings sending Clarke to Team Canada buys them time to make the best-educated decision they can about the next steps for Clarke. His OHL rights are still held by the Barrie Colts. Like Kingston, the Colts are a middle-of-the-pack team.
I think both teams are more inclined to keep their players after the WJC, but they'll know better once it's over and they can see how both of their young charges did while representing Canada on the world stage. Either way, the more we can get the best junior hockey players in the world in the WJC, the better it is for the tournament. It should be a lot of fun to see both Clarke and Wright get their chance with a very strong Canadian team.