2022 Youngstown Phantoms vs Madison Capitols
USHL What To Watch: Standings Shakeup At Stake
USHL What To Watch: Standings Shakeup At Stake
All 16 teams will be in action Friday. Rivalries are on the line, along with multiple scoring streaks and pivotal points in the standings.
Dec 7, 2022
by Jordan McAlpine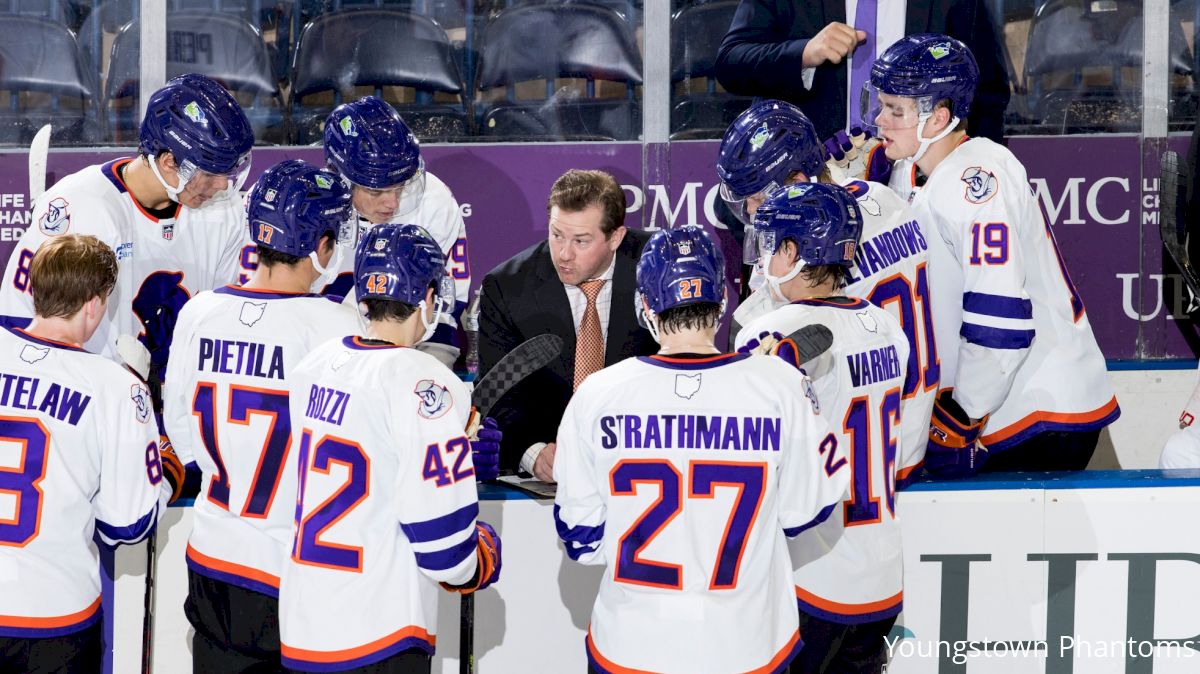 Several USHL rosters will be impacted this weekend as 22 of the league's top players will represent Team USA at the World Junior A Challenge.
However, the show still goes on. All 16 teams will be in action Friday along with seven games on Saturday and two on Sunday.
Rivalries are on the line, along with multiple scoring streaks and pivotal points in the standings. Without further ado, here's a look at the week ahead.
All times are EST.
USNTDP Vs. Muskegon
Fri. Dec. 9, 7:00 p.m.
The two teams tied for second in the Eastern Conference will clash Friday night in western Michigan. The Lumberjacks defeated Dubuque last time out, 7-4, and will look to make it two wins in a row against the USNTDP.
Muskegon played three games in three days last weekend, two at Chicago along with the Sunday matinee in Dubuque. The Lumberjacks finished the weekend a disappointing 1-2 and are 5-4-1-0 in their last 10.
However, the seven goals on Sunday is a positive sign—especially against a talented Dubuque team. Cody Croal netted a pair of goals in the win while Jake Richard (Buffalo Sabres) had three points (1-2-3).
Richard was named the USHL Forward of the Week after racking up seven points (3-4-7) in three games last weekend. Richard is tied for sixth in the USHL with 12 goals and has 22 points through 19 games. However, he'll be one of four Lumberjacks donning the Stars and Stripes at the World Junior A Challenge this weekend—Nathan McBrayer, Gavin McCarthy and Ethan Whitcomb being the others.
Forward: Jake Richard 🇺🇸

•NCAA Commitment: University of Connecticut

•Led the Lumberjacks through three games in three days with back-to-back three point games (1–2–3) on Friday & Saturday games at Chicago and Dubuque#StarsRise pic.twitter.com/k0WBnhOhsG

— USHL (@USHL) December 5, 2022
The U-17s are led in scoring by James Hagens and Cole Eiserman, along with defenseman Cole Hutson. The U-17s split a pair of games against Madison last weekend, taking game one 4-2 and falling 6-1 on Saturday.
Sioux Falls Vs. Sioux City
Sat. Dec. 10, 7:05 p.m.
Saturday will mark the sixth game of the season between the Musketeers and Stampede—a series that has been dominated by those in green and gold. Sioux City has four of the first five matchups, and all three games in Sioux City.
The Musketeers have also outscored their border rival 18-8 in the first five games, including a 5-1 win in the last matchup. Speaking of 5-1 finals, Sioux City defeated Des Moines last Saturday, 5-1. Recently-acquired Tyler Hotson (trade from Muskegon) found the back of the net Saturday and has a point in each of his first two games with the Musketeers.
The Musketeers are 6-3-0-1 in their last 10 and have scored 24 goals in those six wins. Musketeer fans are hoping for another offensive outburst and a quick goal, as Saturday's game will feature a teddy bear toss.
No trick shots required at this years @FoulkBrothers Teddy Bear Toss 🧸 Saturday, December 10th. and it's Scouts Night where all @BSAMAC scouts get a ticket for only $10. pic.twitter.com/gvFSjdLVQl

— Sioux City Musketeers (@Musketeerhockey) December 5, 2022
However, the Stampede head into this weekend playing some of their best hockey since the start of the season. The team who had dropped seven straight and fallen to the bottom of the Western Conference, have now won three straight over two of the USHL's top teams. That includes a pair of wins at Waterloo last weekend—6-2 and 3-1—and a home win over Lincoln on Nov. 26.
The Stampede will welcome Lincoln back to the Denny Sanford Center on Friday before heading to Sioux City on Saturday. Sioux Falls is 4-7-1 away from home this season.
Player To Watch
Grant Slukynsky, F, Sioux City, undrafted
The Sioux City captain is 19 games into his third full USHL season. However, the former Warroad (Minn.) high school standout is enjoying his best offensive stretch in the league. Slukynsky has scored in four straight games and now has 10 points on the season. A Northern Michigan commit, Slukynsky is almost halfway to his USHL single-season career-high. He found the back of the net nine times in 62 games with the Musketeers last season.
Youngstown Vs. Madison
Sat. Dec. 10 & Sun. Dec. 11, 8:05 & 4:05 p.m.
Sunday's game will mark the third in three days for the Capitols. Madison picked up a much-needed win last Saturday—6-1 over the USNTDP U-17s. The Capitols had dropped six straight, and even though Madison is still 2-7-0-1 in its last 10 games, that win can spark some confidence.
CAPS WIN!!! Madison takes down the U-17's 6-1.#GoCapsGo pic.twitter.com/m4NPlybm58

— Madison Capitols (@MadCapsHockey) December 4, 2022
The Capitols have had some success against this weekend's opponent as well. Madison swept a pair of games at Youngstown on Oct. 13 and 14, and despite Madison's struggles on home ice (2-6-0-1), Saturday and Sunday will be the first two of four straight home games.
A lot has changed since mid-October though. The Phantoms are playing well as of late, too. Youngstown won back-to-back games last weekend at the American Cup and the Phantoms have earned points in eight of their last 10 games (5-2-2-1).
Goaltender Jacob Fowler—the USHL Goaltender of the Week—went 2-0 last weekend and stopped 62 of the 66 shots fired his way. Fowler recorded a 28-save shutout against Green Bay last Thursday and back-stopped the Phantoms to a 5-4 shootout win on Saturday. However, Fowler will be at the World Junior A Challenge this weekend.
Youngstown is currently tied for sixth with 20 points, while Madison sits at the bottom of the Eastern Conference with 13 points. Both teams are looking to trend upward, putting four big points on the line in Wisconsin's capital city.
Player To Watch
Shane Lachance, F, Youngstown, Edmonton 2021 sixth-round pick
The Massachusetts-native leads Youngstown with 12 goals and his 17 points are tied for the second-most on the roster. Lachance, the 186th overall pick in the 2021 draft, had scored in three straight games until he was held off the scoresheet last Friday.
He's been one of Ryan Ward's go-to forwards this season and has four points in his last four games. Although Lachance has played in 36 fewer games than last season, the Boston University commit has already topped his previous USHL single-season high (11 goals).
News & Notes
Tri-City forward Evan Werner has scored in seven straight games and has found the back of the net 10 times in that stretch. Werner, who was acquired in a Nov. 17 trade with Omaha, has scored in every game he's played with the Storm. The Colorado College commit has 13 goals in 21 games overall this season.
Chicago's Jayden Perron had a hat trick and a four-point effort last Saturday in a 7-4 win over Muskegon. Perron is third on the Chicago roster with 12 goals.
Cedar Rapids defenseman Eric Pohlkamp was named the USHL Defenseman of the Week after a three-point weekend. Pohlkamp recorded a hat trick in a 6-2 win over Dubuque. The Bemidji State commit now has seven goals and 20 points on the season, both of which lead USHL defensemen.
Omaha will host Fargo for a pair of games on Saturday and Sunday. The Lancers are 3-6-1-0 in their last 10, while the Force are a scorching hot 7-1-0-2. Fargo is 7-1-0-1 on the road this season. Two of those six wins were in Omaha.
Speaking of teams with impressive road records, Chicago will face the USNTDP on Friday and Muskegon on Saturday. The Steel are 7-1-1-1 away from the Windy City this season.
Lincoln will head to Sioux Falls on Friday and host Tri-City on Saturday. After dropping four of six, the Stars got back in the win column last Saturday against Fargo.