2022 Northeastern vs Sacred Heart - Men's
NHL Prospect Spotlight: Devon Levi Continues To Separate From Pack
NHL Prospect Spotlight: Devon Levi Continues To Separate From Pack
Buffalo Sabres prospect Devon Levi has become one of the top young goalies outside of the NHL and is rewriting record books at Northeastern.
Dec 6, 2022
by Chris Peters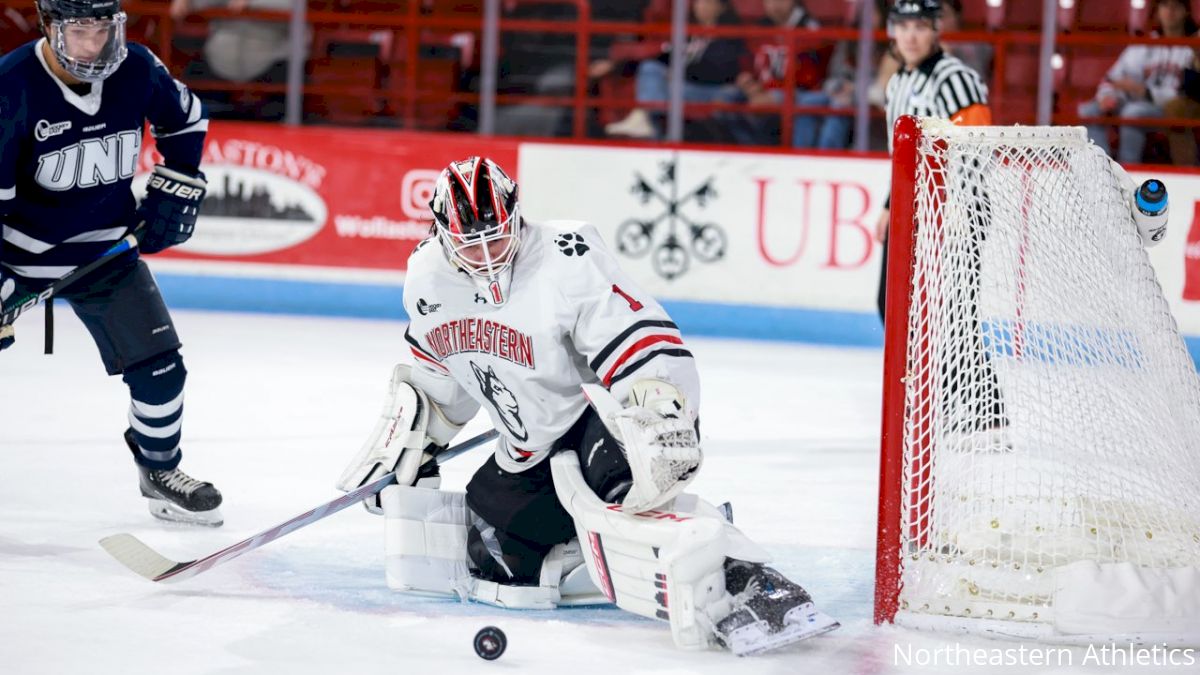 Devon Levi didn't come out of nowhere, but it kind of felt that way when the world watched him put together one of the greatest individual performances by a goaltender at the World Junior Championship back in 2020.
With pandemic restrictions at their highest and the WJC played in a bubble with no fans in Edmonton, Levi led Canada to the gold-medal game against the United States with an astonishing .964 save percentage. It was a single-tournament record, besting Carey Price's 2007 performance by .003 percentage points. The only thing missing for Levi was the gold medal as he and Canada were out-dueled by Spencer Knight, who is already in his second full NHL season with the Florida Panthers.
Devon Levi with an UNREAL save on #3 overall pick Tim Stutzle! pic.twitter.com/VufjUdWx1q

— TSN (@TSN_Sports) December 26, 2020
Gold or not, Levi's status as a top-tier goalie prospect was starting to be understood more widely. After Devon Levi was selected 212th overall by the Panthers in the 2020 NHL Draft -- there were only five players selected after him -- you'd be hard-pressed to find anyone putting much stock in him as an NHL prospect. Being drafted at all was possibly a surprise as he came from the Central Canadian Hockey League, which had very few prior NHL draft picks.
Though overlooked, perhaps, Levi always seemed to deliver. That season before he was picked, he posted a .941 save percentage for the Carleton Place Canadiens going 34-2-1 before the pandemic shut down the season. In the years and events since, Levi has not posted a save percentage below .930.
That World Junior Championship, though historic, was costly for Levi. He sustained an injury that forced him out of the remainder of his freshman season at Northeastern, which was already delayed a bit due to the pandemic. The World Junior games were the only ones he played during the 2020-21 season.
If the World Junior performance was the first indication, his sophomore campaign at Northeastern eliminated all doubt – Levi was a legitimate NHL prospect with endless potential.
That season, he posted a .952 save percentage, tied for the second-highest mark in the history of college hockey, in 32 starts – 10 more than record-holder Jimmy Howard who collected a .956 save percentage in 22 appearances. Levi also recorded 10 shutouts, tied for third most in a single season in the NCAA. His 1.54 goals-against average also ranks top-15 all-time.
Levi answered his country's call in the middle of that historic season to represent Canada at the 2022 Olympic Winter Games in Beijing. Despite his incredible talent, he never saw game action for a Canadian team that finished without a medal. His lack of playing time was one of the biggest questions hanging over that Canadian squad after the fell short of their desired goal.
Amazingly enough, Levi did not win the Hobey Baker as college hockey's best player. That award went to Minnesota State's four-year starting goalie Dryden McKay, who helped lead the Mavericks to the national championship game. Still, you can't argue that Levi's season was by far more impressive statistically, especially because of the number of shots he's faced game-in, game-out. And also because what he had done was largely unprecedented.
Voters for the Mike Richter Award agreed as Levi won that title, given annually to the most outstanding goaltender in men's college hockey.
The Best Goaltender In College Hockey

Devon Levi: 2022 Richter Award Winner!#HowlinHuskies pic.twitter.com/mlniRKkE2x

— Northeastern Men's Hockey (@GoNUmhockey) April 8, 2022
This season, Levi's numbers have dipped, at least compared to the impossible standard set in his remarkable sophomore year. Northeastern has a younger team, especially on defense, and he's had to face a lot more high-quality shots. By any other goalie's standard, Levi is still having another spectacular season. A .932 mark on a team that is allowing over 30 shots against per game on average, is impressive.
The Huskies are indeed struggling, though. They've lost three of their last four and are 7-6-3. Levi hasn't quite been himself lately either with 13 goals against over his last three starts, all losses.
He'll look to get himself on track as the Huskies travel to Sacred Heart Tuesday night. That game is exclusively streaming on FloHockey.
The late swoon for Levi certainly hasn't dissuaded anyone from believing he's still got a bright future in the NHL.
Prior to his record-shattering season Levi was traded along with a first-round pick to the Sabres from Florida as part of the package that landed the Panthers veteran forward Sam Reinhart. In Buffalo, he joined a somewhat crowded goalie prospect pool, but there's reason to believe he's the goalie of the future ahead of others like Ukko-Pekka Lukkonen and Erik Portillo.
Devon Levi are you kidding‼️🤯 pic.twitter.com/e72zzCLJTC

— Buffalo Sabres (@BuffaloSabres) July 16, 2022
Levi could sign after this season and get his professional career started, likely with Rochester of the American Hockey League. But there's still a long season ahead and the Huskies have to feel like they can get back in the hunt here with a goalie like him.
We don't know what Levi is going to look like as a professional. There's always an adjustment period and professional shots are a lot harder to stop than college or junior ones. That said, you can't help but admire his remarkable consistency at the lower levels, the quiet confidence he exudes in all situations and his ability to be unbothered by adverse situations.
The only thing that Levi doesn't have in terms of NHL quality right now is his size. At 6-foot, he's slightly below average as NHL goalies are more frequently behemoths. There has not been many – maybe none at all – situations where the size looked like a factor.
Levi's superpower may be his hockey sense. There are so few saves that he makes that look tough for him. His pre-shot reads, ability to be aggressive and comfort in his net make most of his stops look routine. But then he's got that battle that so many goalies need to have when there's traffic in front. You've got to work to beat him because it's rare you're going to beat him clean.
College hockey has become a high-end training ground for elite goaltenders and increasingly those goalies are coming from Hockey East. The aforementioned Knight played two years at Boston College. Connor Helleybuck, who is tied with Levi for the second-highest single-season save percentage in NCAA history, got his start at UMass-Lowell before going on to win a Vezina Trophy. Jonathan Quick, now part of the old guard of American goaltenders, played his college hockey at UMass (before it was cool). Levi has every reason to believe he can join this kind of group once he does turn pro. He's known no different than excellence for the last four years.
I don't know if Levi will win a Vezina like Hellebucyk or a Conn Smythe like Quick, but I do believe he is an increasingly rare talent that you simply won't want to miss while he's still playing college hockey.