2023 IIHF World Junior Championship
2023 World Juniors: Breaking Down Defensemen, Goalies On USA's Camp Roster
2023 World Juniors: Breaking Down Defensemen, Goalies On USA's Camp Roster
Prospect analyst Chris Peters breaks down the 10 defensemen and four goalies invited to Team USA's World Junior camp.
Dec 6, 2022
by Chris Peters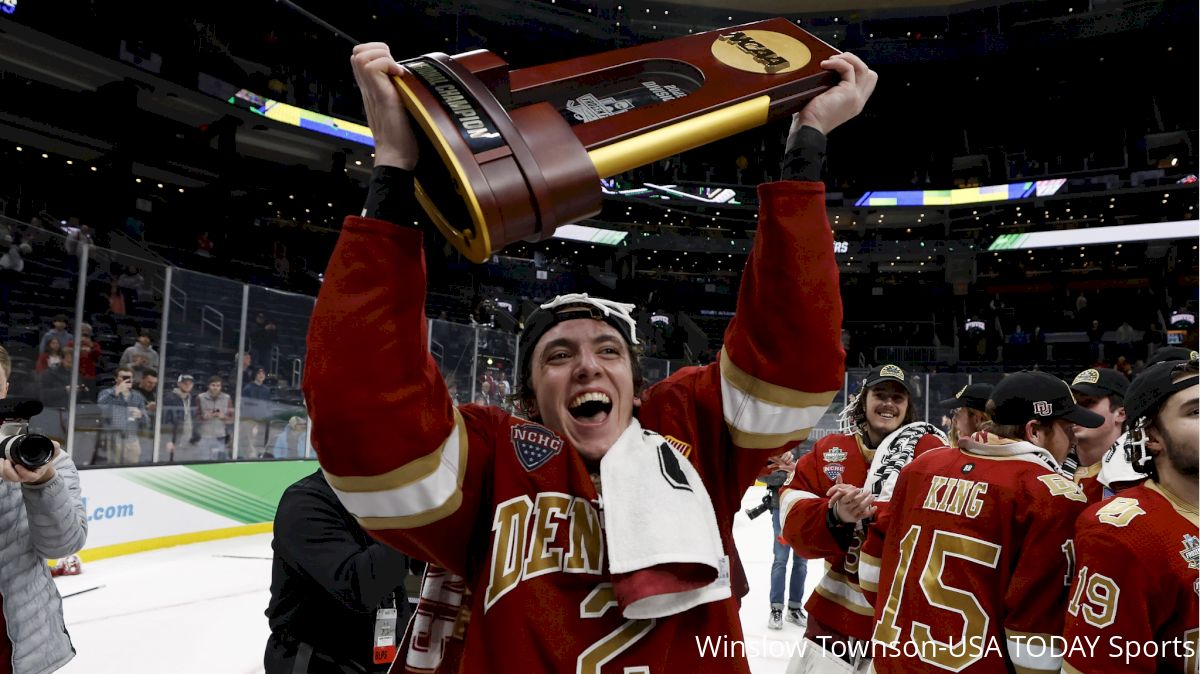 When the U.S. National Junior Team's preliminary roster was announced, 10 of the 32 players selected are defenseman, while four were goaltenders. USA Hockey's decision makers will have to cut one goaltender and three defensemen from their invite list to get down to the numbers required for the tournament. The expectation is USA will have 13 forwards, seven defensemen and three goaltenders on its roster.
The decisions for the U.S. will be challenging as there are a lot of similarities among the group. Only three of the 10 defensemen right shots and three that are 6-feet or taller. This might be the smallest defense corps the U.S. has brought to a World Junior Championship. Size certainly isn't everything, but it is a notable factor in this team's roster construction and could come into play against bigger teams like Canada in the latter stages of the tournament.
Beyond the size, however, a lot of these defensemen play very similarly. This is a very skilled, puck-moving group with a lot of guys that want to have the puck a lot. There might be a few redundancies on the roster, but this is the group that the player pool dictated. There aren't a lot of strong arguments you can make for anyone else beyond that they might be bigger. The U.S. didn't leave skill on the table here, which is a good thing.
The goaltending position is one that might have kept the decisionmakers up at night. They have guys that can do the job, but it's not going to be considered a team strength. Kaidan Mbereko looks poised to be the starter again, while Trey Augustine looks like a good bet to get some games and be the No. 2. After that, Tyler Muszelik and Andrew Oke will have to battle it out for the No. 3 spot.
For more in-depth player-by-player analysis: USA Forwards
Let's get a look at the 10 defensemen and four goalies USA has to whittle down when their camp opens next week.
USA Defense Candidates
Sean Behrens, LHD, Denver (COL): A talented puck mover who skates extremely well, Behrens was a big part of Denver's national championship team last season. He also was part of the summer World Junior team, but played limited minutes there. Behrens missed two games this season, but has a goal and seven assists through 14 contests with DU. He defends well and he has higher-end vision and hockey sense to spot and make good plays with the puck.
Sean Behrens scores on a drive to the net to extend Denver's lead to 5-1. pic.twitter.com/uLS6Lq7hN2

— Denver Hockey (@DU_Hockey) December 4, 2022
Shai Buium, LHD, Denver (DET): With an identical statline to DU teammate Sean Behrens in two more games played, Buium can move pucks as well. He'll be USA's biggest defenseman and they need him to be a factor at the net front and between the faceoff dots. He is an above-average defender and has really figured out how to use his frame to his advantage. Buium also is a pretty solid puck mover and has good mobility.
Seamus Casey, RHD, Michigan (NJD): One of the better skaters among defensemen in camp, Casey has to prove he can defend adequately, get pucks out of trouble and up the ice, and limit mistakes. He's had a breakout year with Michigan with 16 points in 18 games. He'll be in the mix to be part of USA's power play, but he has to show enough versatility to be effective in his own end and push the pace offensively at even strength to give himself an advantage.
Ryan Chesley, RHD, Minnesota (WSH): A confident defender who skates extremely well and can log bigger minutes, Chesley is currently down the depth chart at Minnesota because they have so many strong veteran blue liners. As a result, the points haven't come easily, but Chesley can impact the game in so many other ways aside from scoring. I think he should be a lock for Team USA as a right-shot, defensively responsible player, but we'll see.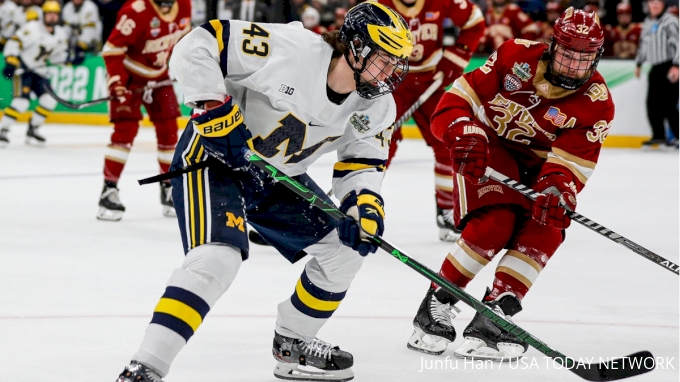 Luke Hughes, LHD, Michigan (NJD): As Team USA's No. 1 defenseman, expect Hughes to log major minutes in all situations. He's going to be a hugely important piece of USA's medal hopes as he can contribute offense from the back end and skates pucks out of trouble as well as anyone on this roster. His ability to get pucks up the ice quickly wille be a boost to USA's critical transition game. He has a bad taste in his mouth from how the last WJC ended and will want to make a significant impact after injury hampered him in last year's quarterfinal. I fully expect Hughes to be among the best players in this tournament and I think he's by far USA's most important.
Lane Hutson, LHD, Boston University (MTL): An offensive dynamo who can be a factor all over the ice, Hutson has been among the top producing defensemen in the NCAA this season as a true freshman. His point production is off the charts as he's averaging 1.21 points per game as an 18-year-old. His ability to key the offense from the back end is what makes him special and why he's a strong candidate to be a bigger part of Team USA. I wouldn't be surprised if he's used more strategically in this tournament, but he's a competitor who will make the most of his ice time.
Lane Hutson with the OT winner! pic.twitter.com/f8aj8fUHSS

— Scott Matla (@scottmatla) October 30, 2022
Aidan Hreschuk, LHD, Boston College (CBJ): A gifted skater, Hreschuk is an interesting option for USA. He hasn't recorded a point this season in 14 games, which is puzzling though he's not an exceptional offensive talent. In order to make Team USA, he has to prove that he can defend speed and protect his net well. Hreschuk is not the biggest guy, but he's sturdy and the skating ability gives him an edge.
Luke Mittelstadt, LHD, Minnesota (Undrafted): The only undrafted defender invited to compete for a spot, Mittelstadt has shown some impressive offensive prowess. I'm not sure he's a strong enough defender to make this roster without them being convinced he's going to produce. He had 55 points in 60 USHL games with Madison last season, going on a deep run in the Clark Cup Playoffs. This year, he has 11 points in 18 NCAA games. He's made the transition easily, he's made the most of his ice time and now he's gotten an invite to be part of this team. I think he's firmly on the bubble, but it's worth getting him in this environment to see how he matches up.
Jack Peart, LHD, St. Cloud State (MIN): A returnee from last year's team, Peart is probably best described as crafty. He makes a lot of smart plays, can make good reads under pressure and finds ways to outlet an awful lot of pucks. He saw his role fluctuate at the last WJC, but you probably can pencil him in for a spot on the power play and in USA's top four defense. He has 14 points in 16 games as a sophomore at St. Cloud.
🏅 𝗗𝗘𝗙𝗘𝗡𝗦𝗘𝗠𝗔𝗡 𝗢𝗙 𝗧𝗛𝗘 𝗪𝗘𝗘𝗞 🏅@SCSUHuskies_MH's Jack Peart (@jpeart24)

▪️ Tied career high with 3 points (1g/2a) in Friday's win
▪️ Added a goal and an assist Saturday to cap a sweep@KJ_Branding // #NCHChockey #HuskyHockey // @mnwild pic.twitter.com/lhG4i9OxO3

— The NCHC (@TheNCHC) December 5, 2022
Ryan Ufko, RHD, UMass (NSH): One of the three right-shot defenders, Ufko has had a strong season at UMass with 13 points in 15 games. He had 31 points in 37 games as a freshman last season. Everywhere he has been, Ufko has produced. If he wants to make this team, he's going to have to be productive. He's adequate defensively, but he has to find a way to carve out a role. USA has enough left-shot guys that can play the right side, so Ufko will have to come into camp ready to compete.
U.S. Goaltending Candidates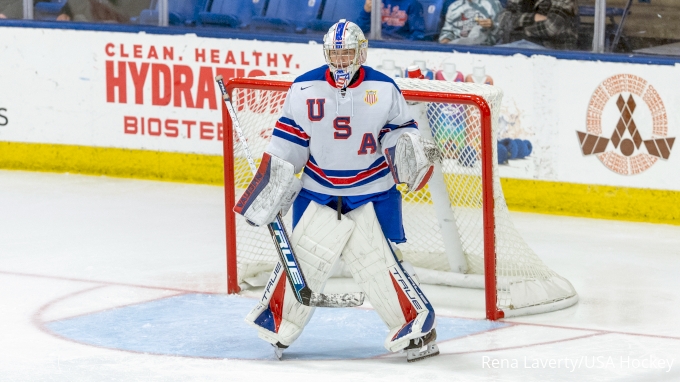 Trey Augustine, U.S. National Under-18 Team (2023 NHL Draft eligible): It is very rare for a NTDP goaltender to have a save percentage north of .920. The all-time record for single-season save percentage is .932. Through 14 games this season, Augustine is rocking a .934 save percentage. He played in the U18 World Championship as an underager last year, helping USA win silver. He has had a lot thrown at him and hasn't flinched. The Michigan State commit has a chance to earn this net, if he's able to play to his standard against the toughest competition he's faced yet.
Kaidan Mbereko, Colorado College (Undrafted): Last year's starter, Mbereko had a really strong start to the last World Juniors, but it didn't end well. At 5-foot-11, he's below average size for a goaltender, but his well above average when it comes to quickness. He can get a little wild in the net, but he has a propensity for making big saves. What he isn't, though, is predictable. He finished the last WJC with a .921 save percentage and he's started this season at Colorado College incredibly well. In 12 games with CC, he has a .924 mark and has stolen them a few. USA very well may need him to steal a couple in Canada if he does indeed get the nod.
Tyler Muszelik, New Hampshire (FLA): The biggest goaltender invited to camp, Muszelik has a lot of potential. He hasn't had the results yet. Playing in a platoon role at UNH, he has a rough-looking .857 save percentage. Last year at the U18 Worlds, Augustine was able to grab the starting job over Muszelik and I'm not sure a ton has changed. As a former NTDP goalie, Muszelik has familiarity on his side, but the good news for him is that if he doesn't make it, he has next year to try again.
Andrew Oke, Saginaw Spirit (Undrafted): Oke came out of nowhere last year to become USA's No. 3 goalie at the WJC. Though he started 36 games last year in the OHL, this season he's been backing up Tristan Lennox and playing time has been harder to come by. He's appeared in eight games so far this season. A strong camp would go a long way to getting him back on the roster, but he is also a 2004-born netminder and would be eligible for next year's tournament.