2023 IIHF World Junior Championship
2023 World Juniors: Hughes, Cooley Highlight USA's WJC Camp Roster
2023 World Juniors: Hughes, Cooley Highlight USA's WJC Camp Roster
Returning players Luke Hughes and Logan Cooley are among the highest-drafted NHL prospects vying to make USA's World Junior roster.
Dec 5, 2022
by Chris Peters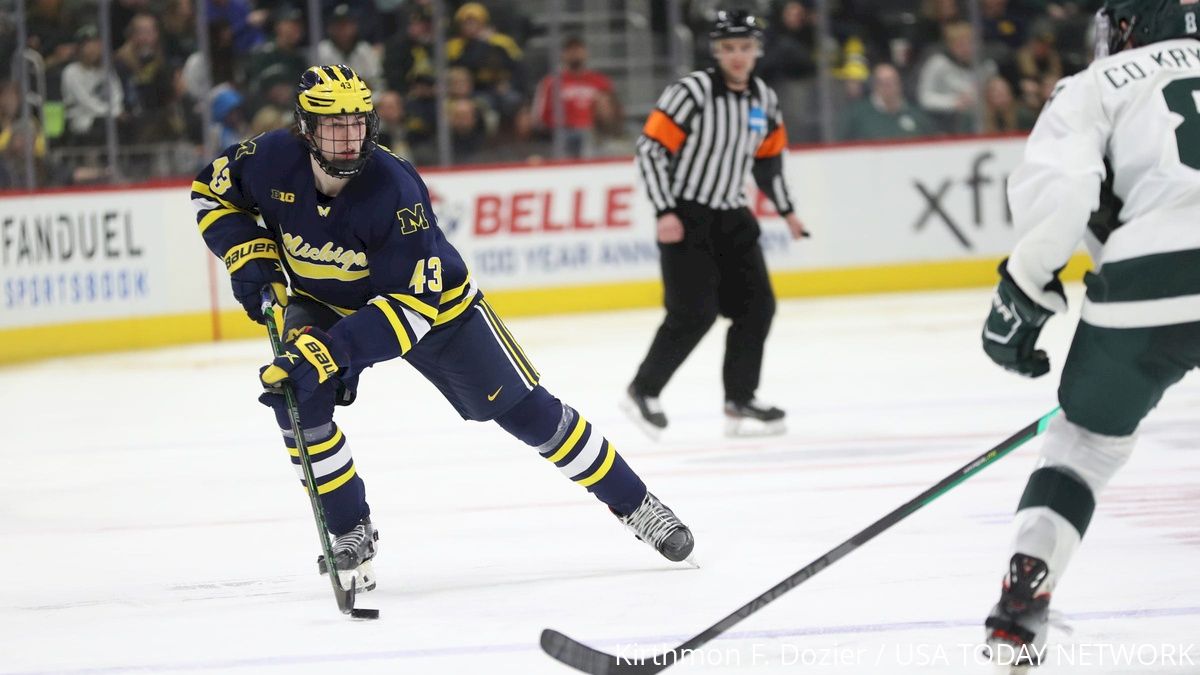 The next steps in selecting the 2023 U.S. National Junior Team was taken by USA Hockey Monday as the organization announced the 32-player roster for its upcoming selection camp ahead of the 2023 IIHF World Junior Championship.
They'll have to get down to 23 players – 20 skaters and three goalies – before the puck drops Dec. 26 in Moncton, New Brunswick and Halifax, Nova Scotia. The Americans will open the tournament against Latvia in Moncton on Boxing Day.
On USA's roster, seven players that were part of the rescheduled 2022 World Juniors this summer will be competing for spots on this year's team. That group finished the tournament with a bad taste in their mouths, getting upset by Czechia in the quarterfinal, ending their tournament early. The rest of the candidates for Team USA are looking to play in their first World Junior event.
The returning player group is highlighted by New Jersey Devils top prospect Luke Hughes and Logan Cooley, who was selected third overall by the Arizona Coyotes last summer. He was part of last year's squad as an underager, but played a substantial role. He'll be an even bigger piece to the team this season. Meanwhile, Hughes was USA's No. 1 defenseman and had a great tournament before being injured in the quarterfinal, which limited him.
Here's how Team USA's roster shakes out (returning players denoted by *):
Goaltenders
Trey Augustine (U.S. National Under-18 Team, 2023 eligible); Kaidan Mbereko (Colorado College/Undrafted)*; Tyler Muszelik (New Hampshire/FLA); Andrew Oke (Saginaw Spirit/Undrafted)*.
🏅 𝗚𝗢𝗔𝗟𝗧𝗘𝗡𝗗𝗘𝗥 𝗢𝗙 𝗧𝗛𝗘 𝗪𝗘𝗘𝗞 🏅@CCTigerHKY's Kaidan Mbereko (@kaidanmbereko30)

▪️ Career-high 34 saves Friday for first collegiate shutout 🙅‍♂️
▪️ Posted 66 saves and a .971 save % vs. UMD

📰: https://t.co/VSAlDUKsHu#NCHChockey // #CCTigers // @KJ_Branding pic.twitter.com/mAmmFmUh2t

— The NCHC (@TheNCHC) November 7, 2022
Defensemen
Sean Behrens (Denver/COL)*; Shai Buium (Denver/DET); Seamus Casey (Michigan/NJD); Ryan Chesley (Minnesota/WSH); Luke Hughes (Michigan/NJD)*; Lane Hutson (Boston University/MTL); Aidan Hreschuk (Boston College/CBJ); Luke Mittelstadt (Minnesota/Undrafted); Jack Peart (St. Cloud State/MIN)*; Ryan Ufko (UMass/NSH).
Forwards
Jackson Blake (North Dakota/CAR); Tyler Boucher (Ottawa 67s/OTT); Gavin Brindley (Michigan/2023 eligible); Kenny Connors (UMass/LAK); Logan Cooley (Minnesota/ARI)*; Jack Devine (Denver/FLA); Dylan Duke (Michigan/TBL); Cutter Gauthier (Boston College/PHI); Noah Laba (Colorado College/NYR); Ryan Leonard (U.S. National Under-18 Team/2023 eligible); Sam Lipkin (Quinnipiac/ARI); Chaz Lucius (Manitoba Moose/WPG); Cam Lund (Northeastern/SJS); Rutger McGroarty (Michigan/WPG); Red Savage (Miami/DET)*; Will Smith (U.S. National Under-18 Team/2023 eligible); Jimmy Snuggerud (Minnesota/STL); Charlie Stramel (Wisconsin/2023 eligible)*
Gophers' Logan Cooley pulls off the LAX/Michigan goal pic.twitter.com/0PwwTJoi9a

— CJ Fogler AKA Perc70 #BlackLivesMatter (@cjzero) November 26, 2022
Team USA will be led by head coach Rand Pecknold, who is making his head coaching debut for a U.S. national team. He had previously been an assistant coach at a Men's World Championship and Men's Under-18 World Championship in IIHF play. Pecknold will be joined on the bench by Dartmouth head coach Reid Cashman and Western Michigan bench boss Pat Ferschweiler, each of whom were NHL assistant coaches previously. Tampa Bay Lightning goalie scout Jared Waimon has been tabbed as the team's goaltending coach.
U.S. will hold its camp Dec. 12-17 at USA Hockey Arena in Plymouth, Mich., before leaving for Canada. USA's players are scheduled to play two pre-tournament games – Dec. 19 against Finland and Dec. 26 against Sweden both in New Brunswick – as part of their process to finalize the roster.
Instant Reaction
The U.S. roster brings a lot of intrigue as the group is loaded with skill. High-level draft picks like Cooley, Gauthier and Snuggerud could be drivers of USA's forward group, while some of the older, less-heralded players are going to fill out the depth and try to make this team a lot harder to play against. There's a fair amount of speed in this group, which is why I think some players were left out of the mix.
There will be four first-year 2023 NHL Draft-eligible players in camp as well, all at the forward position. Will Smith and Ryan Leonard were the only 2005-born players to make the roster, while late 2004 birthdates Gavin Brindley and Charlie Stramel are also going to have a chance to make the team and improve their stock. The U.S. doesn't want to go too young, though, so there's a good chance the final roster will not include all four of these players as they'll have their work cut out to show they belong.
On the blue line, USA did not go for size over talent. They only have two defensemen north of 6-feet on the blue line, but they're going to be mobile and move pucks. The question will be how much USA can dictate the game between the faceoff dots and in the highly-competitive, physical areas of the ice. That puts more onus on the centers and bigger forwards to help out in the defensive zone.
Goaltending is the real wildcard of this team, though that may be true for a few of the World Junior entries. Kaidan Mbereko was Team USA's starter at the last World Juniors and was solid up until the quarterfinal when he had a bit of a tougher outing. That said, Mbereko is playing well this season for Colorado College, with a .924 save percentage through 12 appearances. Additionally, I wouldn't rule out 17-year-old Trey Augustine getting some reps in net as he's been sensational with the U.S. National Under-18 Team throughout the first half of the year. The real battle will be for the No. 3 spot between returning third-stringer Andrew Oke and Tyler Muszelik, who has been in a platoon role this season at UNH.
Notable Omissions
Among the surprising omissions from the camp's roster – returning player Sasha Pastujov, who recently got traded from Guelph to Sarnia in the Ontario Hockey League. The Anaheim Ducks prospect is averaging close to two points per game since the trade and had four points in five games at the last World Juniors. It's rare for a returnee to not come back, but it wouldn't be the first time. Among notable players to make a World Junior one year but not the next – Alex Tuch and Alex DeBrincat. Things worked out OK for those guys.
Pastujov's glaring weakness is his skating, which I have to assume was a factor in his not being included. He is a highly-intelligent offensive player, but USA wants to play at a certain pace and he may not have been a fit for that.
Additionally, Ty Voit who is currently leading the OHL in scoring with 48 points in 27 games, was not selected for the camp. Perhaps size was a factor in his not being included, or the fact that USA's top six is going to be a tough nut to crack, but I was surprised Voit didn't at least get the camp nod to see how he fared among the group they're taking to Canada. He's been a consistent scorer all season.
The U.S. still has to get its roster cut down and I think the sheer size of the camp is a good indication of how difficult some of the decisions are about who fits where.
Stay tuned for player-by-player analysis of USA's camp roster selection coming to FloHockey soon.