2022 Penn State vs RIT - Men's
Special Teams, Coaching Staff Propel Atlantic Hockey's RIT To Top
Special Teams, Coaching Staff Propel Atlantic Hockey's RIT To Top
Wayne Wilson's RIT Tigers sit fourth in the NCAA for powerplay percentage, converting at 28% on the season with 14 goals in 50 opportunities.
Dec 6, 2022
by Jacob Messing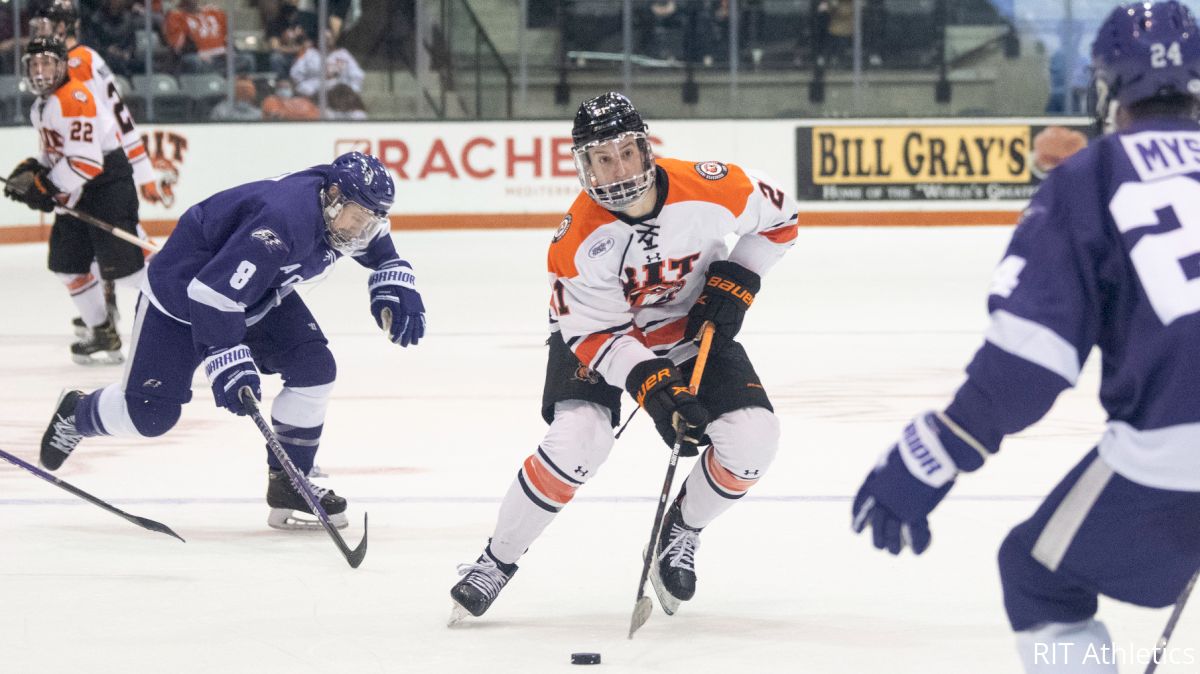 "It's so hard to score five-on-five, that you've really got to take advantage to score on your powerplay," RIT head coach Wayne Wilson said. "You've got to get at least a goal a game from your powerplay in order to have success in the game."
Time, space and opportunity all decrease at five-on-five at every level, which drives up the expectations of converting with the man advantage for teams expecting to win every night.
For the 11-3 Tigers, it shows how important a powerplay can be.
Wilson's team sits fourth in the NCAA for powerplay percentage, converting at 28% on the season with 14 goals in 50 opportunities.
To put their powerplay into perspective, they sit behind only Massachusetts, Michigan and North Dakota. Those three programs have a combined 34 NHL draft picks on their rosters, compared to RIT's zero.
A mix of style and skill has blended together under Wilson.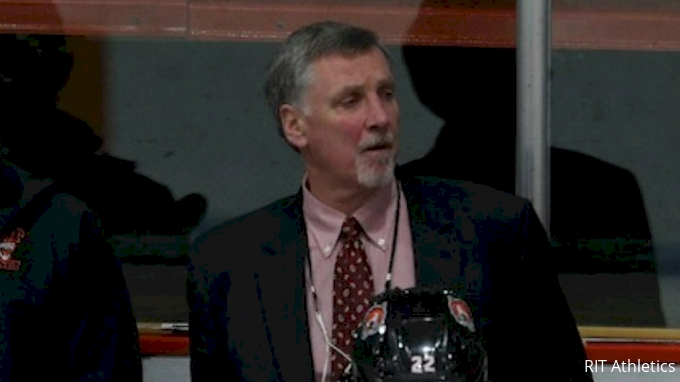 Despite being the face of Tigers hockey since 1999, Wilson is quick to acknowledge the work of his associate head coaches, Dave Insalaco and Brian Hills, as driving factors behind the team's success.
"They're head coaches as far as I'm concerned, and I give them a lot of responsibility," Wilson said. "Hopefully, they enjoy it. They have their fingerprints all over the program, and they do a great job."
Hills, a former Bowling Green teammate of Wilson's and a two-time Hobey Baker finalist, is the mind behind the offense and dynamic powerplay.
Currently in his 18th season with the Tigers, Hills has been a part of the Tigers' four conference titles, three conference championships and three national tournaments, where they've gone 3-3.
Sustained success with the man advantage will be an integral part of continuing their forward momentum against Canisius this week.
A heavy travel itinerary to kick off the second half sees the Tigers play a home-and-home with No. 6 Penn State, visit Bentley, Arizona State and Holy Cross and then play at host Mercyhurst across 30 days.
The wear of travel and return from the holiday break could prove to be a test for the other half of their special teams, where the league's second-most penalized team holds the sixth-best penalty kill.
A continued flirtation with an average of more than nine minor penalties a game holds the offense back and puts demand on penalty-killing units, dictating ice time for players.
"You never know when it's gonna go dry, because I don't think things always go as smoothly as you want for a whole year. So, you have to be ready for some dips and some struggles and some adversity."
Enter Insalaco, Wilson's associate coach in charge of the penalty killing and defensive deployment. A former assistant under Hills at SUNY Geneseo, Insalaco has guided the Tigers to the league's sixth-best penalty kill.
The Tigers have successfully killed off 88.2% of penalties taken, despite 254 penalty minutes taken, second in the NCAA, behind only inaugural Lindenwood.
Penalty killing is instinctual and requires an understanding of powerplay structures, tendencies and go-to options. Insalaco's deployment of his defenseman and forwards at his disposal has helped secure wins and kill momentum with the team's success short-handed.
Pedigree, coaches, systems and the cumulation of building a program always are enhanced when the right pieces can be put into place.
For example, 2021-2022 Atlantic Hockey Rookie of the Year Carter Wilkie led the Tigers in scoring last season, netting 13 goals and 30 points in 38 games as a freshman.
Wilkie put any indication of a 'sophomore slump' behind him, already posting seven goals and 17 points in 14 games to land among the top of Tigers scoring again.
Wilkie has contributed three goals and six points over his past three games.
AWARD | Wilkie named @Atlantic_Hockey Player of the Month. #RoarTech https://t.co/KBbxvAqZZz

— RIT Men's Hockey (@RITMHKY) December 1, 2022
"He's come back really motivated," Wilson said of Wilkie. "He attended Calgary's camp this summer, and I think that gave him a little bit of confidence and a boost. Carter's added some more strength to his body, and he's got great IQ to anticipate plays really well."
Behind Wilkie on the team scoring list, defensemen Gianfranco Cassaro and Aiden Hansen-Butaka each sit with 15 points and have combined for nine goals on the season.
"We always try to get our defense involved," Wilson said. "Aiden and Jojo [Cassaro] have done a great job. One's plus-8, and the other one's plus-9, so even though they are offensive-driven, they're also doing a great job defensively."
Cassaro and Hansen-Butaka are tied for second in defensive scoring nationally and sit 12th and 16th in plus-minus among defensemen, respectively.
Catch RIT live, right here on FloHockey, every week, as the Tigers continue to drive Atlantic Hockey and push for their first national tournament berth since 2016.
---
Have a question or a comment for Jacob Messing? You can find him on Twitter @Jacob_Messing.