Atlantic Hockey
Coast to Coast: Surprises, Concerns, Standouts And More
Coast to Coast: Surprises, Concerns, Standouts And More
The holiday break approaches across North America, and schedule marks are helping shape up some storylines with two full months of wins, losses and stats.
Dec 2, 2022
by Jacob Messing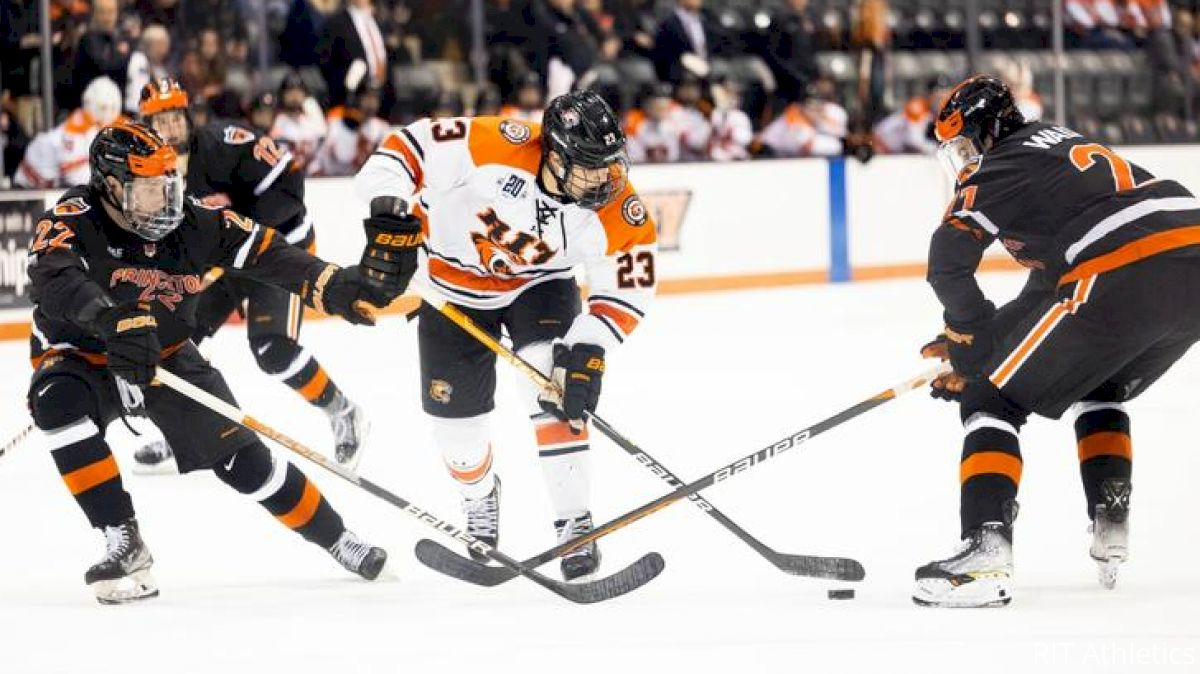 Coast to Coast is FloHockey's monthly, cohesive news on North American hockey and livestreaming partnerships.
The holiday break approaches across North America, and schedule marks are helping shape up some storylines with two full months of wins, losses and stats.
Don't miss any of the late-game comebacks, barn-burners, goals, hits, saves or other plays worthy of the highlight reel.
Stream Atlantic Hockey, CCHA, USHL and ECHL all season, all live, right here on FloHockey.
Atlantic Hockey
Surprise: The RIT Tigers have made quick prey of the NCAA, skating out to an 11-3 record, sturdied by an 8-1-1 conference mark as the top team in Atlantic Hockey.
A top-10 special teams unit has the Tigers taking command of every series and putting a fourth-place finish in the coaches to the test.
Concern: Until proven otherwise, all roads lead through AIC in Atlantic Hockey.
The Yellow Jackets hold a lackadaisical 7-7-3 overall record (5-5-1 AHA), but considering a 4-9-1 record at this point last year, which turned into a 22-13-3 overall mark and fourth conference title, the season is far from over.
Standout: Army West Point freshman Max Itagaki is skating like a fifth-year. His poise, patience and presence are pushing the offense.
The defenseman leads the team in scoring with a goal and 12 points through 13 games.
Itagaki has been held off the scoresheet just three times on the season. His consistency has the Black Knights gaining momentum.
A well deserved honor for Max Itagaki who takes home @Atlantic_Hockey Rookie of the Month! 🏆

Itagaki collected six points in six games in November including his first collegiate goal at Canisius this past weekend

📰 https://t.co/ro4jblS1ha#GoArmy pic.twitter.com/0TAOT5zVnM

— Army Hockey (@ArmyWP_Hockey) December 1, 2022
And More: Mercyhurst watched Dante Sheriff, Austin Heidemann, Noah Kane and others leave via the transfer portal.
A 1-8-1 October spelled trouble, but a four-game winning streak and three netminders with .900-plus save percentages is backing a turnaround that places them third in conference win percentage.

CCHA
Surprise: During the 2021-2022 season, Michigan Tech earned an at-large bid to the national tournament, posting its best win percentage since 2015-2016.
Four of the Huskies top-5 scorers and four mainstay defensemen all departed last summer. To have posted a 9-3-3 record and be sitting atop the CCHA entering December deserves praise.
Concern: Lake Superior State continues a downward trajectory, winless through six conference games and 1-9-2 overall on the season.
A late 2021-2022 surge showed some promise, before an opening-round loss to Northern Michigan last year.
Only six programs have recorded fewer goals on the season, and all six have games in hand to make up the difference. Next up are Bowling Green, Bemidji State and Michigan Tech in succession.
Standout: The Minnesota State Mavericks watch key contributors leave every summer, and coach Mike Hastings internally finds replacements to keep his program a national threat.
This year, David Silye wears the crown, sitting atop CCHA goal-scoring with 11 goals and 16 points through 14 games. He already has eclipsed last year's eight tallies in 29 fewer games and sits one point shy of tying his career-high mark.
And More: The last time Minnesota State finished a series without a win was in the 2018-2019 season. It now has happened twice this season - St. Cloud State swept Minnesota State in late October, and the Mavericks went 0-1-1 against Michigan Tech last week.
The absence of Dryden McKay is evident and has made the Mavericks' status vulnerable.
USHL
Surprise: The Fargo Force brought in new coach and alumnus Nick Oliver for the 2022-2023 season. The 30-year-old spent the past four years as an assistant at St. Cloud State.
Oliver has lifted the team to a league-best 12-4-2 record. Sure, top-tier scorers, including Cole Knuble and Mac Swanson help, but 7-0-1 goalie Matej Marinov is doing his part, too.
Concern: Last season, the Madison Capitols skated to a middling 30-29-3 season, squeaking into the six-team Eastern Conference playoff bracket as the fifth seed. Three series upsets earned them a trip to the final.
After taking Game 1, the Capitols lost three straight and the championship to Sioux City. Since that first game, the Capitols have amassed a 5-14-0-1 record, sitting at 5-11-0-1 on the season and in last place in the USHL.
Standout: Gavin McCarthy entered the 2021-2022 USHL season as a 16-year-old, finishing the season with a pair of goals and 13 points in 53 games with Muskegon.
It was a formidable stat line for a player going up against opponents up to four years older than him. Doing it as a defenseman is even more impressive.
Now, the 17-year-old already has bested his rookie season, chipping in three goals and 15 points through 17 games. He's fifth in defensive scoring and sixth in plus/minus among defensemen.
Congratulations to Gavin McCarthy on being named @ushl Defenseman of the Week! pic.twitter.com/lpEpAM4Fwv

— Muskegon Lumberjacks (@MuskegonJacks) November 21, 2022
And More: The Chicago Steel remain a USHL powerhouse, icing the league's leading scorer, Jack Harvey (16 G, 14 A, 30 pts.), a 16-year-old rookie, and top 2024 NHL draft prospect Mac Celebrini (11 G, 7 A, 18 pts.), plus other scoring threats, goes a long way.
ECHL
Surprise: As the first NHL expansion team since 2000-2001, the Vegas Golden Knights set a dangerous precedent for inaugural seasons.
It was one the Seattle Kraken couldn't repeat last season, but one Vegas affiliate seems happy to try.
The Savannah Ghost Pirates sit sixth in winning percentage and hold a two-game winning streak. Time will tell if the novelty wears off or if history is in store.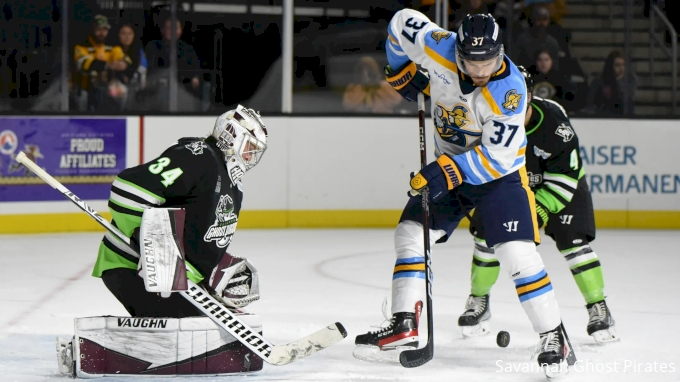 Concern: The Toledo Walleye stormed back from their 2020-2021 COVID opt out to first place in the Central Division with a 49-19-2 record, before ultimately losing in the Kelly Cup Finals.
Six losses in their past seven games has led to an uninspiring 5-8-1 record and defensive lapses the offense is struggling to outscore.
Standout: Coming out of the OHL, netminder Luke Cavallin has posted a 7-1 record for the Newfoundland Growlers with a 1.74 GAA and .941 SV%, sitting first in both statistics for goalies who have played a minimum of 450 minutes.
Cavallin has found the next level early on and has helped the Growlers jump into second place in the East.
And More: The stopgap of the ECHL to the NHL and the affiliations remain a key road for a lot of players, coaches and personnel behind professional hockey.
ECHL alumni have been represented on each of the past 22 Stanley Cup-winning teams.
The development league continues to feed fan-favorite franchises across North America and remains an option for late-bloomers to continue their maturation.
---
Have a question or a comment for Jacob Messing? You can find him on Twitter @Jacob_Messing.