2022 Florida Everblades vs Greenville Swamp Rabbits
Cameron Morrison Finding Opportunity And Luck With Florida Everblades
Cameron Morrison Finding Opportunity And Luck With Florida Everblades
Opportunity and luck haven't always been as easy to come by for Cameron Morrison, but that seems to have changed this season with the Florida Everblades.
Dec 7, 2022
by Mike Ashmore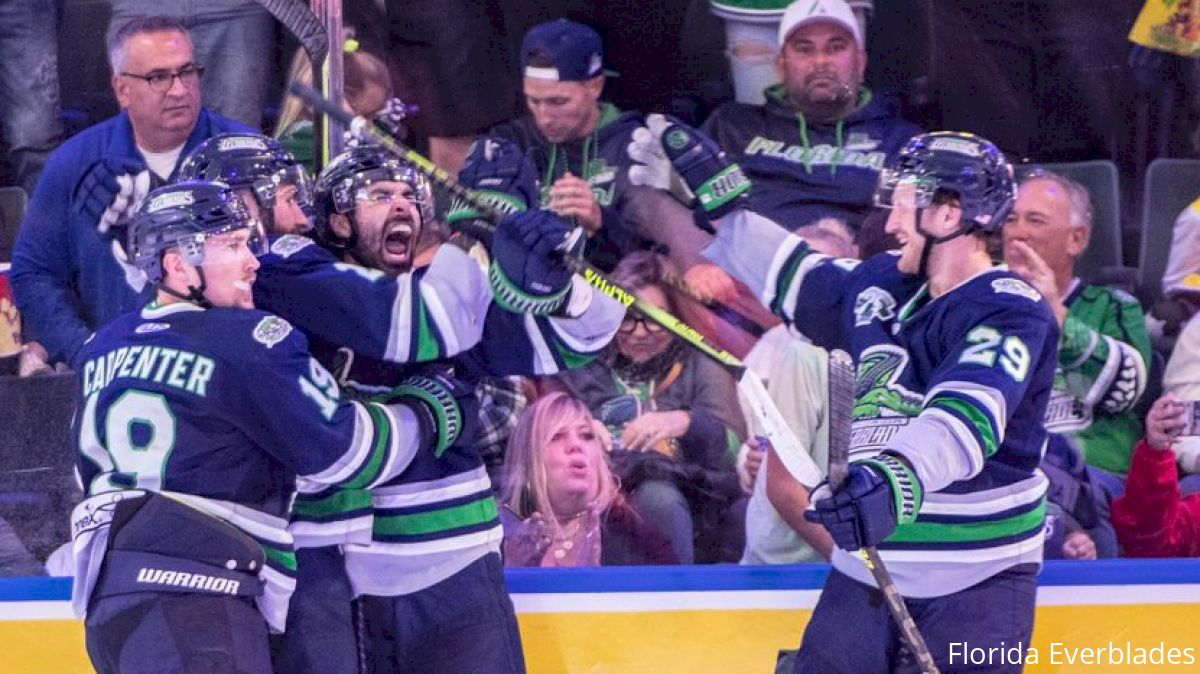 A second-round pick of the Colorado Avalanche back in 2016, talent has never been a question for Cameron Morrison.
Opportunity and luck haven't always been as easy to come by, however, but that seems to have finally changed this season with the Florida Everblades.
The 24-year-old Aurora, Ontario, Canada, native played four years of college hockey with Notre Dame, posting double-digit goals at the NCAA level in three of those four years.

He ultimately never agreed to terms with the Avalanche. Instead, he was scooped up by the Chicago Blackhawks, who signed him to an entry-level deal in 2020.
A preseason knee injury to his right MCL required reconstructive surgery and kept him from making his debut in the American Hockey League during the 2020-2021 campaign. It lingered into last season and limited him to just 43 games, in which he posted a modest 5-9-14 line for the Rockford IceHogs.
Now fully healthy, the Everblades AHL affiliate, the Charlotte Checkers, saw the potential in Morrison and moved quickly to add him on a one-year, two-way contract during the recent offseason.
"Over the summer, I was going through my options, and when Charlotte came to me with a deal, I thought it would be a good spot," Morrison told FloHockey via cellphone. "I'd heard great things about the organization from the top down, so it was a pretty easy decision for me. I felt like I'd have some opportunity here, too, so I think overall, I'm happy with how the decision has gone so far.
"You don't really look at (the ECHL affiliate) too much, but I was lucky enough to be sent down here, where we've got a great staff and a great group of guys. It's for sure a benefit of signing with an AHL team like Charlotte, with the team being down here and it being so well-supported."
Given the injuries, Morrison's game still is developing at the pro level more than one might expect for someone who first signed in 2020.
With that said, his first stay in the ECHL, and the significant increase in ice time that comes with that, over what he'd be getting in the AHL, likely has been the best thing for him. It's something he's come to appreciate.
"I think it's been huge for me so far," he said. "Confidence-wise, I think I've taken some strides this year already, and hopefully, I can continue that down the road here. Last year, I was up in Rockford and was getting third, fourth-line minutes, like 10 minutes a night. I wasn't developing as much as a player as I wanted to. This is a good opportunity for me to be down here for a bit and get that confidence back, put the puck in the net and get some points. This is for sure big for me as a player."
The 6-foot-3, 209-pound power forward has showcased his skills early and often in Estero, scoring at nearly a point-per-game rate. He has three goals and six assists in his first 10 ECHL contests.
🚨MORRISON 🚨

A SHORRTTYYYY pic.twitter.com/NDpni0ydfW

— Florida Everblades (@FL_Everblades) November 27, 2022
Morrison says he learned a lot from the veterans he played with last year in the AHL, and his takeaways were numerous - things he has been able to apply to his time with Florida.
While he's hopeful to get another opportunity at that level, he's excited to apply those lessons to his game while he's with the Everblades and looking to help them toward winning back-to-back Kelly Cups.
"I'm taking it day-by-day, but wherever I am, I'm going to give it my all," he said. "Them winning it last year, I think the expectations are pretty high this year, but I think we have a team that will be able to make a push for the Cup again. There's a good group of guys here in Florida. Hopefully, we can make a run at it again."