2022 Florida Everblades vs Greenville Swamp Rabbits
Xavier Cormier Making Most Of Time With Florida Everblades
Xavier Cormier Making Most Of Time With Florida Everblades
Xavier Cormier has experienced his first taste of professional hockey this year with the Florida Everblades. It comes after a successful junior career.
Dec 6, 2022
by Mike Ashmore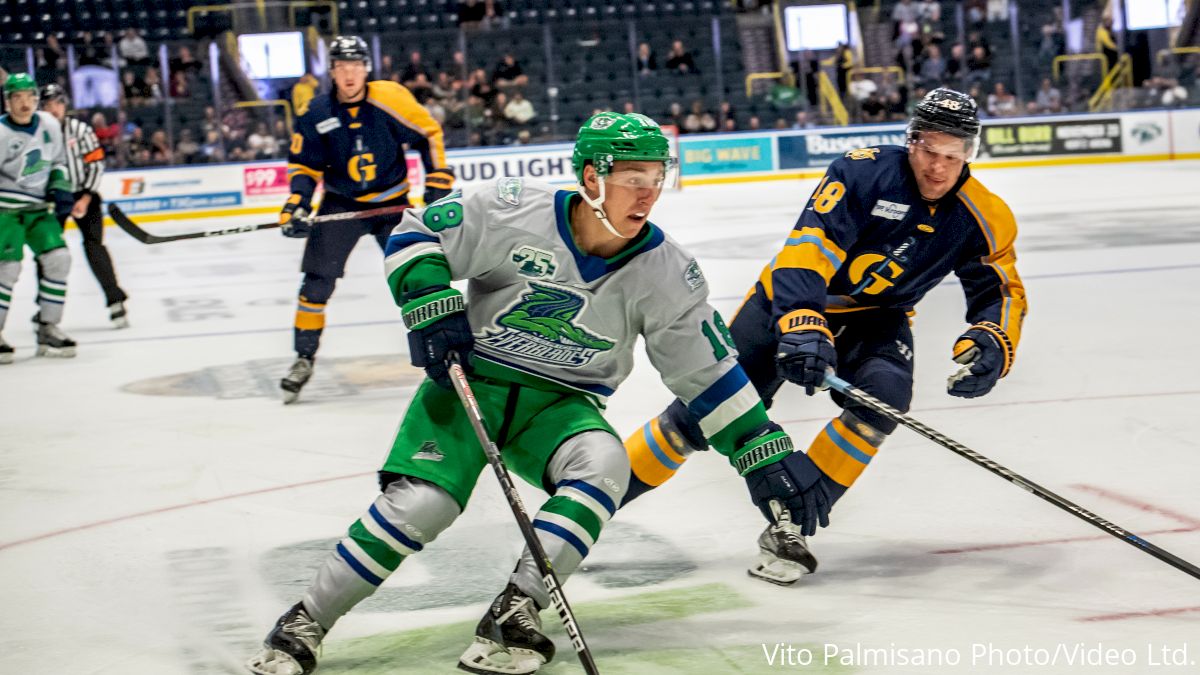 The ECHL long has been a place where diamonds in the rough can get their first taste of professional hockey, with the level of play both encouraging and requiring a rapid rate of development for players who are just starting their careers.
Xavier Cormier has experienced that and then some for the Florida Everblades this year, his first season playing the pro game after both a successful and circuitous run in juniors that saw the 21-year-old Quebec native play with three separate teams in the QMJHL.
Having some stability while also getting acclimated to a mostly new country has been a good first step for the young center.
"It's been great," Cormier told FloHockey via cellphone. "I really like the team, and the guys really made me comfortable. The older guys have done a good job including the younger guys on the team and making us feel welcome.
"I'd been here a few times on trips when I was younger. I went to play hockey. I also went to Tampa Bay's camp last year and Florida's this year, but this is a big change for me. It's the first time I had to speak English all the time. In juniors, we had a couple players speaking English, but the majority was French, but I've really liked it."'
The fact that Cormier is making his transition while in Florida, which has a slightly different climate than what he was used to in Quebec, certainly hasn't been bad either.
"It's a big change from back home," he said through a laugh. "But the setup is really nice, and I can't complain. We're treated really well. It's just perfect. It's always sunny, always great weather and it's been a lot of fun."
Off the ice, things have clicked quickly for Cormier. On the ice, it has come a bit more slowly, as he's posted just one goal in his first 15 games with Florida, while also adding five assists along the way.
🚨CORMIER ON CORMIER🚨

#18 Xavier Cormier puts the Blades up by 2!! pic.twitter.com/TJsJurvNiQ

— Florida Everblades (@FL_Everblades) December 1, 2022
As he continues to learn the pro game, he's taken a mature approach in being patient in waiting for the statistics to be reflective of how he feels he's been playing.
"For sure, it's an adjustment, the game is different," he said. "I've just got to get used to it, but I'm not really frustrated. I wouldn't say that. I think I'm doing good things, and I'm showing flashes, but it's about putting a whole game together and not just flashes. I think I've created a lot of chances. It's just putting it all together."
The potential is there, and that's something the American Hockey League's Charlotte Checkers saw when they signed Cormier to a two-year contract the offseason, following a standout year with the Rimouski Oceanic.
The #QMJHL Player of the Week is center Xavier Cormier of the Rimouski Oceanic. pic.twitter.com/fQQubaM2bh

— HockeyProspect.com (@ScoutingService) March 8, 2021
It was the culmination of a lot of work for the 5-foot-11, 185-pounder, and eventually getting an opportunity to play at that level is something he has his sights set on as he continues to work on improving his skating to have a better chance to stay up there once that call-up comes.
"It was a great feeling, to be honest," Cormier said. "I worked so hard since I was a kid, and all the summers you spend taking it seriously with training over spending time with your friends, I really feel like that moment, it all paid off. Now, it's just getting better every day. The pro game is really different, and there's a lot more skating, so it's just trying to keep improving. If I keep doing that, my chance will come. My goal is to get up there fast, but I know I can work on my game here. I'm getting a lot of ice time, so that's been really good for me."