ECHL
Solar Bears' Hunter Fejes Nearing Return After Cancer Battle
Solar Bears' Hunter Fejes Nearing Return After Cancer Battle
After beating cancer, ECHL veteran Hunter Fejes is motivated to return to game action 'shortly.'
Dec 1, 2022
by Chris Peters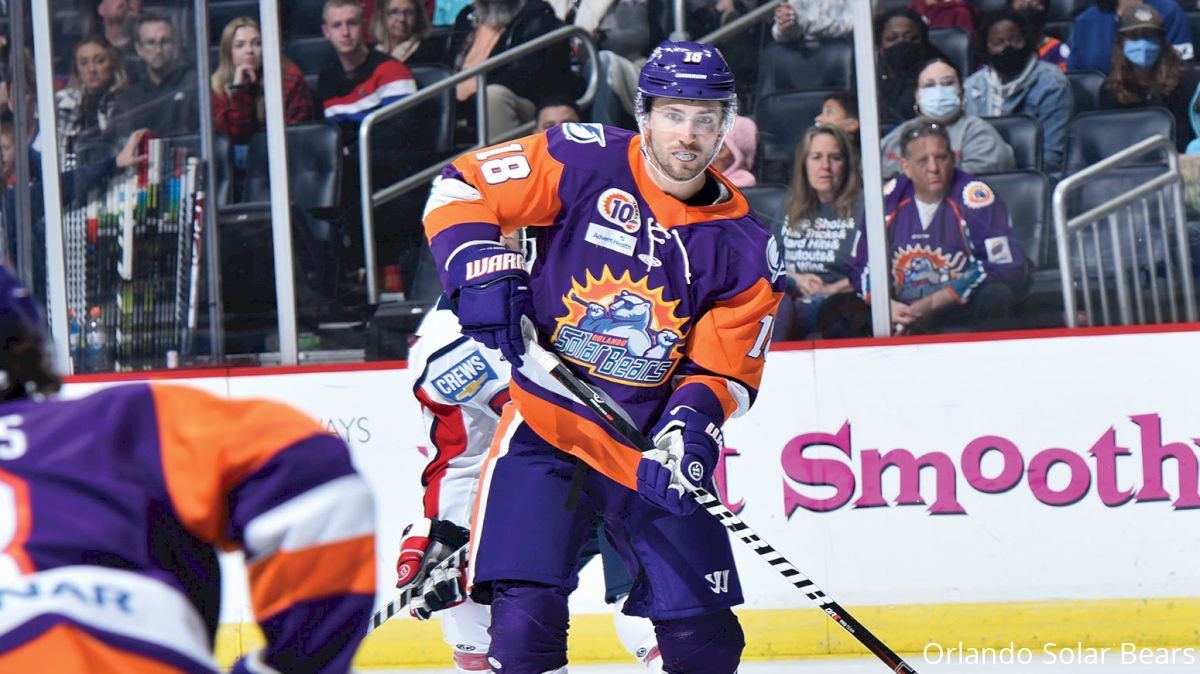 Orlando Solar Bears forward Hunter Fejes hasn't yet suited up in a game this season, but he plans to change that soon. The 28-year-old forward has been busy with the fight of his life after being diagnosed with Hodgkins Lymphoma seven months ago.
Fejes recently penned a heart-wrenching and inspiring first-person essay about his fight, which you can read in full on ECHL.com.
Even though Hockey Fights Cancer Month comes to a close today, the fight for a cure continues.@OrlandoHockey player @HunterFejes rang the bell last month, signifying the end of his treatment for Hodgkin's Lymphoma.
Read more about Hunter's story in his own words here ⤵️

— ECHL (@ECHL) November 30, 2022
The Alaska native wrote that he had discovered a lump near his collar bone and was advised by the team physician to undergo a series of tests. The worst was confirmed when he was told there were three masses in his chest that looked cancerous, with a biopsy leaving no doubt later that week.
Multiple rounds of chemotherapy were suggested for treatment and Fejes dealt with some particularly scary side effects. Through the entire process, even in his worst days, Fejes says hockey was his motivation. In late October, his determination and treatment payed off.
"After three months of treatment, I was told I was in remission after my most recent PET scan and would do one more round of chemotherapy to really bury it into the ground," Fejes wrote. "Hearing that news made me the happiest man alive. The days of feeling nauseous, the constant body aches and the everyday uncertainty would finally be over. On October 28th, 2022, I finally rang the bell announcing to the world I was cancer free!"
Among the friends and family there to celebrate Fejes ringing the bell were his Solar Bears teammates.
Many in the hockey community shared their support for Fejes throughout his battle including Pittsburgh Penguins forward Teddy Blueger, who was a teammate and roommate of Fejes's at Shattuck-St. Mary's prep school. Blueger wore a lime green ribbon on his Hockey Fights Cancer Night warmup jersey in mid-November denoting his support for Lymphoma research in honor of his friend.
"That's why it resonated with me," Blueger told the Penguins website. "He just rang the bell I think two weeks ago, so it's good."
The jersey was auctioned off with proceeds going to cancer-related charities.
Congratulations to our friend @HunterFejes on finishing his 6 month battle with cancer!

He was surprised by his @OrlandoHockey teammates in the waiting room.

Fej has shown inspiring resiliency throughout his journey and we can't wait to watch you get back on the ice!#warrior pic.twitter.com/USz2sMgHK4

— Minor League Madness (@minorleaguemad) October 31, 2022
Fejes says he plans to make his comeback with the Solar Bears "shortly" and hopes his story can be instructive to other young men and women.
"I hope someone learns from my experience and maybe it pushes them to listen to their body and get checked out," he wrote. "I was lucky we caught it early and my support system was rock solid. I would not be where I am at today if it wasn't for who I surrounded myself with. My family, friends, healthcare team, and hockey organization with the Orlando Solar Bears catapulted me across the finish line."
The former Colorado College standout and Arizona Coyotes draft pick has spent the early part of this season on Orlando's injured reserve list. He hasn't played in a live game since last April.
Over parts of six ECHL seasons, four of which have been with Orlando, Fejes has scored 70 goals and 140 points over 169 games.
His 170th game is sure to be the sweetest yet.