2022 Wichita Thunder vs Kansas City Mavericks
Kansas City Forward Jeremy McKenna On Hot Streak
Kansas City Forward Jeremy McKenna On Hot Streak
It has been a good week for Kansas City Mavericks forward Jeremy McKenna, who now has the hardware to prove it.
Dec 2, 2022
by Mike Ashmore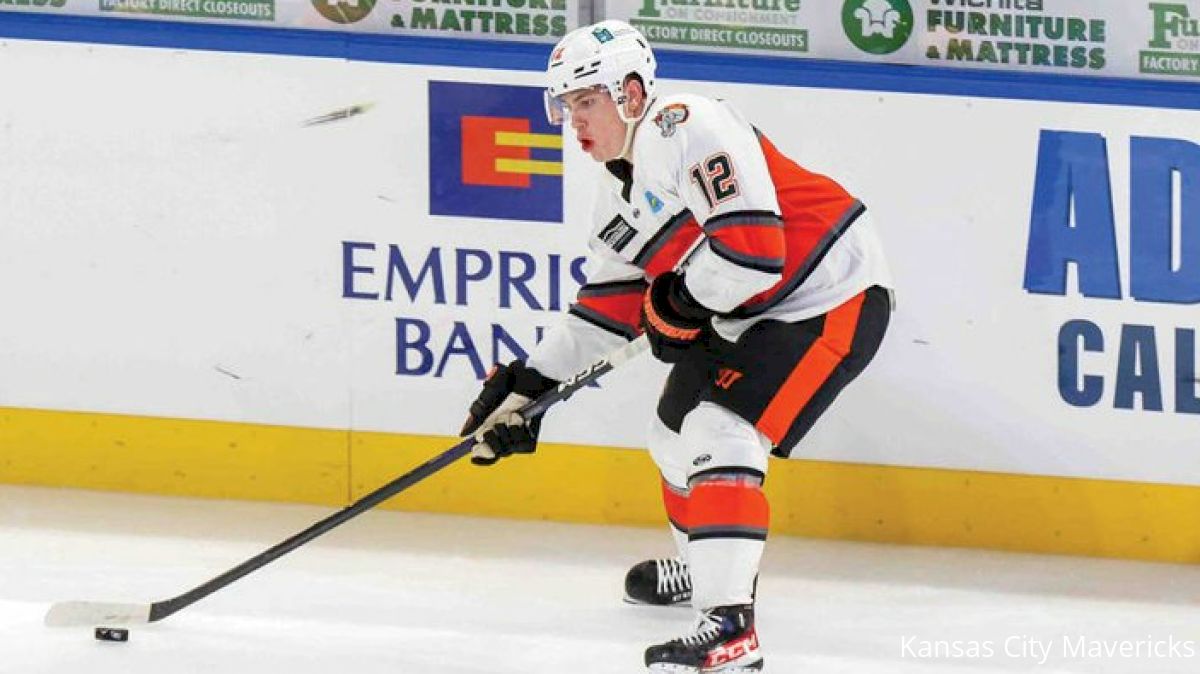 It has been a good week for Kansas City Mavericks forward Jeremy McKenna, who now has the hardware to prove it.
The reigning Inglasco ECHL Player of the Week posted four goals and two assists over his last three games to earn the honor, but really, it has been a hot start as a whole for the 23-year-old and his team.
The Mavericks are in third place in the very competitive Mountain Division.
"I think we've had a good start, but we're always looking for ways to improve," McKenna told FloHockey via cellphone. "We've done a great job of implementing the game plan from our coaches, Tad (O'Had) and Riley Weselowski, and just playing for each other out there."
But for McKenna in particular, things really have been clicking.
Forward Jeremy McKenna speaks on being named ECHL Player of the Week! pic.twitter.com/vVYpza9GiR

— Kansas City Mavericks (@kc_mavericks) November 29, 2022
Heading into this week's games, he's tied for third in the league with 21 points on nine goals and 12 assists, and is continuing to show the kind of promise that first earned him an opportunity with the Toronto Maple Leafs organization after going undrafted, despite putting up video game-type numbers in juniors with the Moncton Wildcats of the QMJHL.
"It's got a lot to do with the different linemates I've played with this year," McKenna said of his recent success. "It's been a lot of fun playing the style of hockey we've been playing, and I've been enjoying creating those five-foot passes and those triangles to get open, and trying to get lost, whether it's 5-on-5 or on the power play."
That McKenna is producing at this kind of pace hardly is a surprise for anyone who saw him with the Newfoundland Growlers last year. He was a point-per-game player in the regular season and contributed five goals in their deep run in the Kelly Cup Playoffs.
Newfoundland advanced to the Eastern Conference Finals, before losing to the eventual champions, the Florida Everblades.
"Experience is a great tool to have when you're in those situations in the playoffs, and I think I can draw back to that," he said. "We have a few guys from Florida who won last year, so we have some experience we can draw on. But, my time in Newfoundland was excellent. Hopefully, I can help the team win lots of playoff games."
MCKENNA AGAIN!!!! We're within one! pic.twitter.com/3VdTgWTyhE

— Kansas City Mavericks (@kc_mavericks) November 27, 2022
That's if he's still in the ECHL by then, of course.
McKenna is on a two-way American Hockey League contract with the Coachella Valley Firebirds and surely is on their radar with the kind of start he's had with the Mavericks.
"I'm trying to work every day toward getting that call-up, that's my goal this season, to play in the American Hockey League," he said. "Anything I can do daily to make that happen is something I'm focused on, but team wins help a lot, so I'm focused on that right now."
McKenna split each of his last two seasons between the ECHL and AHL, appearing in 44 games with the Toronto Marlies, for whom he scored five goals and added nine assists.
The takeaways from that experience, he says, are valuable in terms of what he knows he needs to do to try to get back to that level this season.
"There's a lot of things with the speed of the game and everybody's ability to make the right play," he said. "That's something I focus on here. For myself, it's making sure I'm keeping my feet moving and making those passes and crisp, smart plays. Managing the game well is something you do in the American Hockey League, so any time I get chances, it's about finishing them, so I can stay up."
For now, however, the focus remains on Kansas City, where the Canmore, Alberta, native is hopeful to keep contributing to more of those team wins and lead them back to the postseason.
"It's been great here," he said. "It's definitely different from Newfoundland last year - a different division, plus living in the States is a lot of fun. We have a great group of guys who are fun to be around at the rink, and I'm really enjoying my time here so far. There's been some big wins, and we're looking to continue to work toward getting more and moving up in the standings.