Good Playoffs, Bad Contracts: How NHL Heroes Become Franchise Burdens
Every April, playoff hockey raises the bar: speed gets quicker, space gets tighter, hits get harder, and time moves faster.

Postseason hockey is some of the most exciting to watch. Bodies are sacrificed, rivalries are made, and unexpected heroes become eternal memories in the quest for the Stanley Cup.

Management, teammates, and fans praise these heroes in the form of cheerful chants, proud posters and sensational stories. But at the end of the day, it's management that heads home with decisions to make.

Championships can cloud a front office and often bring shortsighted vision, usually corrected by a pair of rose-colored glasses that aid in making hasty choices. A longing to erase the trade-off that frequently coincides with championships can get a team into trouble quickly.

Some of the most regrettable contracts are signed after playoff heroics, whether it be the length or money involved in those deals or something else entirely.


Johan Franzen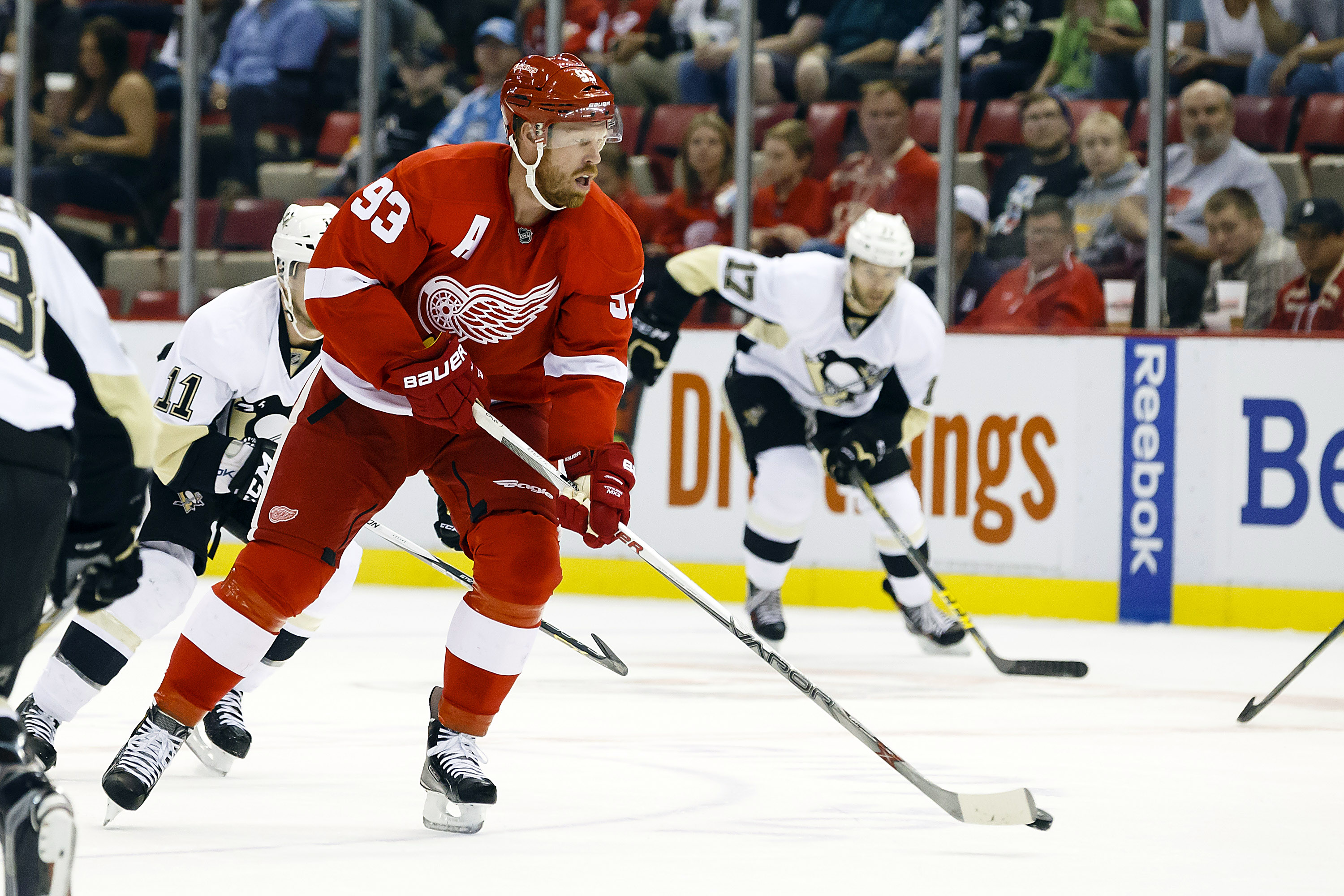 Detroit Red Wings left wing Johan Franzen (93) skates with the puck in the first period against the Pittsburgh Penguins at Joe Louis Arena in Detroit on Sept. 24, 2015. Rick Osentoski-USA TODAY Sports

The unfortunate end to Franzen's career overshadows his true reliability during his playing days. The big-bodied Swede, affectionately known as "The Mule," hasn't suited up since October 2015 but still deals with post-concussion symptoms.

Franzen was a key contributor in Detroit's 2008 playoff run that ended with the franchise's 11th Stanley Cup. He led the postseason with 13 goals -- five of them were game-winning goals -- and added five assists for 18 points in 16 games.

Franzen broke out the following season with 34 goals and 59 points in 71 games. He recorded another 12 goals and 23 points in 23 playoff games before ultimately falling to the Pittsburgh Penguins in Game 7 of the Stanley Cup Finals.

His breakout season, coupled with two consecutive stellar postseasons, earned him a massive 11-year, $43.5 million contract heading into the 2009-10 season.

It's unfair to say the often hot-and-cold winger didn't live up to his cap hit of $3.95 million. He potted 67 goals and 132 points over his next 174 regular season games and continued to improve his play during the playoffs.

An unforeseen series of concussions derailed Franzen's career and forced his "retirement" just two games into the 2015-16 season. His salary commitment was a steal for Detroit, but general manager Ken Holland made the poor choice to sign the 29-year-old to a deal that locked him up until the age of 40.

It's not as bad as it could be for the Red Wings as they continue to bury his cap hit with the long-term injured reserve. His contract is up at the end of the 2019-20 season.


Bryan Bickel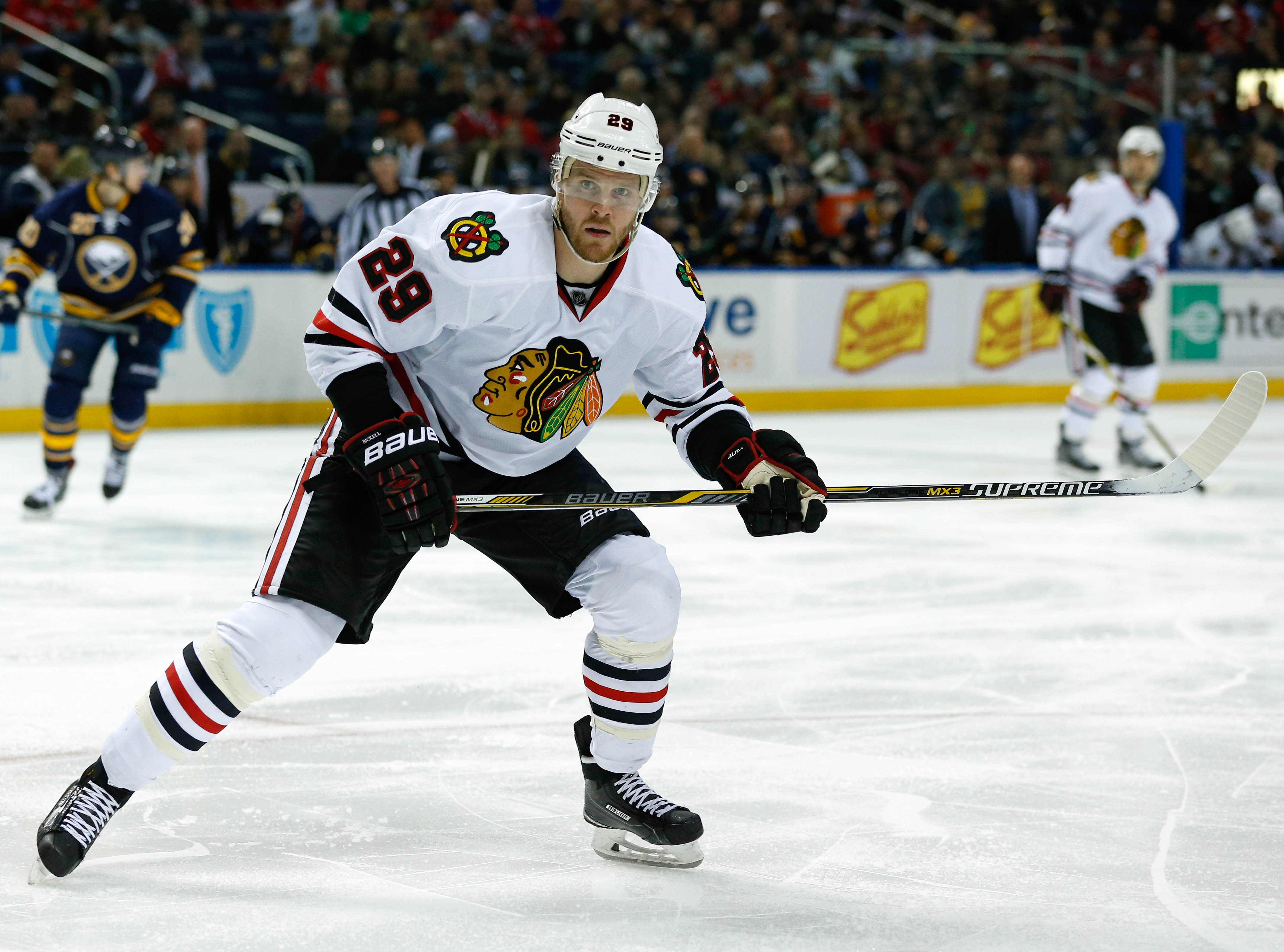 Chicago Blackhawks left wing Bryan Bickell (29) during the game against the Buffalo Sabres at First Niagara Center in Buffalo, NY, on April 3, 2015. Kevin Hoffman-USA TODAY Sports

Bickell played 23 games with the Chicago Blackhawks in parts of the 2006-07, 2007-08 and 2009-10 seasons, scoring five goals and an assist along with a plus-4 rating.

Bickell cracked the Blackhawks roster out of training camp in 2010-11 and skated in 78 games, he went plus-6 and scored a promising 17 goals and 37 points as a 24-year-old. Bickell had a rough sophomore season, regressing in goals (nine), points (24), and plus/minus (minus-3) through 71 games.

During the 48-game lockout-shortened season of 2012-13, Bickell redisplayed the promise he had shown in his rookie year, compiling nine goals, 23 points, and a plus-12 rating.

In 23 playoff games, Bickell's nine goals were tied for second -- behind only teammate Patrick Sharp's 10 goals -- and Bickell's 17 points and plus-11 rating were each tied for fifth.

His strong playoff performance helped lead Chicago to its second Stanley Cup in four years, and GM Stan Bowman rewarded Bickell with a four-year, $16 million contract.

Bickell struggled over the first two years of his contract, recording 25 goals, 43 points, and a minus-1 rating in 139 games. The Blackhawks buried Bickell in the minors for all but 25 games of the 2015-16 season. He went minus-5 and tallied just two assists in that span.

Chicago unloaded Bickell's contract to Carolina along with 21-year-old Teuvo Teravainen, who scored 13 goals and 35 points as a rookie in 2015-16.

In November, Bickell announced he was diagnosed with multiple sclerosis. In April, he announced he was retiring from the NHL.

Bickell's contract was neither long nor expensive but affected an annually contending Chicago team deeply on the salary cap, costing it Teravainen in the end.


Alex Killorn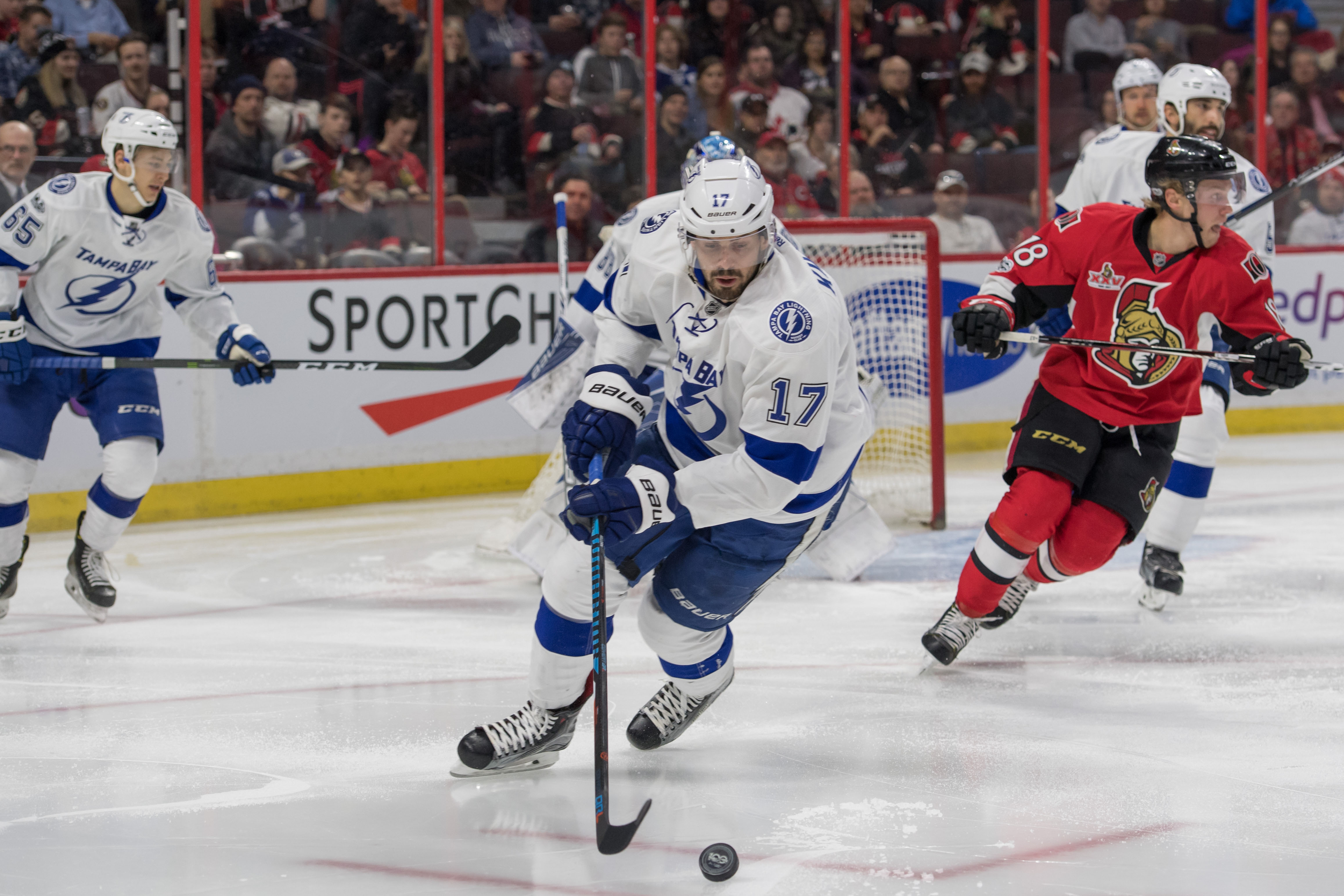 Tampa Bay Lightning left wing Alex Killorn (17) skates with the puck in the second period against the Ottawa Senators at the Canadian Tire Centre in Ottawa, Ontario, on March 14, 2017. Marc DesRosiers-USA TODAY Sports

Since joining Tampa Bay full time in February 2013, Killorn has been a strong depth player that has proven to fill in nicely when injuries hit the forward group.

Killorn has been a consistent offensive force for the Lightning, scoring between 0.44 and 0.52 points per game during his 353-game career.

His 0.52 points per game came during the 2014-15 season when he scored 15 goals and 38 points in 71 games. The Lightning made the playoffs as the No. 3 team in the Atlantic Division, and Killorn had a strong opening round against the Detroit Red Wings, scoring two goals and two assists in seven games.

Killorn tied for sixth in goals and ninth in playoff scoring during Tampa Bay's 26-game Stanley Cup run. His with nine goals and 18 points were third on the team, behind only Tyler Johnson and Nikita Kucherov.

Three of his goals came during the team's final round, where the Lightning fell to the Chicago Blackhawks in six games.

Killorn had another strong opening round, scoring three goals and five points in five games. Killorn scored five goals and 13 points in 17 games before losing to eventual Cup champion Pittsburgh in the Eastern Conference Finals.

GM Steve Yzerman signed Killorn to a seven-year, $31.1 million contract in July of 2016. Killorn, 26 at the time of the signing, is likely entering his prime but is also coming off the lowest points per game pace of his career.

The contract only locks him up to the age of 33 but costs Yzerman a valuable $4.4 million against the salary cap. Tampa Bay is already high against the cap and has a combination of restricted and unrestricted free agents to re-sign this summer, including Ondrej Palat, Jonathan Drouin, and Johnson.

Yzerman would likely take a do-over if he had the opportunity, but his ability to work trade magic in the past should see Tampa Bay have an exciting offseason after high expectations turned into a rough season.


Dustin Brown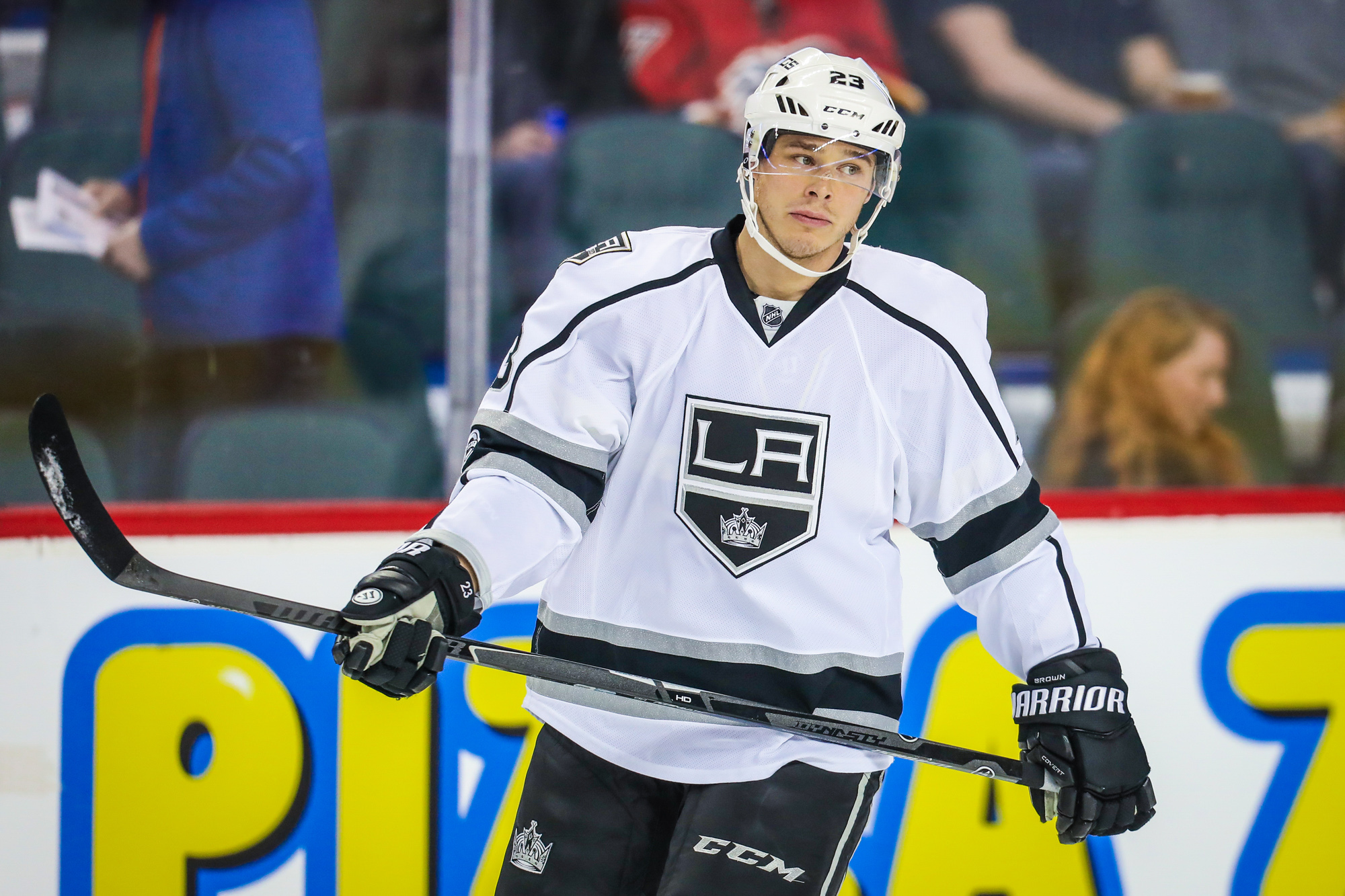 Los Angeles Kings right wing Dustin Brown (23) skates during the warmup period against the Calgary Flames at Scotiabank Saddledome in Calgary, Alberta, on March 29, 2017. Sergei Belski-USA TODAY Sports

When Brown broke into the league as a permanent roster player for Los Angeles in 2005-06, he quickly turned into the enviable pest that fans loved to hate and opponents feared.

When Brown wasn't finishing plays, which was rare in his prime, he was finishing his checks. Since the NHL starting tracking hits in 2007-08, Brown finished top three in the league from 2007-08 to 2011-12.

The hard-hitting Kings winger scored 20-plus goals and 50-plus points in each of those five seasons and was a force alongside Anze Kopitar. During the 2012 playoffs, Brown finished tied for first in goals (eight), assists (12), points (20), and plus/minus (plus-16).

During the lockout-shortened season of 2012-13, Brown scored 18 goals and 29 points, maintaining his consistency as an intimidator and a scorer. The following season saw Brown's worst year with just 15 goals and 27 points through 79 games.

When the playoffs rolled around, Brown captained the team to another championship. While he wasn't as dominant as his play during the 2012 playoffs, he scored a modest six goals and 14 points in 26 games.

GM Dean Lombardi was undoubtedly making the determination that Brown's playoff performance and ability to lead his team to another Stanley Cup was a hint at a turnaround from his down season. Lombardi signed the 29-year-old to a massive eight-year, $47 million extension that works out to a cap hit slightly higher than $5.8 million.

The contracts of Jonathan Quick, Jeff Carter, Drew Doughty, and Kopitar already take up a large chunk of the salary cap and Doughty is due for a raise from his $7 million cap hit when his contract expires in 2019.

His downward-trending play continued, however, with just 11 goals and 27 points in 2014-15 and 11 goals and 28 points in 2015-16. Prior to the 2016-17 season, Brown was stripped of his captaincy after eight years. He had a slight bounce-back season in 2016-17 with 14 goals and 36 points, but at 32 years old, his days of 50-plus points are behind him.

The 2017 playoffs will ultimately continue the trend of regrettable contracts that stem from postseason play and could start with an extension for Montreal forward Alex Radulov.

Have a question or a comment for Jacob Messing? You can find him on Twitter @JMessing23.