5 Statements Made At The NHL Trade Deadline
Since the announcement of the NHL's 31st franchise, the Vegas Golden Knights, late last year, 2017's trade deadline was anticipated to be one of the most exciting days of the entire season.

But that anticipation turned to exasperation on March 1 as the deadline played out rather slowly and ended up as a rather dull day of deals.

There were of course some minor deals -- including the Canadiens' added grit and the suddenly pouncing Predators' boosted depth in the form of P.A. Parenteau. Meanwhile, the day's bigger-picture trades saw veteran Jarome Iginla heading to the Kings for a potential last run at the Stanley Cup and Kevin Shattenkirk joining the Capitals as well as the Martin Hanzal package.

But trades aside, there were some significant underlying statements made by teams and general managers across the NHL that could affect the league on a larger scale.


Washington Goes All-In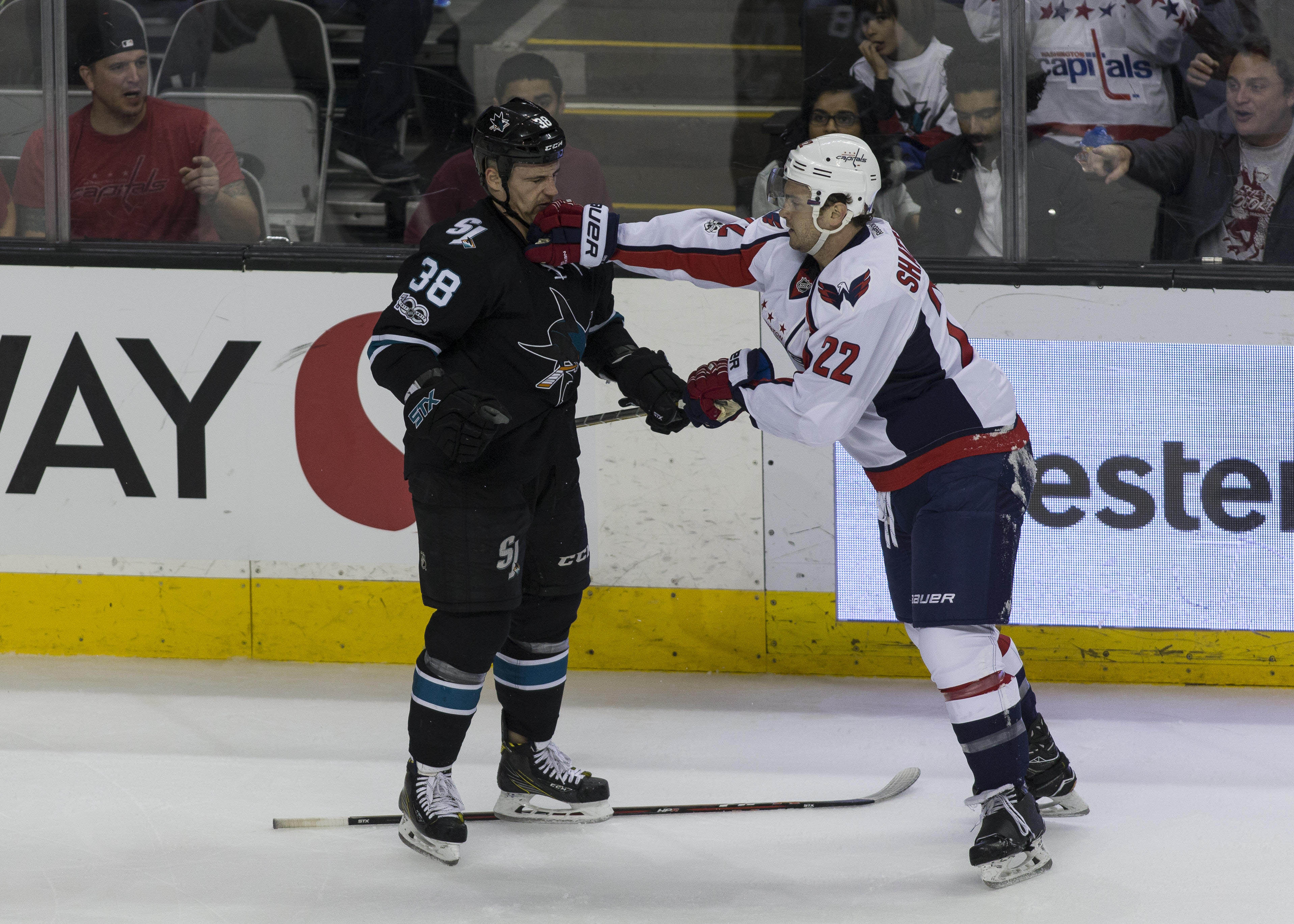 San Jose Sharks center Micheal Haley (38) is punched by Washington Capitals defenseman Kevin Shattenkirk (22) during the first period at SAP Center at San Jose on March 9 in San Jose, CA. Mandatory Credit: Neville E. Guard-USA TODAY Sports

After recurring playoff disappointments, the NHL's best team added the deadline's best player. That team is of course the Washington Capitals, and that player is none other than Shattenkirk.

Shattenkirk, 28, is a right-shooting offensive defenseman who is having a career year in all offensive categories while averaging 19:50 minutes per game, his lowest since his rookie year in 2010-11.

It's often said that defense wins championships, and while Shattenkirk isn't the flashiest defensively, his 11 goals and 42 points are third best in each category among all defensemen this season.

Shattenkirk is primed to be an unrestricted free agent at the end of the season, and odds are against him returning to the Capitals, who have one hell of an offseason ahead of them.

GM Brian MacLellan has an abundance of contracts coming off the books this summer, including restricted free agents Evgeny Kuznetsov, Andre Burakovsky, Philipp Grubauer, Dmitry Orlov, Nate Schmidt, and Brett Connolly and unrestricted free agents Shattenkirk, T.J. Oshie, Justin Williams, Daniel Winnik, and Karl Alzner.

With that amount of potential turnover, this season may be Washington's last best chance at the franchise's first Stanley Cup.

There were rumors of division rivals Pittsburgh and the New York Rangers in the mix for Shattenkirk, and Washington's package of a 2017 first-round pick, a conditional second-round pick, and prospects Zach Sanford and Brad Malone was enough to nab the power-play specialist Shattenkirk.

Now, it's Stanley Cup or bust for Washington, and it just may be the former this year.


Minnesota, Too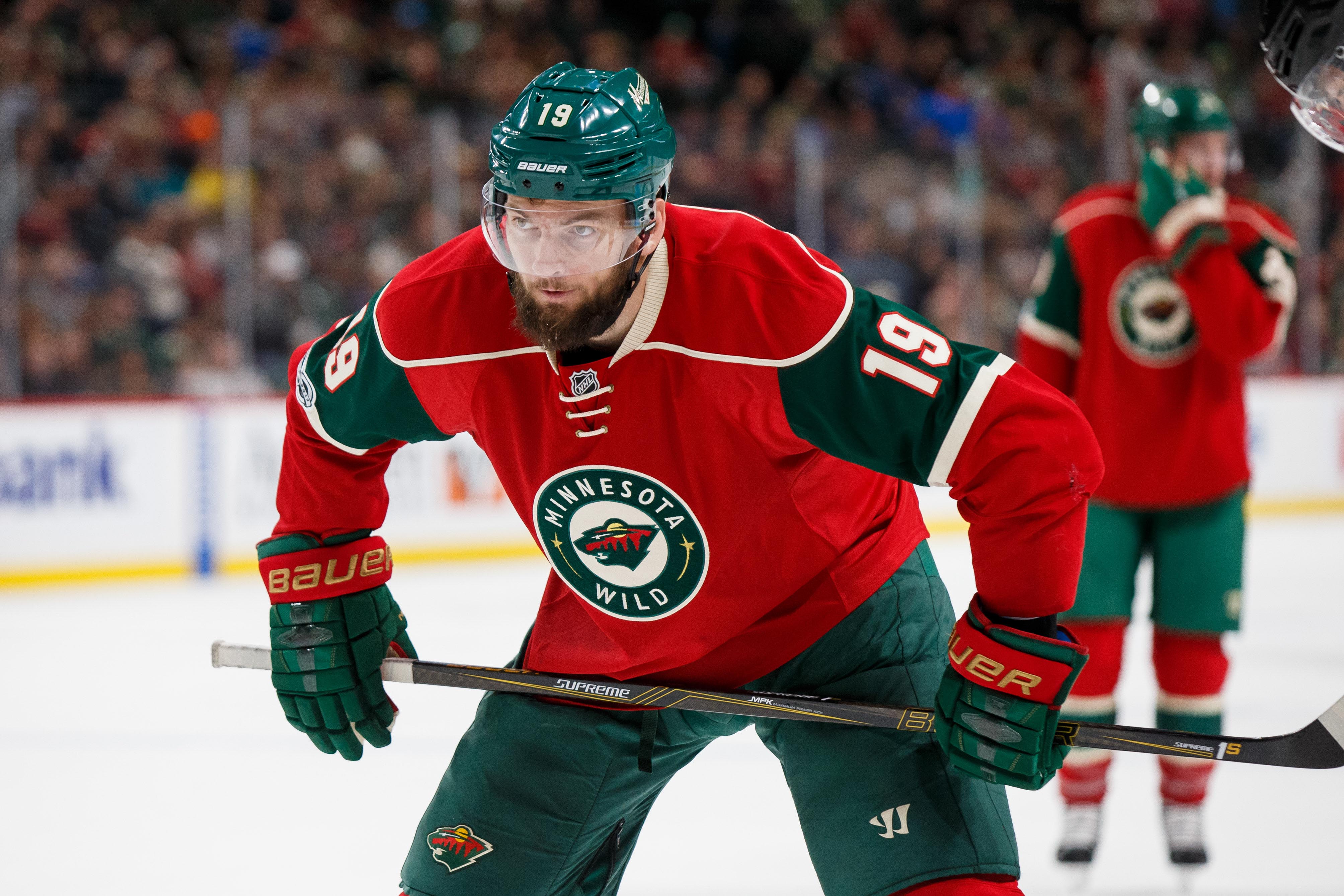 Minnesota Wild forward Martin Hanzal (19) takes the faceoff in the second period against the St Louis Blues at Xcel Energy Center on March 7 in Saint Paul, MN. Mandatory Credit: Brad Rempel-USA TODAY Sports

Similar to Washington, Minnesota and GM Chuck Fletcher have a big offseason ahead of them. The team isn't in quite the same position, with Mikael Granlund, Nino Niederreiter, Erik Haula, and Jordan Schroeder all becoming restricted free agents at the end of the season.

Minnesota's only unrestricted free agents are depth defenseman Nate Prosser and Martin Hanzal and Ryan White, who were both acquired at the deadline.

Hanzal and White are depth signings. Hanzal, 30, stands at 6-foot-6 and is a strong two-way center with decent scoring. White, 28, was acquired as a fourth-line agitator but has tallied two goals and an assist in two games with the Wild since the trade.

Neither player, nor the combination of the two, amounts to Shattenkirk, but Fletcher's bundle of a 2017 first-round pick, 2018 second-round pick, and a 2019 conditional fourth-round pick showed his seriousness in the Wild making a deep run this year.

With four lines of scoring, defensive awareness, a solid defense in its own right, and Vezina Trophy front-runner Devan Dubnyk, the Wild have all of the aspects needed to claim the Stanley Cup.

You can never count any team out, especially considering the Wild's path to the finals would require a combination of defeating Chicago, Nashville, San Jose, Edmonton, Los Angeles, and Anaheim.

But it's possible the only team that can match Minnesota's depth and stand in its way is Washington itself.


Joe Sakic Plays The Waiting Game

Colorado Avalanche center Matt Duchene (9) celebrates with left wing Gabriel Landeskog (92) and right wing Jarome Iginla (12) after scoring a goal in the third period against Arizona Coyotes at Gila River Arena on Oct. 29 in Glendale, AZ. Mandatory Credit: Matt Kartozian-USA TODAY Sports

All eyes were on GM Joe Sakic as the Colorado Avalanche had another forgettable season and appear set to kick off June's expansion draft with the No. 1 pick.

Two of the biggest names circulating ahead of the deadline were Matt Duchene and captain Gabriel Landeskog, and rumors surrounding both young players  soared.

Duchene, 26, was drafted third overall in 2009 and is an eight-year veteran who is entering his prime years. Colorado's all-around woes have held back Duchene's offensive capability. In eight years with the Avalanche, Duchene has eclipsed the 20-goal plateau four times, scored a career-high 70 points in 71 games in 2013-14, and hit the 30-goal mark for the first time last year.

Landeskog, 24, was drafted second overall in 2011 and is in his sixth season with the Avalanche. The gritty Swede surpassed 20 goals and 50 points in each of the four 82-game seasons he has played in Colorado. Landeskog had a career year in 2013-14 when he scored 26 goals and 65 points.

It's been mixed grades for the quiet deadline team, but Sakic gets an "A" for standing his ground and refusing anything less than his asking price, which was reportedly criticized by multiple GMs.

The Avalanche could use help at every position, but defense has been their main downfall over the past several seasons. Sakic is in the market for a top-pair defenseman and is right to hold assets until he receives what he knows his team needs.


Ken Holland Piles Up Picks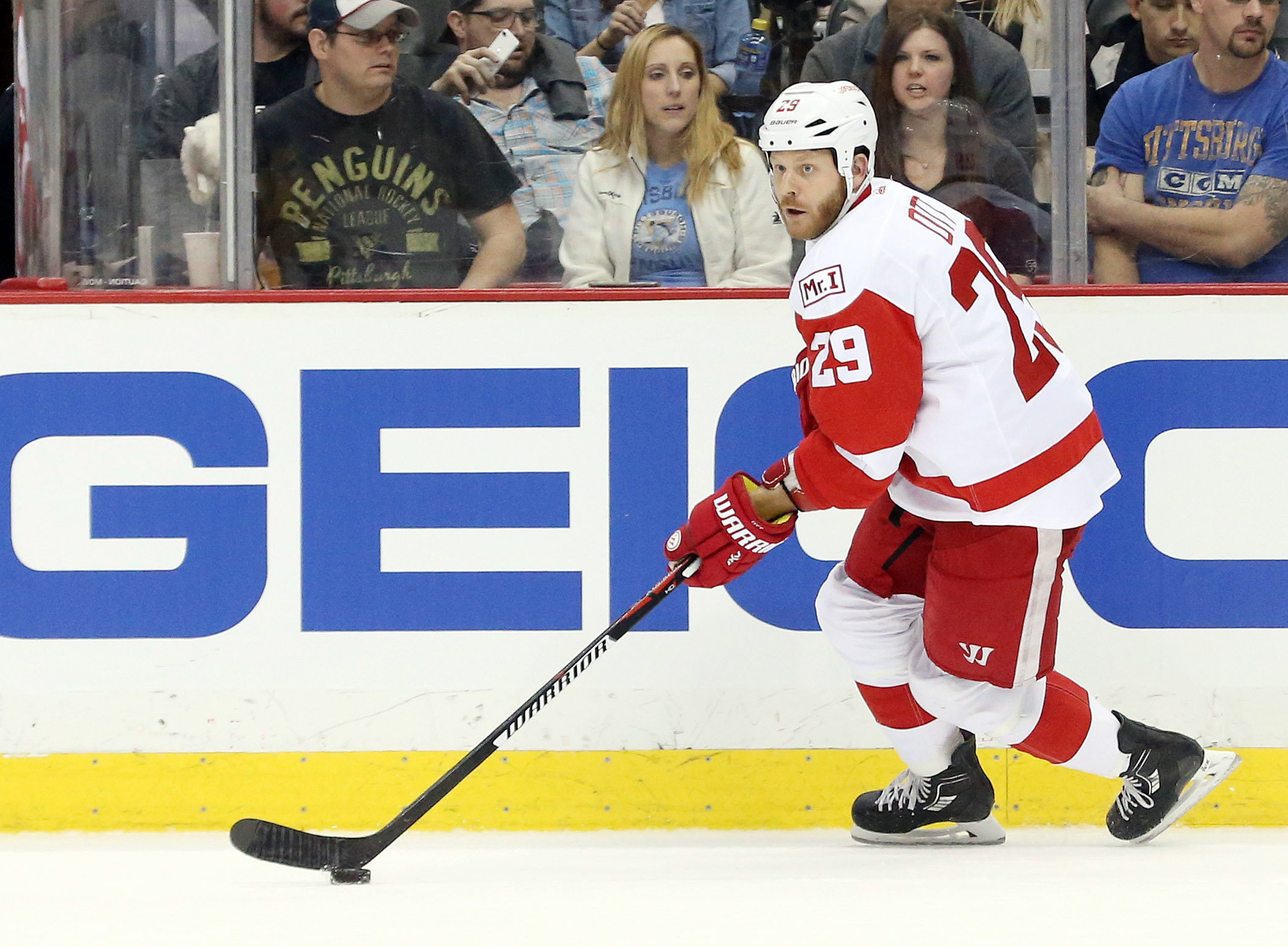 Detroit Red Wings center Steve Ott (29) skates with the puck against the Pittsburgh Penguins during the third period at the PPG PAINTS Arena on Feb. 19 in  Pittsburgh. Mandatory Credit: Charles LeClaire-USA TODAY Sports

Detroit GM Ken Holland threw in the towel at the trade deadline and signaled the end of the Red Wings' 25-year playoff streak.

Holland shipped off Tomas Jurco, Steve Ott, Brendan Smith, and Thomas Vanek before time ran out and fared well with his return. Cumulatively, Holland received 2017 third-round picks from Chicago and the New York Rangers as well as a conditional third-round pick from Florida, which can become Arizona's 2017 third-round pick if the Panthers make the playoffs.

Holland also received Ottawa's 2018 second-round pick, Montreal's 2018 sixth-round pick, and 24-year-old goliath defenseman Dylan McIlrath, who is now playing for his third club this year.

Adding in other deals, the Red Wings now have 11 draft picks in 2017: one each in rounds one, two, four, five, and seven as well as four picks in the third round and two picks in the sixth round.

Holland isn't familiar with selling at the deadline, but aside from arguably selling Vanek at a discount, Red Wings fans should feel more confidence in Holland than they have in recent years.

The team is now closer to a rebuild than Holland's often-used "retool" statement and has stockpiled picks to help build for the future.  


Steve Yzerman Looks Toward 2017-18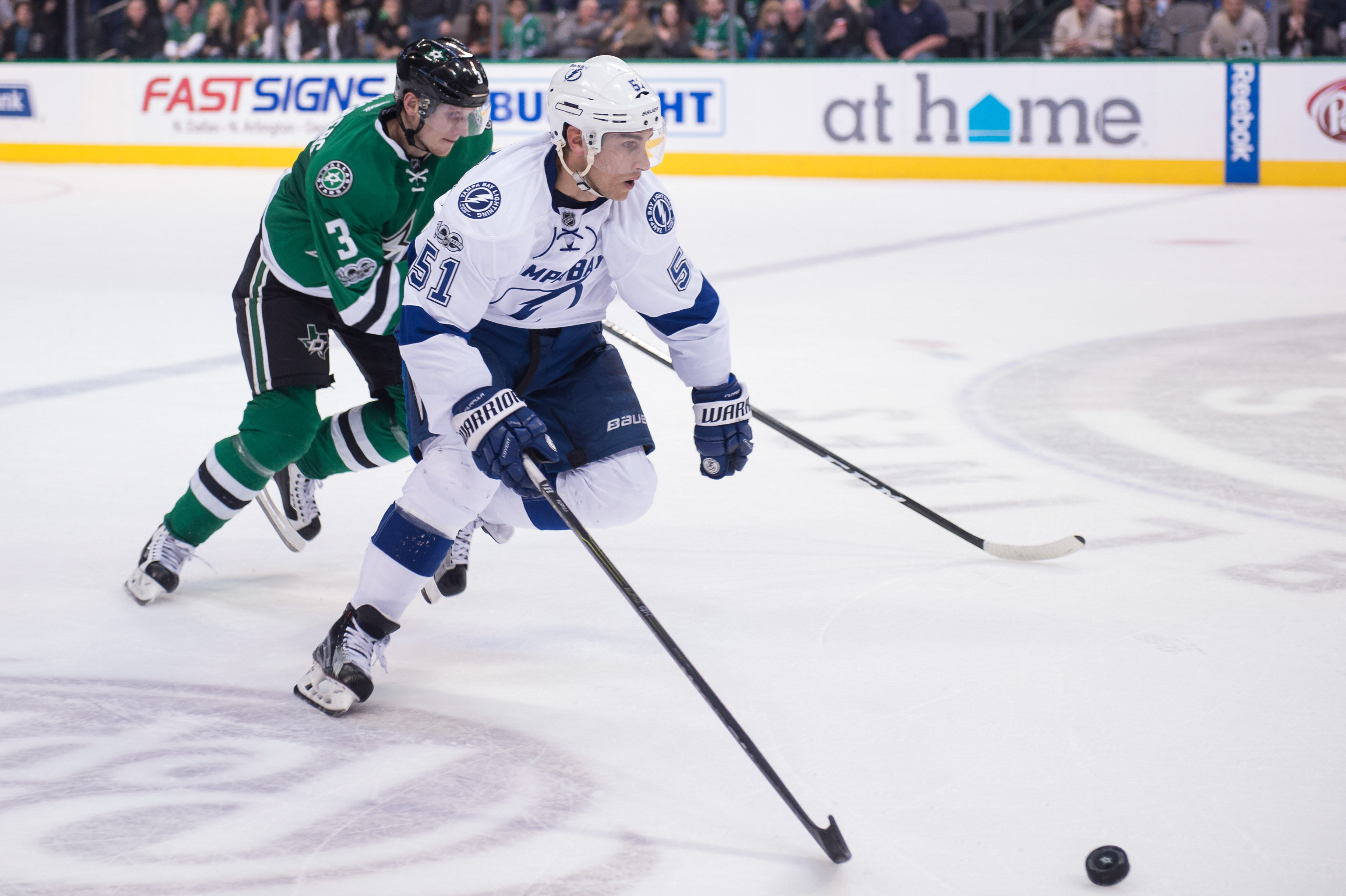 Dallas Stars defenseman John Klingberg (3) and Tampa Bay Lightning center Valtteri Filppula (51) during the game at the American Airlines Center on Feb. 18 in Dallas. Mandatory Credit: Jerome Miron-USA TODAY Sports

Time and again Tampa Bay Lightning GM Steve Yzerman has been regarded as a "wizard." In a disappointing year for a team many predicted last October to win the Stanley Cup, Yzerman pulled some more magic at the deadline, most notably shipping off Valtteri Filppula's $5 million cap hit.

Yzerman also traded away pending unrestricted free agents Brian Boyle and Ben Bishop and pending restricted free agent Nikita Nesterov. Even with Nikita Kucherov's discount of $4.7 million for the next two years, Yzerman's team will be cap-strapped this offseason.

Yzerman needs to re-sign pending restricted free agents Ondrej Palat, Tyler Johnson, Jonathan Drouin, Greg McKegg, Andrej Sustr, and Jake Dotchin.

Palat, Johnson, and especially Drouin will be looking for significant raises ahead of next year.

Yzerman will shop the underwhelming, injury-riddled play of Ryan Callahan and his $5.8 million cap hit through 2019-20 and Jason Garrison's $4.6 million cap hit through next season, as well.

The "wizard" continues to find a way to make things work in Tampa and could deal prospects or draft picks to a team like the Arizona Coyotes to help alleviate his cap problems.